Caption: Board of Trustees Minutes - 1874
This is a reduced-resolution page image for fast online browsing.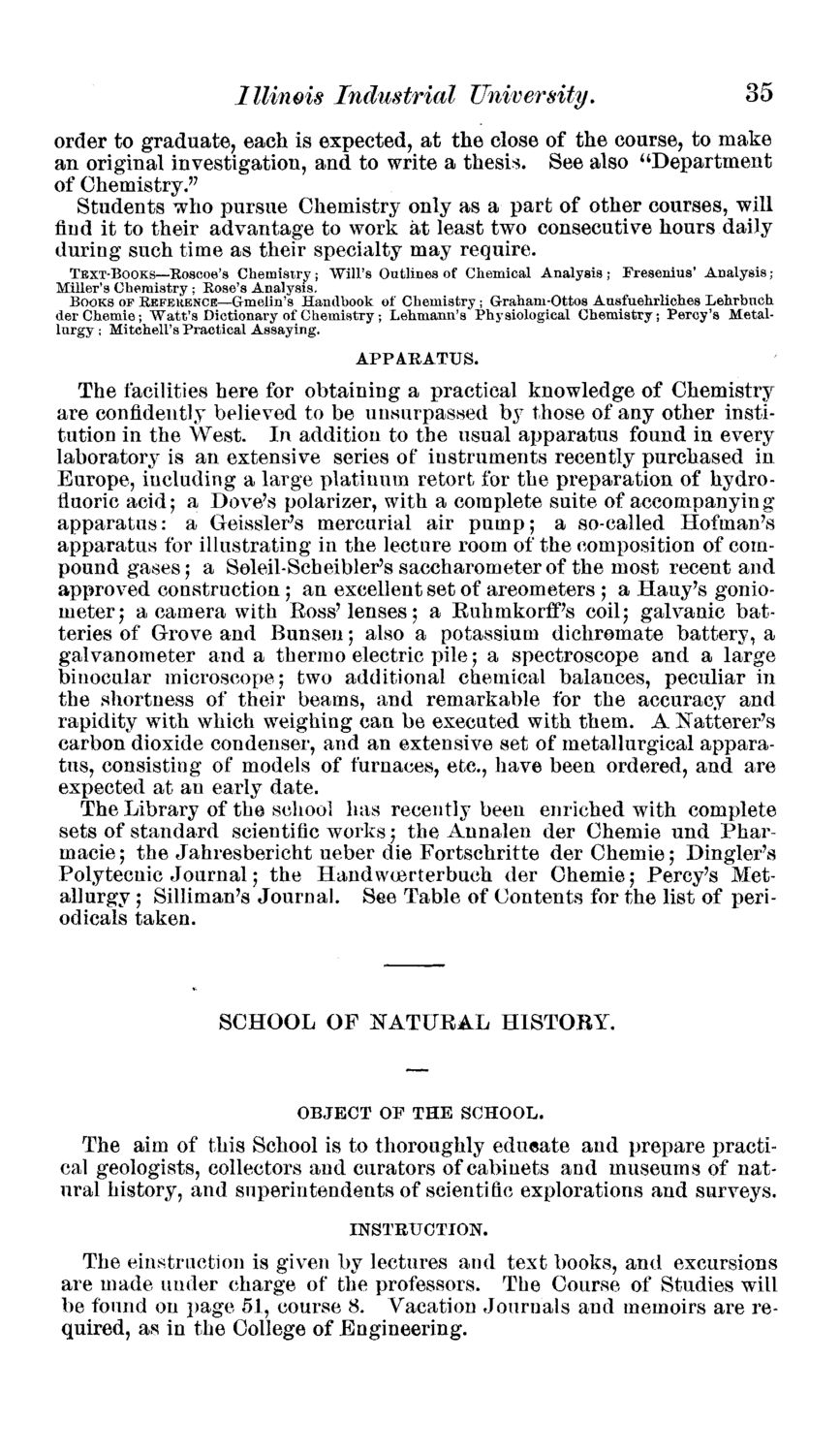 ---
EXTRACTED TEXT FROM PAGE:
Illinois Industrial
University.
35
order to graduate, each is expected, at the close of the course, to make an original investigation, and to write a thesis. See also "Department of Chemistry." Students who pursue Chemistry only as a part of other courses, will find it to their advantage to work at least two consecutive hours daily during such time as their specialty may require.
TEXT-BOOKS—Roscoe's Chemistry; Will's Outlines of Chemical Analysis ; Fresenius' Analysis ; Miller's Chemistry; Rose's Analysis. BOOKS OF REFERENCE—G-melin's Handbook of Chemistry; Graham-Ottos Ausfuehrliches Lehrbuch derChemie; Watt's Dictionary of Chemistry; Lehmann's Physiological Chemistry; Percy's Metallurgy ; Mitchell's Practical Assaying.
APPARATUS.
The facilities here for obtaining a practical knowledge of Chemistry are confidently believed to be unsurpassed by those of any other institution in the West. In addition to the usual apparatus found in every laboratory is an extensive series of instruments recently purchased in Europe, including a large platinum retort for the preparation of hydrofluoric acid; a Dove's polarizer, with a complete suite of accompanying apparatus: a Greissler's mercurial air pump; a so-called Hofman's apparatus for illustrating in the lecture room of the composition of compound gases; a Soleil-Scheibler's saccharometer of the most recent and approved construction; an excellent set of areometers ; a Hauy's goniometer; a camera with Boss' lenses; a Buhmkorff's coil; galvanic batteries of Grove and Bunsen; also a potassium dichromate battery, a galvanometer and a thermo electric pile; a spectroscope and a large binocular microscope; two additional chemical balances, peculiar in the shortness of their beams, and remarkable for the accuracy and rapidity with which weighing can be executed with them. A batterer's carbon dioxide condenser, and an extensive set of metallurgical apparatus, consisting of models of furnaces, etc., have been ordered, and are expected at an early date. The Library of the school has recently been enriched with complete sets of standard scientific works; the Annalen der Chemie und Pharmacie; the Jahresbericht ueber die Fortschritte der Chemie; Dingler's Polytecuic Journal; the Handwoerterbuch der Chemie; Percy's Metallurgy ; Silliman's Journal. See Table of Contents for the list of periodicals taken.
SCHOOL OF NATUBAL HISTOBY.
OBJECT OF THE SCHOOL.
The aim of this School is to thoroughly educate and prepare practical geologists, collectors and curators of cabinets and museums of natural history, and superintendents of scientific explorations and surveys.
INSTRUCTION.
The einstrnction is given by lectures and text books, and excursions are made under charge of the professors. The Course of Studies will be found on page 51, course 8. Vacation Journals and memoirs are required, as in the College of Engineering.