Caption: Board of Trustees Minutes - 1874
This is a reduced-resolution page image for fast online browsing.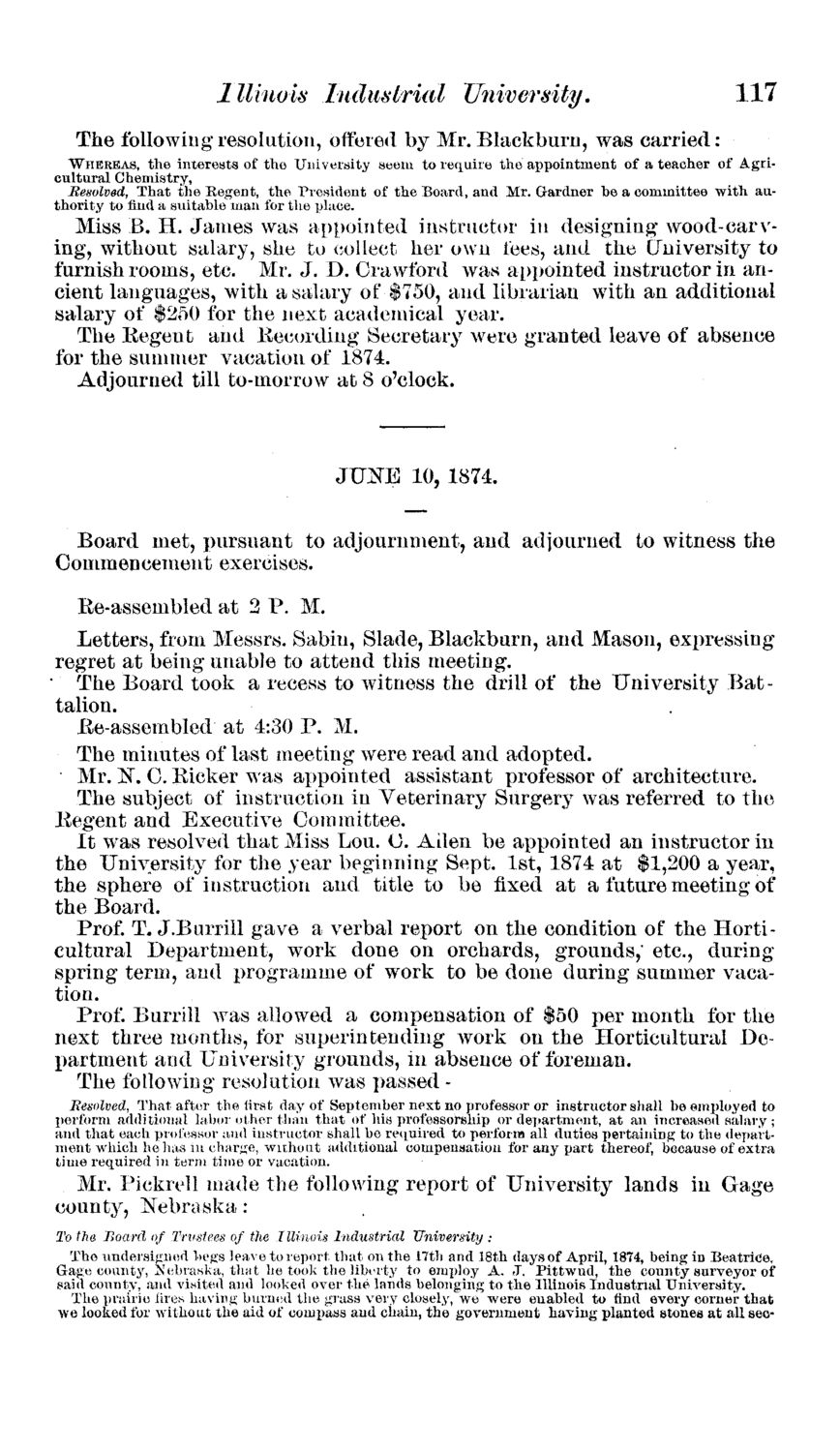 ---
EXTRACTED TEXT FROM PAGE:
Illinois
Industrial
University.
117
The following resolution, offered by Mr. Blackburn, was carried:
WHEREAS, the interests of the University seem to require the appointment of a teacher of Agricultural Chemistry, Resolved, That the Regent, the President of the Board, and Mr. Gardner be a committee with, authority to find a suitable man for the place.
Miss B. H. James was appointed instructor in designing wood-carving, without salary, she to collect her own fees, and the University to furnish rooms, etc. Mr. J. D. Crawford was appointed instructor in ancient languages, with a salary of $750, and librarian with an additional salary of $250 for the next academical year. The Regent and Recording Secretary were granted leave of absence for the summer vacation of 1874. Adjourned till to-morrow at 8 o'clock.
JUKE 10, 1874. Board met, pursuant to adjournment, and adjourned to witness the Commencement exercises. Re-assembled at 2 P. M. Letters, from Messrs. Sabin, Slade, Blackburn, and Mason, expressing regret at being unable to attend this meeting. The Board took a recess to witness the drill of the University Battalion. Re-assembled at 4:30 P. M. The minutes of last meeting were read and adopted. Mr. 1 T C.Ricker was appointed assistant professor of architecture. S. The subject of instruction in Veterinary Surgery was referred to the Regent and Executive Committee. It was resolved that Miss Lou. C. Allen be appointed an instructor in the University for the year beginning Sept. 1st, 1874 at $1,200 a year, the sphere of instruction and title to be fixed at a future meeting of the Board. Prof. T. J.Burrill gave a verbal report on the condition of the Horticultural Department, work done on orchards, grounds,' etc., during spring term, and programme of work to be done during summer vacation. Prof. Burrill was allowed a compensation of $50 per month for the next three months, for superintending work on the Horticultural Department and University grounds, in absence of foreman. The following resolution was passed Resolved, That after the iirst day of September next no professor or instructor shall be employed to perform additional labor other than that of his professorship or department, at an increased salary ; and that each professor and instructor shall be required to perform all duties pertaining to the department which he has in charge, without additional compensation for any part thereof, because of extra time required in term time or vacation.
Mr. Pickrell made the following report of University lands in Gage county, Nebraska:
To the Board of Trustees of the Illinois Industrial University : The undersigned begs leave to report that on the 17th and 18th days of April, 1874, being in Beatrice. Gage county, Nebraska, that he took the liberty to employ A. J. Pittwud, the county surveyor of said county, and visited and looked over the lands belonging to the Illinois Industrial University. The prairie iires having burned the grass very closely, we were enabled to find every corner that we looked for without the aid of compass and chain, the government having planted stones at all sec-