Caption: Board of Trustees Minutes - 1874
This is a reduced-resolution page image for fast online browsing.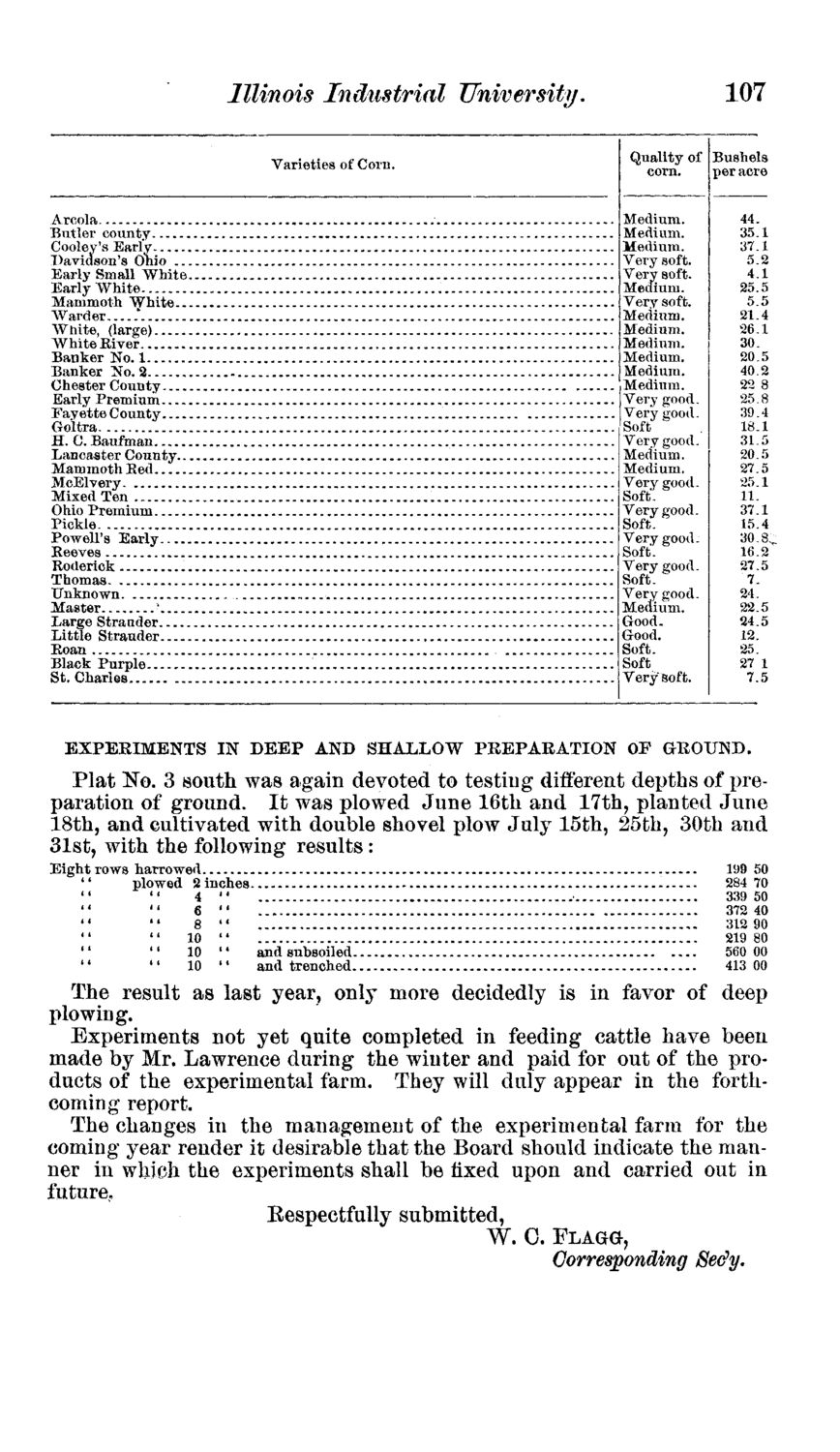 ---
EXTRACTED TEXT FROM PAGE:
Illinois Industrial
Varieties of Corn.
University.
107
Quality of Bushels corn. per acre Medium. Medium. Medium. Very soft. Very soft. Medium. Very soft. Medium. Medium. Medium. Medium. Medium. Medium. Very good. Very good. Soft Very good. Medium. Medium. Very good. Soft. Very good. Soft. Very good. Soft. Very good. Soft. Very good. Medium. Good. Good. Soft. Soft Very soft. 44. 35.1 37.1 5.2 4.1 25.5 5.5 21.4 26.1 30. 20.5 40.2 22 8 25.8 39.4 18.1 31.5 20.5 27.5 25.1 11. 37.1 15.4 30.8, 16.2 27.5 7. 24. 22.5 24.5 12. 25. 27 1 7.5
Areola Butler county Cooley's Early Davidson's Onio Early Small White Early White Mammoth White Warder .* White, (large) White River Banker No. 1 Banker No. 2 Chester County Early Premium Fayette County Goltra H. C. Baufman Lancaster County Mammoth Bed McElvery Mixed Ten Ohio Premium Pickle Powell's Early Beeves Roderick Thomas Unknown Master ' Large Strauder Little Strauder Roan Black Purple St. Charles
-
EXPERIMENTS IN DEEP AND SHALLOW PREPARATION OF GROUND.
Plat No. 3 south was again devoted to testing different depths of preparation of ground. I t was plowed June 16th and 17th, planted June 18th, and cultivated with double shovel plow July 15th, 25th, 30th and 31st, with the following results:
Eight rows harrowed plowed 2 inches. 4 " 10 10 10
199 50 284 70 339 50 372 40 312 90 219 80 560 00 413 00
and subsoil ed. and trenched.
The result as last year, only more decidedly is in favor of deep plowing. Experiments not yet quite completed in feeding cattle have been made by Mr. Lawrence during the winter and paid for out of the products of the experimental farm. They will duly appear in the forthcoming report. The changes in the management of the experimental farm for the coming year render it desirable that the Board should indicate the manner in which the experiments shall be fixed upon and carried out in future, Eespectfully submitted,
W. 0. F L A G G ,
Corresponding Sedy.