Caption: Board of Trustees Minutes - 1874
This is a reduced-resolution page image for fast online browsing.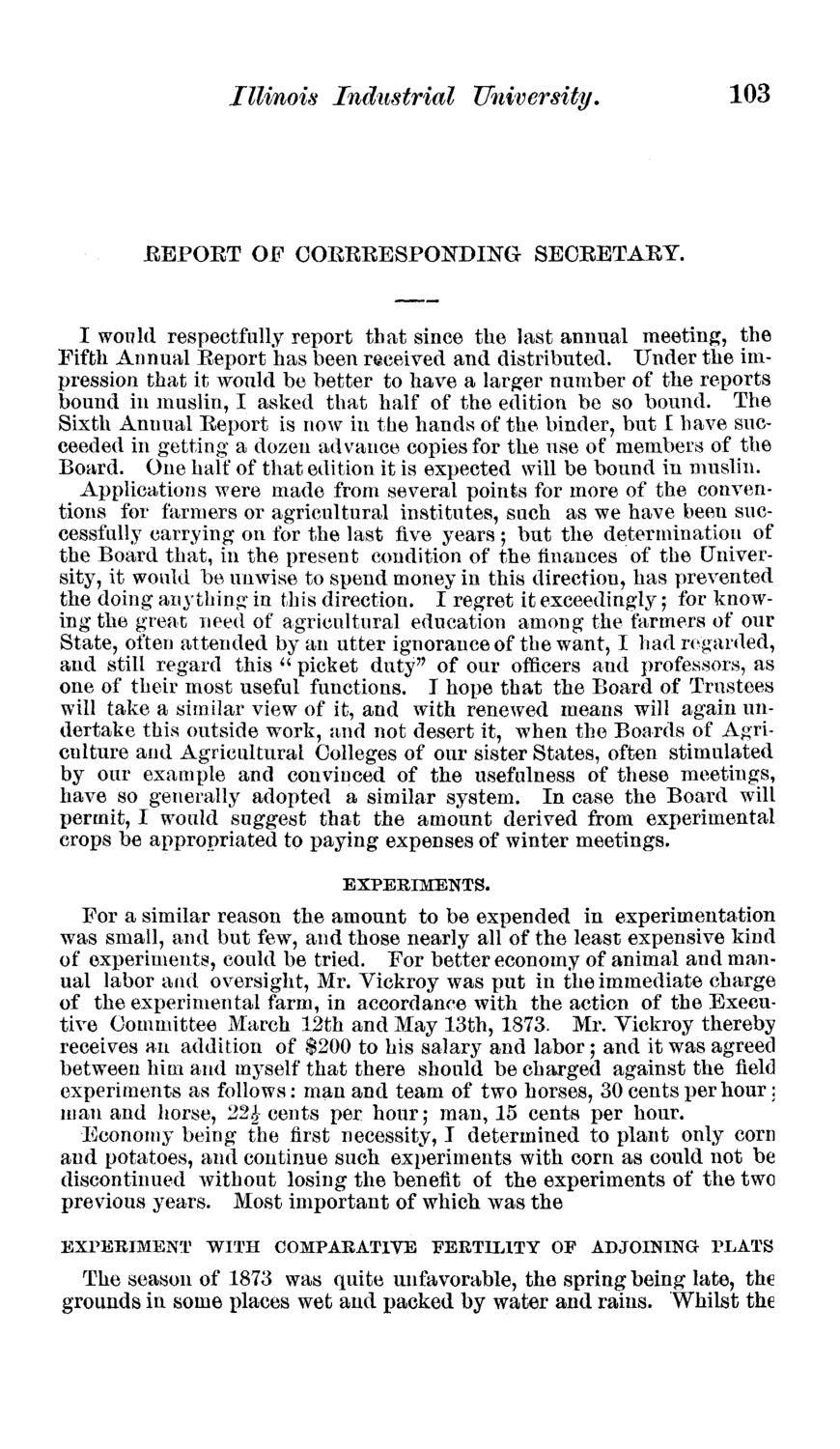 ---
EXTRACTED TEXT FROM PAGE:
Illinois
Industrial
University.
103
EEPOET OF COBBBESPOKDING SEOBETABY.
I would respectfully report that since the last annual meeting, the Fifth Annual Beport has been received and distributed. Under the impression that it would be better to have a larger number of the reports bound in muslin, I asked that half of the edition be so bound. The Sixth Annual Beport is now in the hands of the binder, but I have succeeded in getting a dozen advance copies for the use of members of the Board. One half of that edition it is expected will be bound in muslin. Applications were made from several points for more of the conventions for farmers or agricultural institutes, such as we have been successfully carrying on for the last five years; but the determination of the Board that, in the present condition of the finances of the University, it would be unwise to spend money in this direction, has prevented the doing anything in this direction. I regret it exceedingly ; for knowing the great need of agricultural education among the farmers of our State, often attended by an utter ignorance of the want, I had regarded, and still regard this " picket duty" of our officers and professors, as one of their most useful functions. I hope that the Board of Trustees will take a similar view of it, and with renewed means will again undertake this outside work, and not desert it, when the Boards of Agriculture and Agricultural Colleges of our sister States, often stimulated by our example and convinced of the usefulness of these meetings, have so generally adopted a similar system. In case the Board will permit, I would suggest that the amount derived from experimental crops be appropriated to paying expenses of winter meetings.
EXPERIMENTS.
For a similar reason the amount to be expended in experimentation was small, and but few, and those nearly all of the least expensive kind of experiments, could be tried. For better economy of animal and manual labor and oversight, Mr. Yickroy was put in the immediate charge of the experimental farm, in accordance with the action of the Executive Committee March 12th and May 13th, 1873. Mr. Yickroy thereby receives an addition of $200 to his salary and labor; and it was agreed between him and myself that there should be charged against the field experiments as follows: man and team of two horses, 30 cents per hour; man and horse, 22% cents per hour; man, 15 cents per hour. Economy being the first necessity, I determined to plant only corn and potatoes, and continue such experiments with corn as could not be discontinued without losing the benefit of the experiments of the two previous years. Most important of which was the
EXPERIMENT WITH COMPARATIVE F E R T I L I T Y OF ADJOINING PLATS
The season of 1873 was quite unfavorable, the spring being late, the grounds in some i>laces wet and packed by water and rains. Whilst the