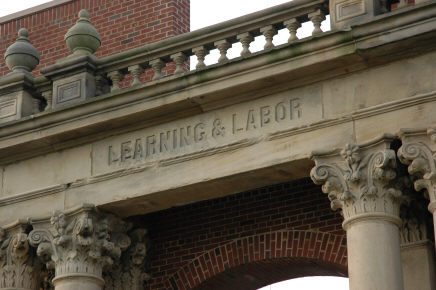 Hallene Gateway
Dedicated October 8, 1998, on the 63rd annual meeting of University of Illinois Foundation, the Hallene Gateway Plaza was funded through the generosity of Alan M. and Phyllis Welsh Hallene, graduates of the class of 1951. As its centerpiece, the Plaza features the original sandstone portal of the New Main University Hall (the 4th building built on the UIUC campus, in 1871, where the Union presently stands). When New Main was razed in 1938, its portal was saved and placed behind the Architecture building. Though the years the portal was slowly forgotten and eventually was moved out to Allerton Park for storage. In 1994 it was rediscovered near maintenance sheds among "brush, raspberry brushes and small trees" and a backhoe had to be called in to help unearth it. The Hallene's donated the money to restore the portal and landscape a plaza to display it in.
Selected Images of the Hallene Gateway
Below is a selection of images of the Hallene Gateway. These images may be viewed for personal use only and may NOT be republished in any form. To use one of these images in a U of I presentation or Web or print publication, please click on the "download" link beneath each image to download the image free of charge.