Caption: Book - First Years of Engineering Experiment Station (1906)
This is a reduced-resolution page image for fast online browsing.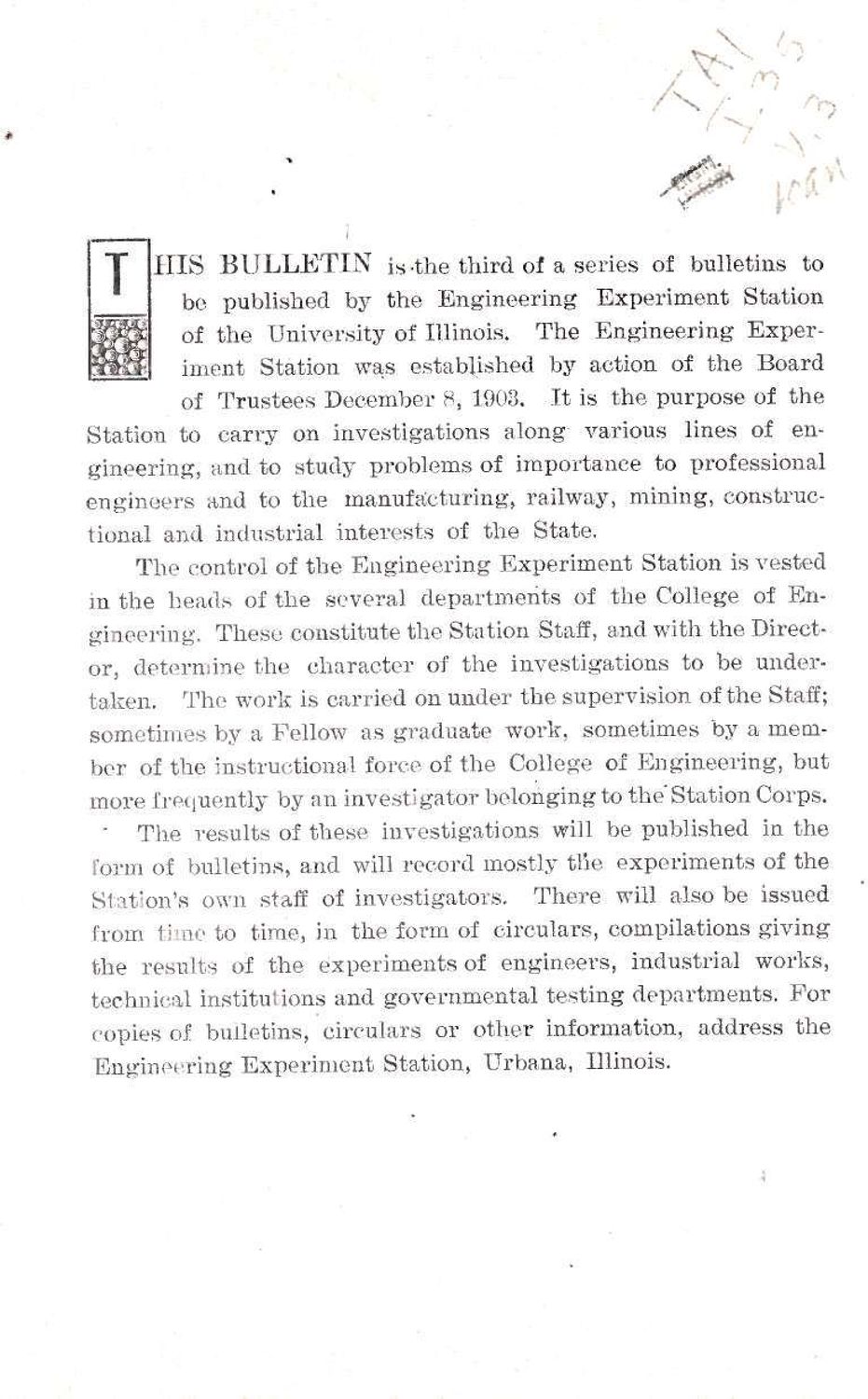 ---
EXTRACTED TEXT FROM PAGE:
1
H I S B U L L E T I N is-the third of a series of bulletins to be published by t h e Engineering Experiment Station of the University of Illinois. The Engineering Experiment Station was established by action of t h e Board of Trustees December 8, 1903. It is t h e purpose of t h e Station to carry on investigations along various lines of engineering, and to study problems of importance to professional engineers and to the manufacturing, railway, mining, constructional and industrial interests of t h e State. The control of t h e Engineering Experiment Station is vested in the beads of t h e several departments of t h e College of Engineering. These constitute the Station Staff, and with the Director, determine t h e character of the investigations to be undertaken. T h e work is carried on under t h e supervision of the Staff; sometimes by a Fellow as graduate work, sometimes by a member of t h e instructional force of t h e College of Engineering, but more frequently by an investigator belonging to the'Station Corps. ' T h e results of these investigations will be published in the form of bulletins, and will record mostly tlie experiments of the Station's own staff of investigators. There will also be issued from time to time, in the form of circulars, compilations giving the results of the experiments of engineers, industrial works, technical institut ions and governmental testing departments. For copies of bulletins, circulars or other information, address the Engineering Experiment Station, Urbana, Illinois.
T