Caption: Dedication - Lincoln Hall Program
This is a reduced-resolution page image for fast online browsing.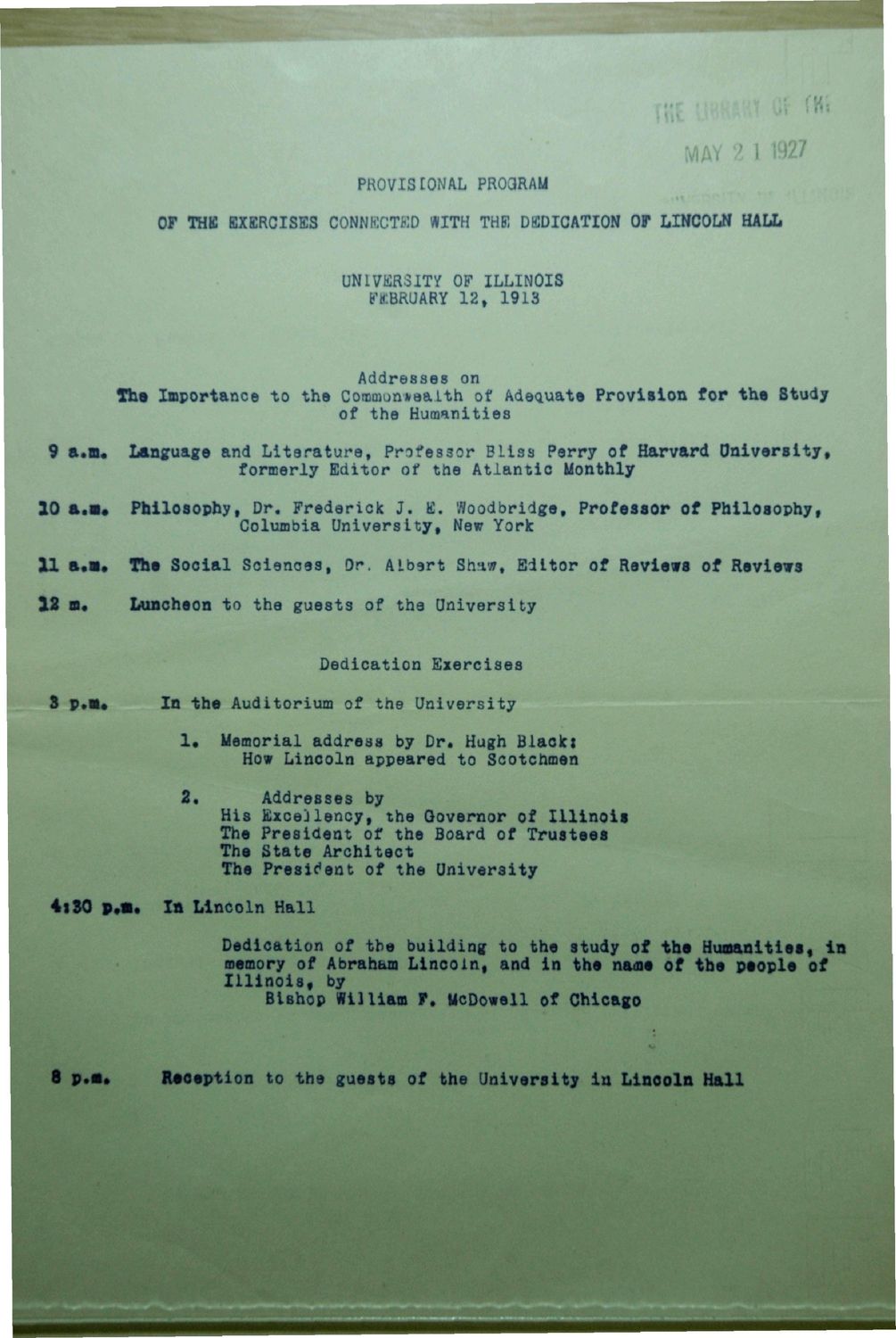 ---
EXTRACTED TEXT FROM PAGE:
MAY 2 11927
PROVISIONAL PROGRAM OF THE EXERCISES CONNECTED *ITH THE DEDICATION OF1 LINCOLN HALL UNIVERSITY OF ILLINOIS FEBRUARY 12, 1913
Addresses on the Importance to the Commonwealth of Adequate Provision for the Study of the Humanities 9 a.m. 10 a.m. Language and Literature, Professor Bliss Perry of Harvard University, formerly Editor of the Atlantic Monthly Philosophy, Dr. Frederick J. K* Woodbridge, Professor of Philosophy, Columbia University, New York 11 a.m. IB a. The Social Sciences, Or. Albert Shaw, Editor of Reviews of Reviews Luncheon to the guests of the University Dedication Exercises 8 p.m. Za the Auditorium of the University 1* 2. His The The The 4i80 p.m. Uemorial address by Dr. Hugh Blacki How Linooln appeared to Scotchmen Addresses by Bxoeilency, the Governor of Illinois President of the Board of Trustees State Architect President of the University
la Lincoln Hall Dedication of the building to the study of the Humanities, in memory of Abraham Lincoln, and in the name of the people of Illinois, by Bishop William P. McDowell of Chicago
• p.m.
Reception to the guests of the University in Linooln Hall
! :^HMHMMflmHMHH