Caption: Course Catalog - 1876-1877
This is a reduced-resolution page image for fast online browsing.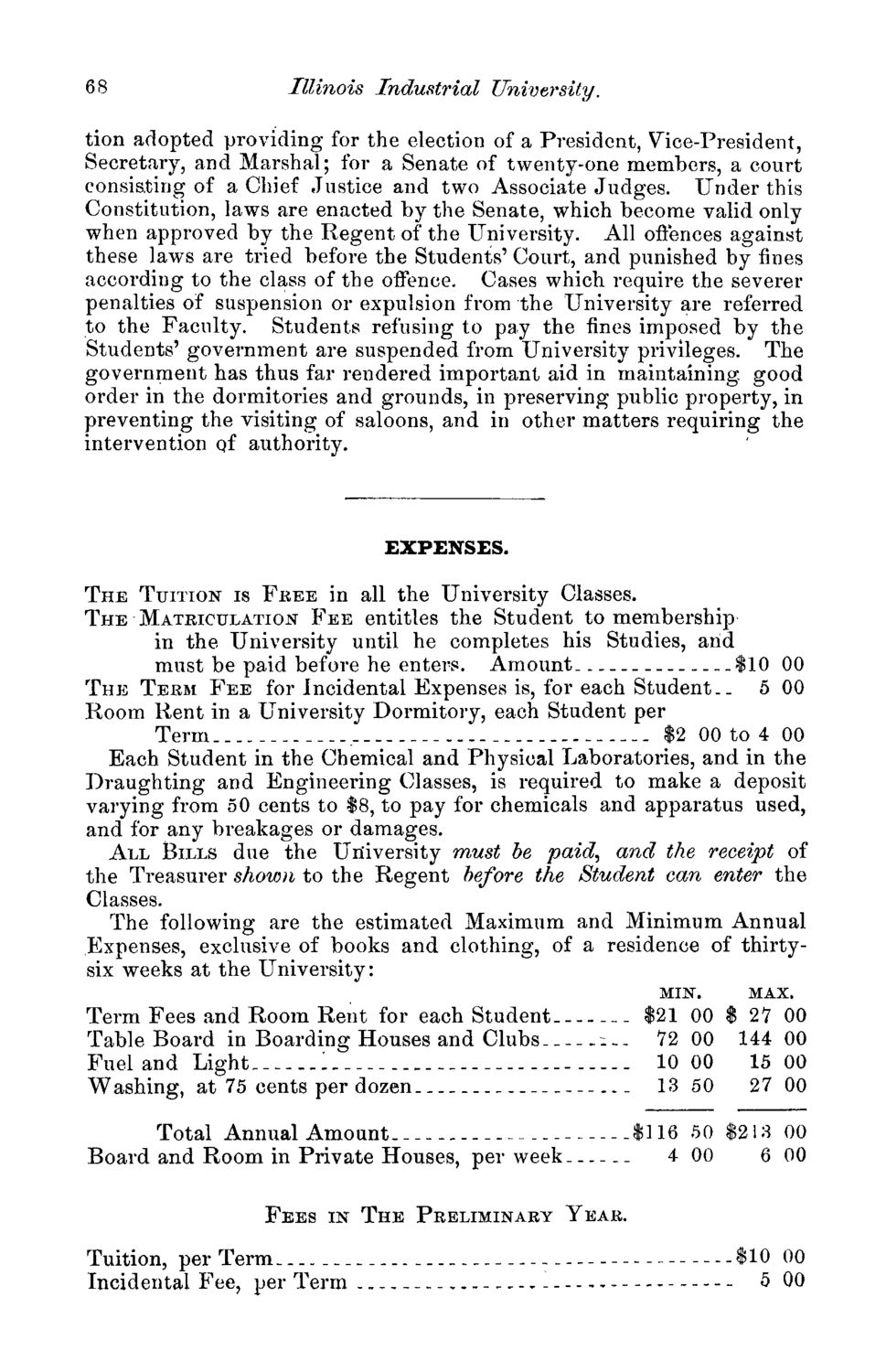 ---
EXTRACTED TEXT FROM PAGE:
68
Illinois Industrial
University.
tion adopted providing for the election of a President, Vice-President, Secretary, and Marshal; for a Senate of twenty-one members, a court consisting of a Chief Justice and two Associate Judges. Under this Constitution, laws are enacted by the Senate, which become valid only when approved by the Regent of the University. All offences against these laws are tried before the Students' Court, and punished by fines according to the class of the offence. Cases which require the severer penalties of suspension or expulsion from the University are referred to the Faculty. Students refusing to pay the fines imposed by the Students' government are suspended from University privileges. The government has thus far rendered important aid in maintaining good order in the dormitories and grounds, in preserving public property, in preventing the visiting of saloons, and in other matters requiring the intervention of authority.
EXPENSES.
THE TUITION IS FREE in THE MATRICULATION FEE
all the University Classes. entitles the Student to membership in the University until he completes his Studies, aiid must be paid before he enters. Amount $10 00 THE TERM FEE for Incidental Expenses is, for each Student.. 5 00 Room Rent in a University Dormitory, each Student per Term $2 00 to 4 00 Each Student in the Chemical and Physical Laboratories, and in the Draughting and Engineering Classes, is required to make a deposit varying from 50 cents to $8, to pay for chemicals and apparatus used, and for any breakages or damages. ALL BILLS due the University must be paid, and the receipt of the Treasurer shown to the Regent before the Student can enter the Classes. The following are the estimated Maximum and Minimum Annual Expenses, exclusive of books and clothing, of a residence of thirtysix weeks at the University:
MIN. MAX.
Term Fees and Room Rent for each Student Table Board in Boarding Houses and Clubs Fuel and Light 1 Washing, at 75 cents per dozen Total Annual Amount Board and Room in Private Houses, per week
$21 . . . 72 10 13
00 $ 27 00 00 144 00 00 15 00 50 27 00
$116 50 $213 00 4 00 6 00
FEES IN THE PRELIMINARY YEAR.
Tuition, per Term Incidental Fee, per Term
.
$10 00 5 00