Caption: Course Catalog - 1876-1877
This is a reduced-resolution page image for fast online browsing.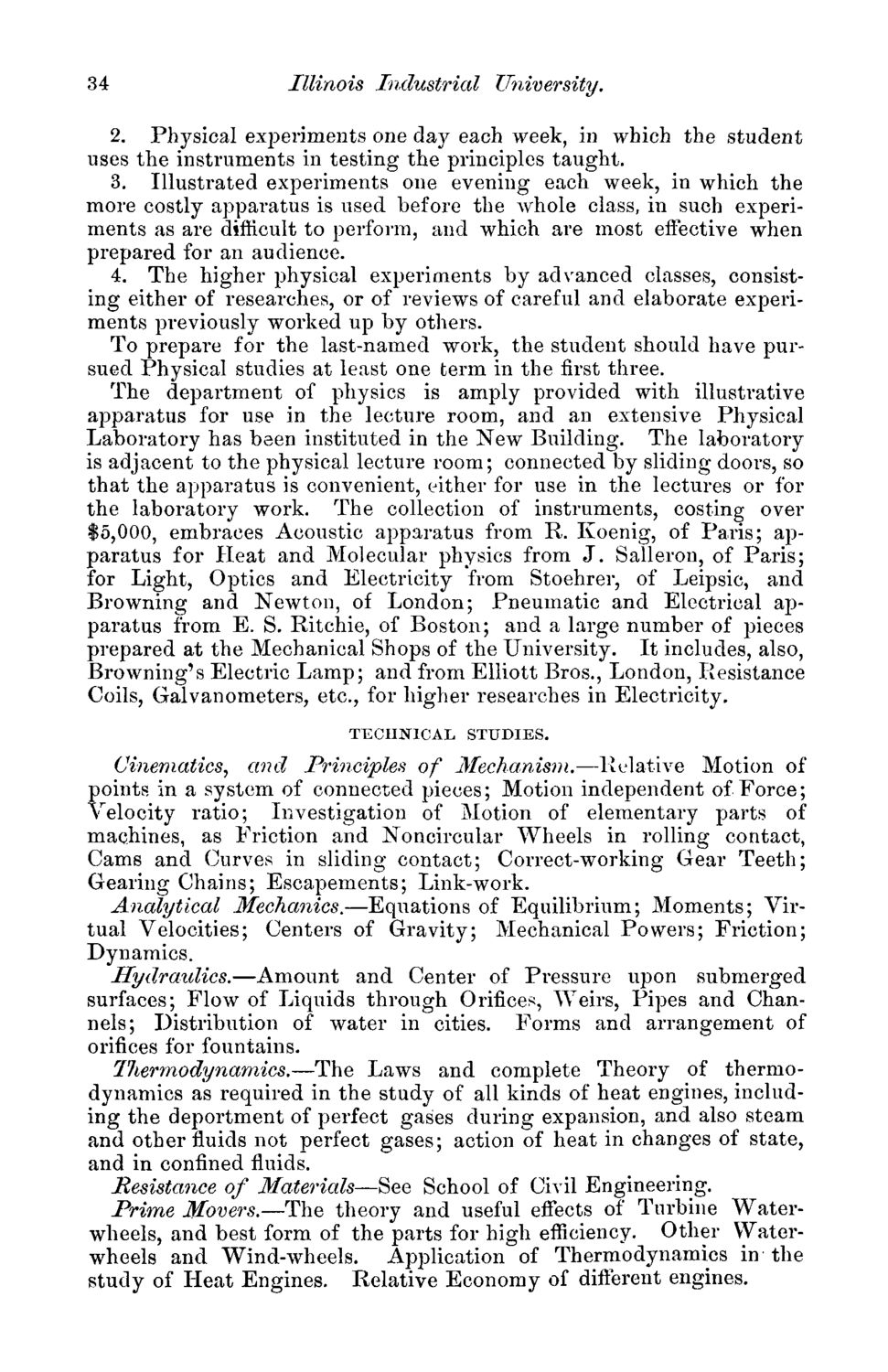 ---
EXTRACTED TEXT FROM PAGE:
34
Illinois Industrial
University.
2. Physical experiments one day each week, in which the student uses the instruments in testing the principles taught. 3. Illustrated experiments one evening each week, in which the more costly apparatus is used before the whole class, in such experiments as are difficult to perform, and which are most effective when prepared for an audience. 4. The higher physical experiments by advanced classes, consisting either of researches, or of reviews of careful and elaborate experiments previously worked up by others. To prepare for the last-named work, the student should have pursued Physical studies at least one term in the first three. The department of physics is amply provided with illustrative apparatus for use in the lecture room, and an extensive Physical Laboratory has been instituted in the New Building. The laboratory is adjacent to the physical lecture room; connected by sliding doors, so that the apparatus is convenient, either for use in the lectures or for the laboratory work. The collection of instruments, costing over $5,000, embraces Acoustic apparatus from R. Koenig, of Paris; apparatus for Heat and Molecular physics from J . Salleron, of Paris; for Light, Optics and Electricity from Stoehrer, of Leipsic, and Browning and Newton, of London; Pneumatic and Electrical apparatus from E. S. Ritchie, of Boston; and a large number of pieces prepared at the Mechanical Shops of the University. It includes, also, Browning's Electric Lamp; and from Elliott Bros., London, Resistance Coils, Galvanometers, etc., for higher researches in Electricity.
TECHNICAL STUDIES.
Cinematics, and Principles of Mechanism.—Relative Motion of points in a system of connected pieces; Motion independent of Force; Velocity ratio; Investigation of Motion of elementary parts of machines, as Friction and Noncircular Wheels in rolling contact, Cams and Curves in sliding contact; Correct-working Gear Teeth; Gearing Chains; Escapements; Link-work. Analytical Mechanics.—Equations of Equilibrium; Moments; Virtual Velocities; Centers of Gravity; Mechanical Powers; Friction; Dynamics. Hydraulics.—Amount and Center of Pressure upon submerged surfaces; Flow of Liquids through Orifices, Weirs, Pipes and Channels; Distribution of water in cities. Forms and arrangement of orifices for fountains. Thermodynamics.—The Laws and complete Theory of thermodynamics as required in the study of all kinds of heat engines, including the deportment of perfect gases during expansion, and also steam and other fluids not perfect gases; action of heat in changes of state, and in confined fluids. Resistance of Materials—See School of Civil Engineering. Prime Movers.—The theory and useful effects of Turbine Waterwheels, and best form of the parts for high efficiency. Other Waterwheels and Wind-wheels. Application of Thermodynamics in the study of Heat Engines. Relative Economy of different engines.