Caption: Course Catalog - 1876-1877
This is a reduced-resolution page image for fast online browsing.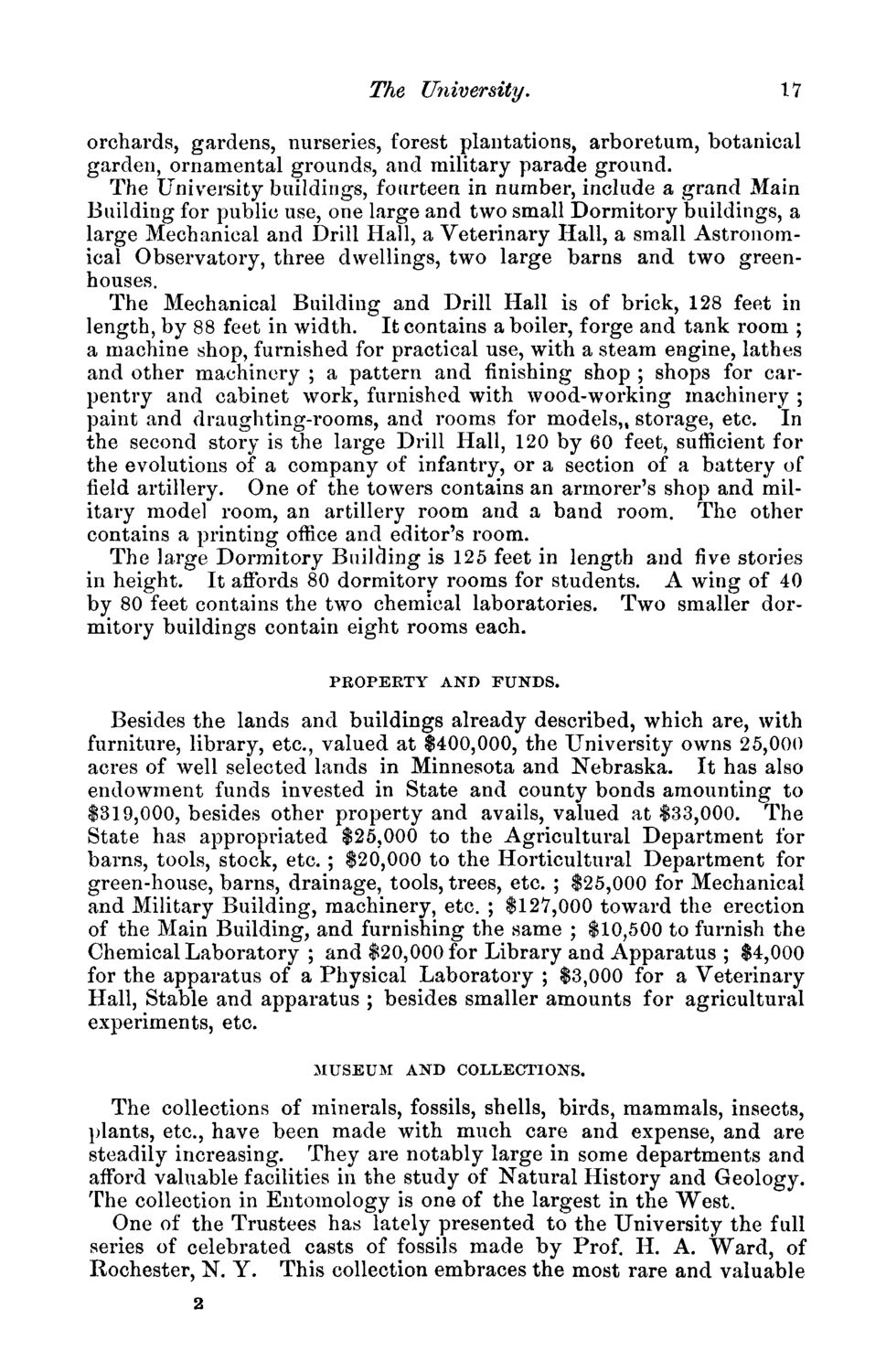 ---
EXTRACTED TEXT FROM PAGE:
The University.
17
orchards, gardens, nurseries, forest plantations, arboretum, botanical garden, ornamental grounds, and military parade ground. The University buildings, fourteen in number, include a grand Main Building for public use, one large and two small Dormitory buildings, a large Mechanical and Drill Hall, a Veterinary Hall, a small Astronomical Observatory, three dwellings, two large barns and two greenhouses. The Mechanical Building and Drill Hall is of brick, 128 feet in length, by 88 feet in width. It contains a boiler, forge and tank room ; a machine shop, furnished for practical use, with a steam engine, lathes and other machinery ; a pattern and finishing shop ; shops for carpentry and cabinet work, furnished with wood-working machinery ; paint and draughting-rooms, and rooms for models,, storage, etc. In the second story is the large Drill Hall, 120 by 60 feet, sufficient for the evolutions of a company of infantry, or a section of a battery of field artillery. One of the towers contains an armorer's shop and military model room, an artillery room and a band room. The other contains a printing office and editor's room. The large Dormitory Building is 125 feet in length and five stories in height. It affords 80 dormitory rooms for students. A wing of 40 by 80 feet contains the two chemical laboratories. Two smaller dormitory buildings contain eight rooms each.
PROPERTY AND FUNDS.
Besides the lands and buildings already described, which are, with furniture, library, etc., valued at $400,000, the University owns 25,000 acres of well selected lands in Minnesota and Nebraska. It has also endowment funds invested in State and county bonds amounting to $319,000, besides other property and avails, valued at $33,000. The State has appropriated $25,000 to the Agricultural Department for barns, tools, stock, etc. ; $20,000 to the Horticultural Department for green-house, barns, drainage, tools, trees, etc. ; $25,000 for Mechanical and Military Building, machinery, etc. ; $127,000 toward the erection of the Main Building, and furnishing the same ; $10,500 to furnish the Chemical Laboratory ; and $20,000 for Library and Apparatus ; $4,000 for the apparatus of a Physical Laboratory ; $3,000 for a Veterinary Hall, Stable and apparatus ; besides smaller amounts for agricultural experiments, etc.
MUSEUM AND COLLECTIONS.
The collections of minerals, fossils, shells, birds, mammals, insects, plants, etc., have been made with much care and expense, and are steadily increasing. They are notably large in some departments and afford valuable facilities in the study of Natural History and Geology. The collection in Entomology is one of the largest in the West. One of the Trustees has lately presented to the University the full series of celebrated casts of fossils made by Prof. H. A. Ward, of Rochester, N. Y. This collection embraces the most rare and valuable