Caption: Board of Trustees Minutes - 1992
This is a reduced-resolution page image for fast online browsing.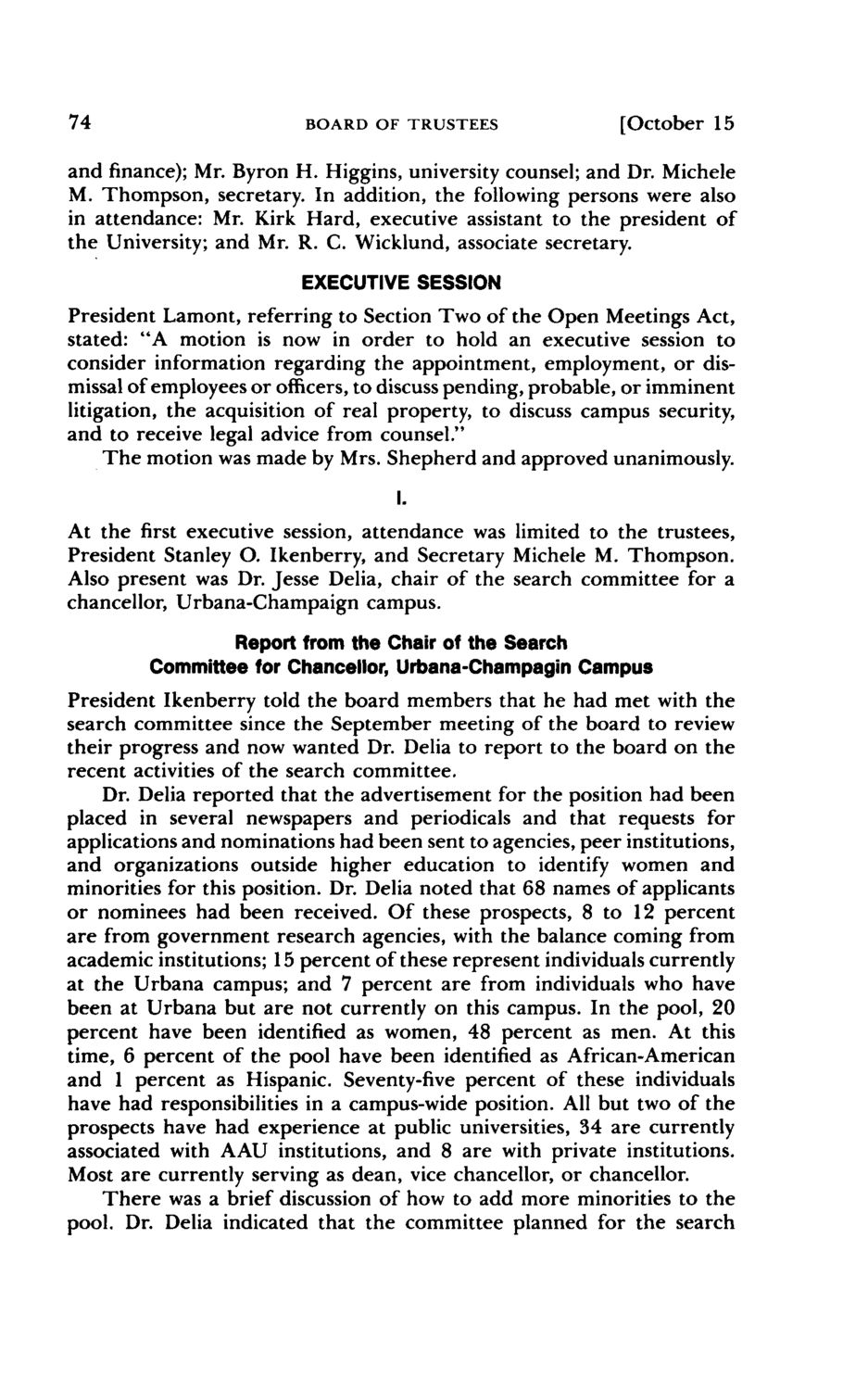 ---
EXTRACTED TEXT FROM PAGE:
74
BOARD OF TRUSTEES
[October 15
and finance); Mr. Byron H. Higgins, university counsel; and Dr. Michele M. Thompson, secretary. In addition, the following persons were also in attendance: Mr. Kirk Hard, executive assistant to the president of the University; and Mr. R. C. Wicklund, associate secretary.
EXECUTIVE SESSION
President Lamont, referring to Section Two of the Open Meetings Act, stated: "A motion is now in order to hold an executive session to consider information regarding the appointment, employment, or dismissal of employees or officers, to discuss pending, probable, or imminent litigation, the acquisition of real property, to discuss campus security, and to receive legal advice from counsel/' The motion was made by Mrs. Shepherd and approved unanimously. I. At the first executive session, attendance was limited to the trustees, President Stanley O. Ikenberry, and Secretary Michele M. Thompson. Also present was Dr. Jesse Delia, chair of the search committee for a chancellor, Urbana-Champaign campus.
Report from the Chair of the Search Committee for Chancellor, Urbana-Champagin Campus
President Ikenberry told the board members that he had met with the search committee since the September meeting of the board to review their progress and now wanted Dr. Delia to report to the board on the recent activities of the search committee. Dr. Delia reported that the advertisement for the position had been placed in several newspapers and periodicals and that requests for applications and nominations had been sent to agencies, peer institutions, and organizations outside higher education to identify women and minorities for this position. Dr. Delia noted that 68 names of applicants or nominees had been received. Of these prospects, 8 to 12 percent are from government research agencies, with the balance coming from academic institutions; 15 percent of these represent individuals currently at the Urbana campus; and 7 percent are from individuals who have been at Urbana but are not currently on this campus. In the pool, 20 percent have been identified as women, 48 percent as men. At this time, 6 percent of the pool have been identified as African-American and 1 percent as Hispanic. Seventy-five percent of these individuals have had responsibilities in a campus-wide position. All but two of the prospects have had experience at public universities, 34 are currently associated with AAU institutions, and 8 are with private institutions. Most are currently serving as dean, vice chancellor, or chancellor. There was a brief discussion of how to add more minorities to the pool. Dr. Delia indicated that the committee planned for the search