Caption: Board of Trustees Minutes - 1992
This is a reduced-resolution page image for fast online browsing.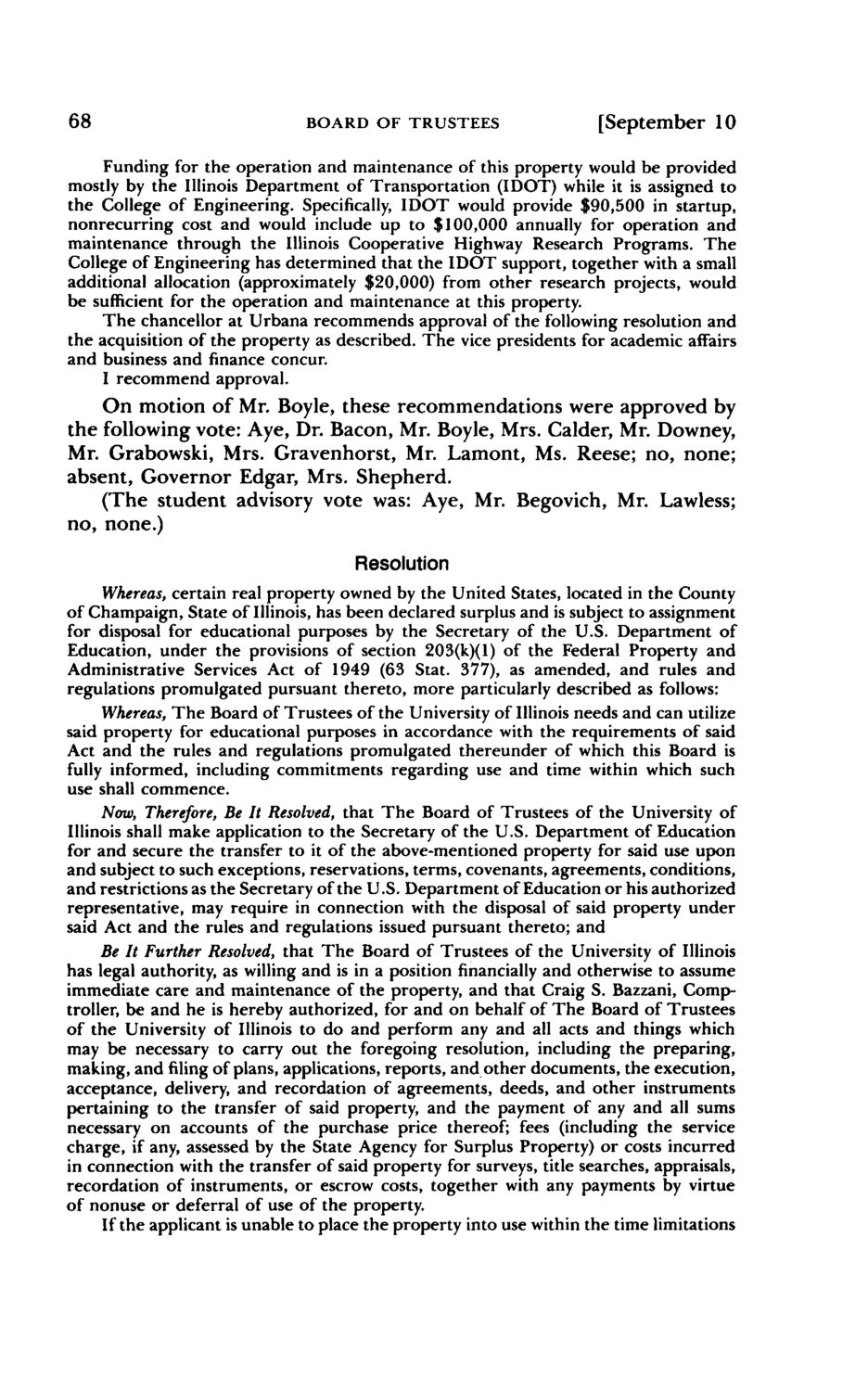 ---
EXTRACTED TEXT FROM PAGE:
68
BOARD OF TRUSTEES
[September 10
Funding for the operation and maintenance of this property would be provided mostly by the Illinois Department of Transportation (IDOT) while it is assigned to the College of Engineering. Specifically, I DOT would provide $90,500 in startup, nonrecurring cost and would include up to $100,000 annually for operation and maintenance through the Illinois Cooperative Highway Research Programs. The College of Engineering has determined that the IDOT support, together with a small additional allocation (approximately $20,000) from other research projects, would be sufficient for the operation and maintenance at this property. The chancellor at Urbana recommends approval of the following resolution and the acquisition of the property as described. The vice presidents for academic affairs and business and finance concur. I recommend approval.
On motion of Mr. Boyle, these recommendations were approved by the following vote: Aye, Dr. Bacon, Mr. Boyle, Mrs. Calder, Mr. Downey, Mr. Grabowski, Mrs. Gravenhorst, Mr. Lamont, Ms. Reese; no, none; absent, Governor Edgar, Mrs. Shepherd. (The student advisory vote was: Aye, Mr. Begovich, Mr. Lawless; no, none.)
Resolution
Whereas, certain real property owned by the United States, located in the County of Champaign, State of Illinois, has been declared surplus and is subject to assignment for disposal for educational purposes by the Secretary of the U.S. Department of Education, under the provisions of section 203(k)(l) of the Federal Property and Administrative Services Act of 1949 (63 Stat. 377), as amended, and rules and regulations promulgated pursuant thereto, more particularly described as follows: Whereas, The Board of Trustees of the University of Illinois needs and can utilize said property for educational purposes in accordance with the requirements of said Act and the rules and regulations promulgated thereunder of which this Board is fully informed, including commitments regarding use and time within which such use shall commence. Now, Therefore, Be It Resolved, that The Board of Trustees of the University of Illinois shall make application to the Secretary of the U.S. Department of Education for and secure the transfer to it of the above-mentioned property for said use upon and subject to such exceptions, reservations, terms, covenants, agreements, conditions, and restrictions as the Secretary of the U.S. Department of Education or his authorized representative, may require in connection with the disposal of said property under said Act and the rules and regulations issued pursuant thereto; and Be It Further Resolved, that The Board of Trustees of the University of Illinois has legal authority, as willing and is in a position financially and otherwise to assume immediate care and maintenance of the property, and that Craig S. Bazzani, Comptroller, be and he is hereby authorized, for and on behalf of The Board of Trustees of the University of Illinois to do and perform any and all acts and things which may be necessary to carry out the foregoing resolution, including the preparing, making, and filing of plans, applications, reports, and other documents, the execution, acceptance, delivery, and recordation of agreements, deeds, and other instruments pertaining to the transfer of said property, and the payment of any and all sums necessary on accounts of the purchase price thereof; fees (including the service charge, if any, assessed by the State Agency for Surplus Property) or costs incurred in connection with the transfer of said property for surveys, title searches, appraisals, recordation of instruments, or escrow costs, together with any payments by virtue of nonuse or deferral of use of the property. If the applicant is unable to place the property into use within the time limitations