Caption: Board of Trustees Minutes - 1992
This is a reduced-resolution page image for fast online browsing.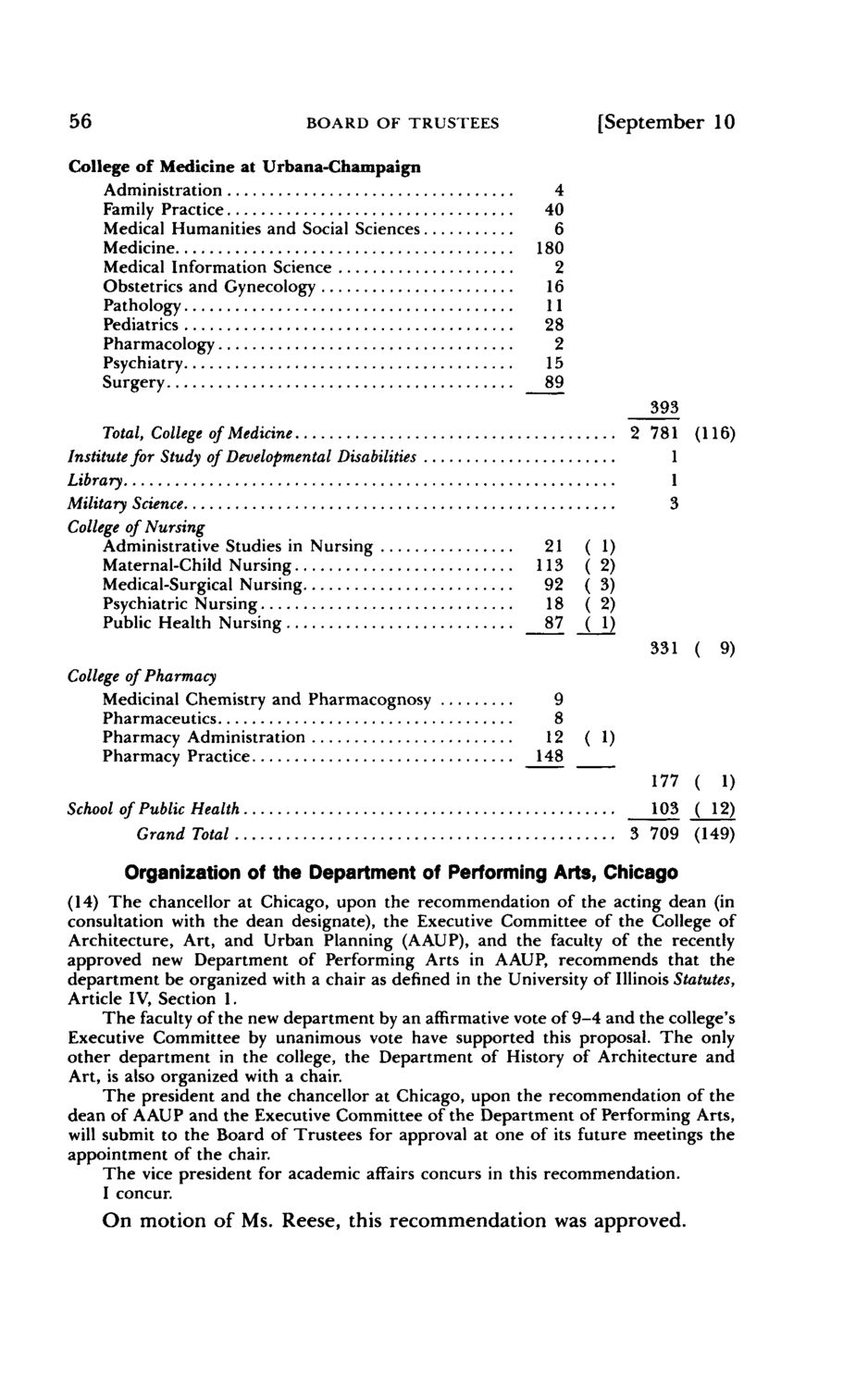 ---
EXTRACTED TEXT FROM PAGE:
56
BOARD OF TRUSTEES
[September 10
4 40 6 180 2 16 11 28 2 15 89 393 2 781 (116) 1 1 3 21 113 92 18 87 ( 1) (2) (3) ( 2) ( 1) 331 ( 9)
College of Medicine at Urbana-Champaign Administration Family Practice Medical Humanities and Social Sciences Medicine Medical Information Science Obstetrics and Gynecology Pathology Pediatrics Pharmacology Psychiatry Surgery Total, College of Medicine Institute for Study of Developmental Disabilities Library Military Science College of Nursing Administrative Studies in Nursing Maternal-Child Nursing Medical-Surgical Nursing Psychiatric Nursing Public Health Nursing College of Pharmacy Medicinal Chemistry and Pharmacognosy Pharmaceutics Pharmacy Administration Pharmacy Practice School of Public Health Grand Total
9 8 12 148
( 1) 177 ( 1)
103 ( 12) 3 709 (149)
Organization of the Department of Performing Arts, Chicago
(14) T h e chancellor at Chicago, upon the recommendation of the acting dean (in consultation with the dean designate), the Executive Committee of the College of Architecture, Art, and Urban Planning (AAUP), and the faculty of the recently approved new Department of Performing Arts in AAUP, recommends that the department be organized with a chair as defined in the University of Illinois Statutes, Article IV, Section 1. T h e faculty of the new department by an affirmative vote of 9-4 and the college's Executive Committee by unanimous vote have supported this proposal. T h e only other department in the college, the Department of History of Architecture and Art, is also organized with a chair. T h e president and the chancellor at Chicago, upon the recommendation of the dean of AAUP and the Executive Committee of the Department of Performing Arts, will submit to the Board of Trustees for approval at one of its future meetings the appointment of the chair. T h e vice president for academic affairs concurs in this recommendation. I concur.
On motion of Ms. Reese, this recommendation was approved.