Caption: Board of Trustees Minutes - 1992
This is a reduced-resolution page image for fast online browsing.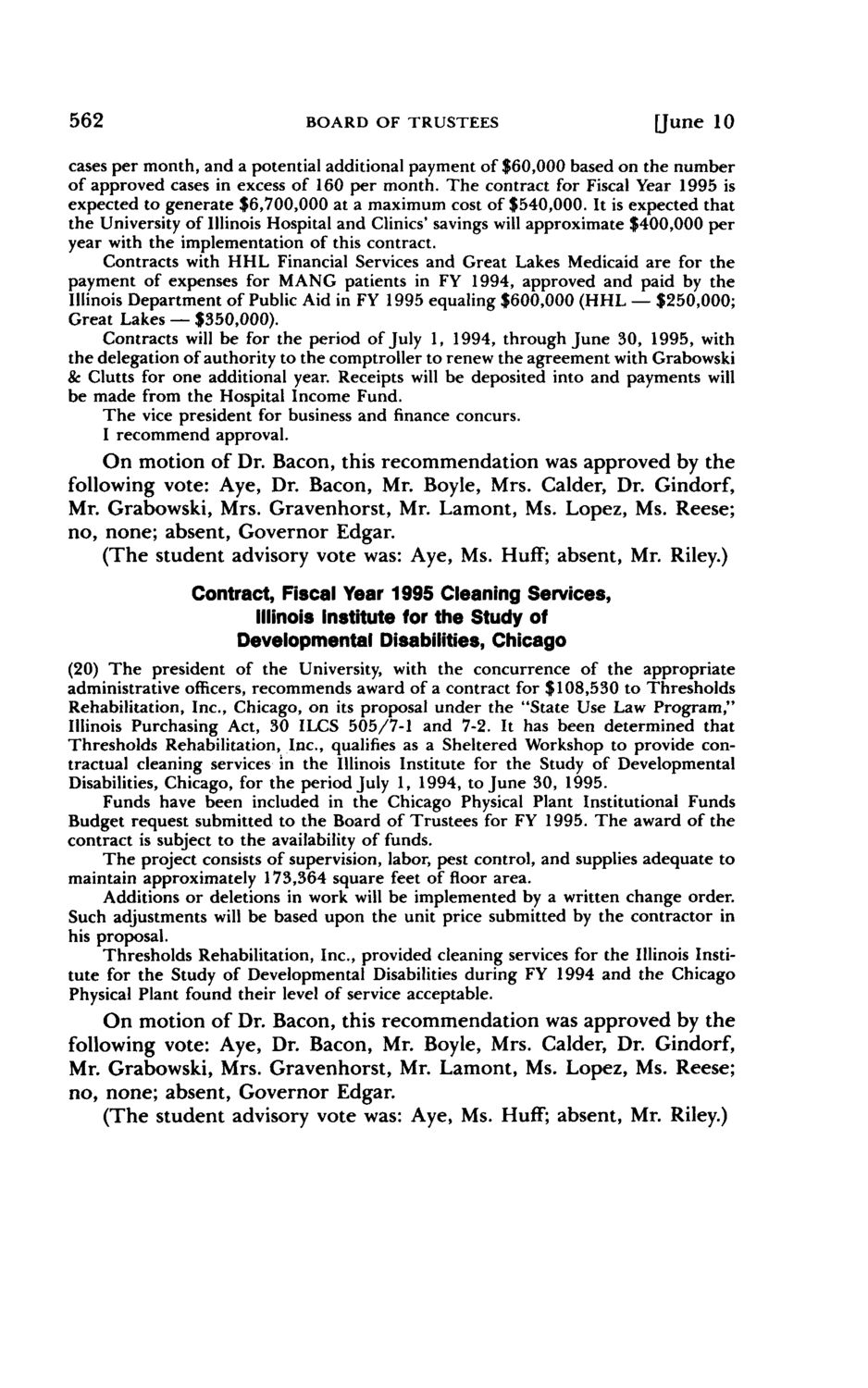 ---
EXTRACTED TEXT FROM PAGE:
562
B O A R D OF T R U S T E E S
[June 10
cases per month, and a potential additional payment of $60,000 based on the number of approved cases in excess of 160 per month. The contract for Fiscal Year 1995 is expected to generate $6,700,000 at a maximum cost of $540,000. It is expected that the University of Illinois Hospital and Clinics' savings will approximate $400,000 per year with the implementation of this contract. Contracts with HHL Financial Services and Great Lakes Medicaid are for the payment of expenses for MANG patients in FY 1994, approved and paid by the Illinois Department of Public Aid in FY 1995 equaling $600,000 (HHL — $250,000; Great Lakes — $350,000). Contracts will be for the period of July 1, 1994, through June 30, 1995, with the delegation of authority to the comptroller to renew the agreement with Grabowski & Clutts for one additional year. Receipts will be deposited into and payments will be made from the Hospital Income Fund. The vice president for business and finance concurs. I recommend approval.
On motion of Dr. Bacon, this recommendation was approved by the following vote: Aye, Dr. Bacon, Mr. Boyle, Mrs. Calder, Dr. Gindorf, Mr. Grabowski, Mrs. Gravenhorst, Mr. Lamont, Ms. Lopez, Ms. Reese; no, none; absent, Governor Edgar. (The student advisory vote was: Aye, Ms. Huff; absent, Mr. Riley.)
Contract, Fiscal Year 1995 Cleaning Services, Illinois Institute for the Study of Developmental Disabilities, Chicago
(20) The president of the University, with the concurrence of the appropriate administrative officers, recommends award of a contract for $108,530 to Thresholds Rehabilitation, Inc., Chicago, on its proposal under the "State Use Law Program," Illinois Purchasing Act, 30 ILCS 505/7-1 and 7-2. It has been determined that Thresholds Rehabilitation, Inc., qualifies as a Sheltered Workshop to provide contractual cleaning services in the Illinois Institute for the Study of Developmental Disabilities, Chicago, for the period July 1, 1994, to June 30, 1995. Funds have been included in the Chicago Physical Plant Institutional Funds Budget request submitted to the Board of Trustees for FY 1995. The award of the contract is subject to the availability of funds. The project consists of supervision, labor, pest control, and supplies adequate to maintain approximately 173,364 square feet of floor area. Additions or deletions in work will be implemented by a written change order. Such adjustments will be based upon the unit price submitted by the contractor in his proposal. Thresholds Rehabilitation, Inc., provided cleaning services for the Illinois Institute for the Study of Developmental Disabilities during FY 1994 and the Chicago Physical Plant found their level of service acceptable.
On motion of Dr. Bacon, this recommendation was approved by the following vote: Aye, Dr. Bacon, Mr. Boyle, Mrs. Calder, Dr. Gindorf, Mr. Grabowski, Mrs. Gravenhorst, Mr. Lamont, Ms. Lopez, Ms. Reese; no, none; absent, Governor Edgar. (The student advisory vote was: Aye, Ms. Huff; absent, Mr. Riley.)