Caption: Board of Trustees Minutes - 1992
This is a reduced-resolution page image for fast online browsing.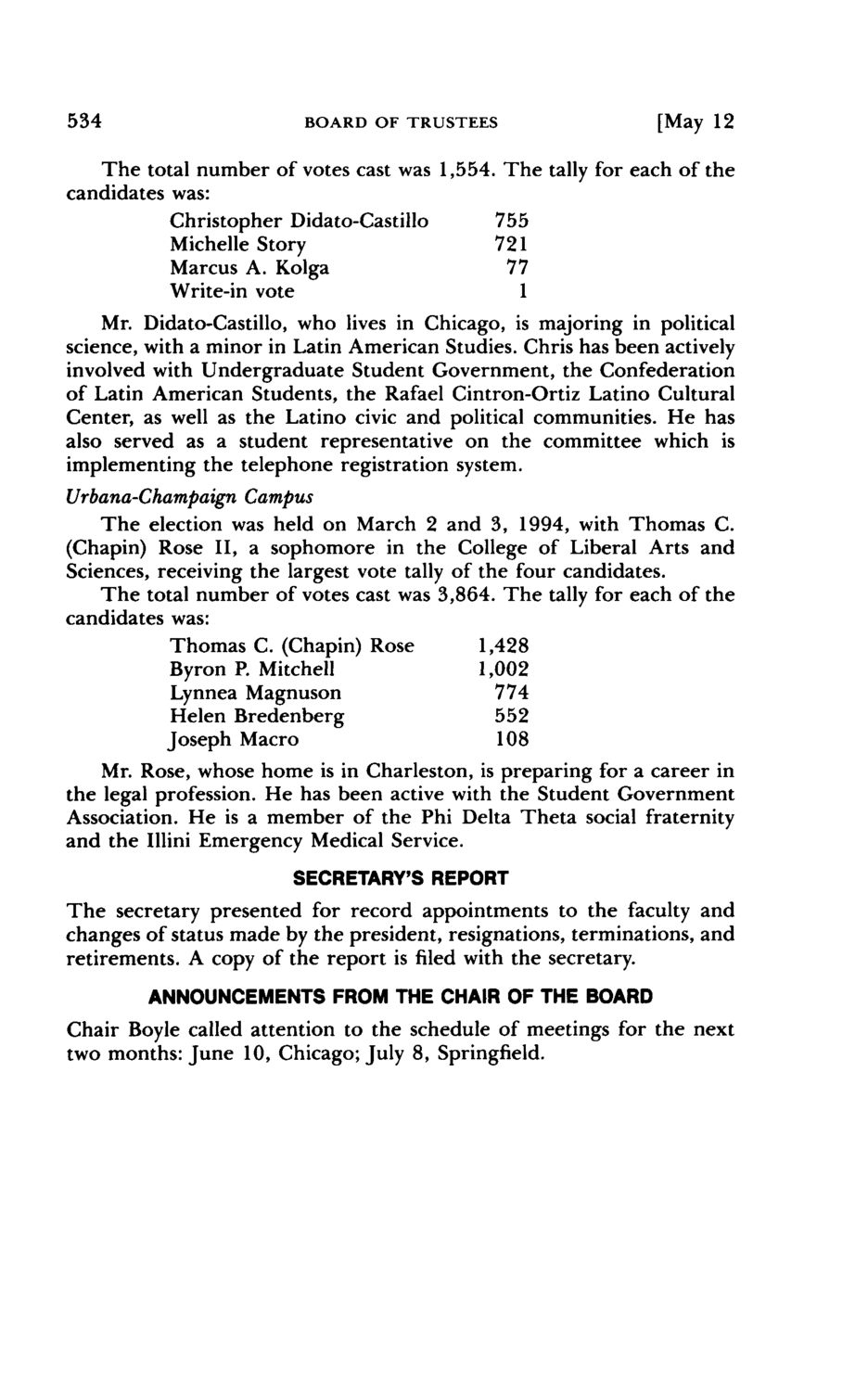 ---
EXTRACTED TEXT FROM PAGE:
534
BOARD OF TRUSTEES
[May 12
The total number of votes cast was 1,554. The tally for each of the candidates was: Christopher Didato-Castillo 755 Michelle Story 721 Marcus A. Kolga 77 Write-in vote 1 Mr. Didato-Castillo, who lives in Chicago, is majoring in political science, with a minor in Latin American Studies. Chris has been actively involved with Undergraduate Student Government, the Confederation of Latin American Students, the Rafael Cintron-Ortiz Latino Cultural Center, as well as the Latino civic and political communities. He has also served as a student representative on the committee which is implementing the telephone registration system. Urbana-Champaign Campus The election was held on March 2 and 3, 1994, with Thomas C. (Chapin) Rose II, a sophomore in the College of Liberal Arts and Sciences, receiving the largest vote tally of the four candidates. The total number of votes cast was 3,864. The tally for each of the candidates was: Thomas C. (Chapin) Rose 1,428 Byron P. Mitchell 1,002 Lynnea Magnuson 774 Helen Bredenberg 552 Joseph Macro 108 Mr. Rose, whose home is in Charleston, is preparing for a career in the legal profession. He has been active with the Student Government Association. He is a member of the Phi Delta Theta social fraternity and the Illini Emergency Medical Service.
SECRETARY'S REPORT
The secretary presented for record appointments to the faculty and changes of status made by the president, resignations, terminations, and retirements. A copy of the report is filed with the secretary.
ANNOUNCEMENTS FROM THE CHAIR OF THE BOARD
Chair Boyle called attention to the schedule of meetings for the next two months: June 10, Chicago; July 8, Springfield.