Caption: Board of Trustees Minutes - 1992
This is a reduced-resolution page image for fast online browsing.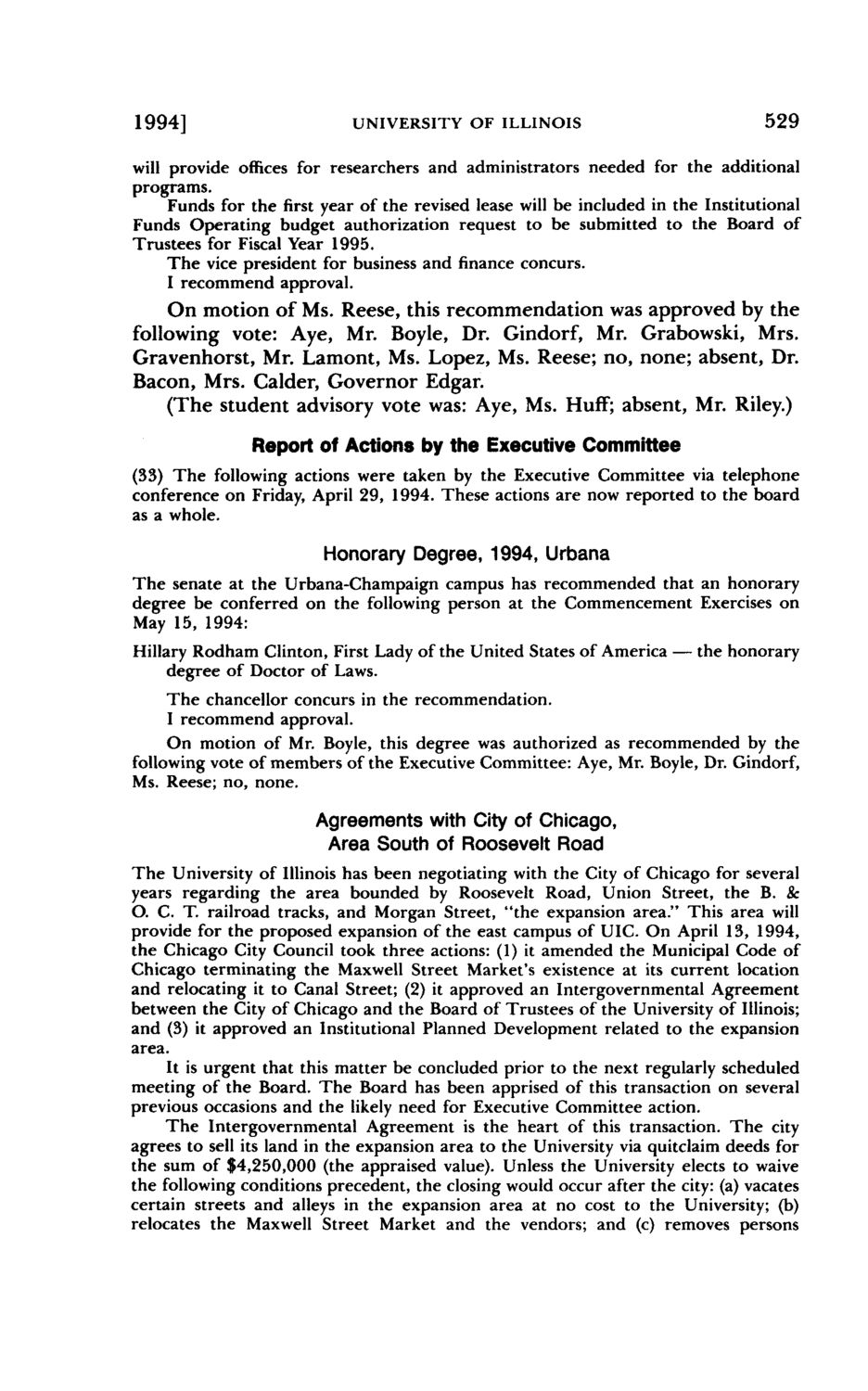 ---
EXTRACTED TEXT FROM PAGE:
1994]
UNIVERSITY OF ILLINOIS
529
will provide offices for researchers and administrators needed for the additional programs. Funds for the first year of the revised lease will be included in the Institutional Funds Operating budget authorization request to be submitted to the Board of Trustees for Fiscal Year 1995. The vice president for business and finance concurs. I recommend approval.
On motion of Ms. Reese, this recommendation was approved by the following vote: Aye, Mr. Boyle, Dr. Gindorf, Mr. Grabowski, Mrs. Gravenhorst, Mr. Lamont, Ms. Lopez, Ms. Reese; no, none; absent, Dr. Bacon, Mrs. Calder, Governor Edgar. (The student advisory vote was: Aye, Ms. Huff; absent, Mr. Riley.) Report of Actions by the Executive Committee
(33) The following actions were taken by the Executive Committee via telephone conference on Friday, April 29, 1994. These actions are now reported to the board as a whole.
Honorary Degree, 1994, Urbana
The senate at the Urbana-Champaign campus has recommended that an honorary degree be conferred on the following person at the Commencement Exercises on May 15, 1994: Hillary Rodham Clinton, First Lady of the United States of America — the honorary degree of Doctor of Laws. The chancellor concurs in the recommendation. I recommend approval. On motion of Mr. Boyle, this degree was authorized as recommended by the following vote of members of the Executive Committee: Aye, Mr. Boyle, Dr. Gindorf, Ms. Reese; no, none.
Agreements with City of Chicago, Area South of Roosevelt Road
The University of Illinois has been negotiating with the City of Chicago for several years regarding the area bounded by Roosevelt Road, Union Street, the B. 8c O. C. T railroad tracks, and Morgan Street, "the expansion area." This area will provide for the proposed expansion of the east campus of UIC. On April 13, 1994, the Chicago City Council took three actions: (1) it amended the Municipal Code of Chicago terminating the Maxwell Street Market's existence at its current location and relocating it to Canal Street; (2) it approved an Intergovernmental Agreement between the City of Chicago and the Board of Trustees of the University of Illinois; and (3) it approved an Institutional Planned Development related to the expansion area. It is urgent that this matter be concluded prior to the next regularly scheduled meeting of the Board. The Board has been apprised of this transaction on several previous occasions and the likely need for Executive Committee action. The Intergovernmental Agreement is the heart of this transaction. The city agrees to sell its land in the expansion area to the University via quitclaim deeds for the sum of $4,250,000 (the appraised value). Unless the University elects to waive the following conditions precedent, the closing would occur after the city: (a) vacates certain streets and alleys in the expansion area at no cost to the University; (b) relocates the Maxwell Street Market and the vendors; and (c) removes persons