Caption: Board of Trustees Minutes - 1992
This is a reduced-resolution page image for fast online browsing.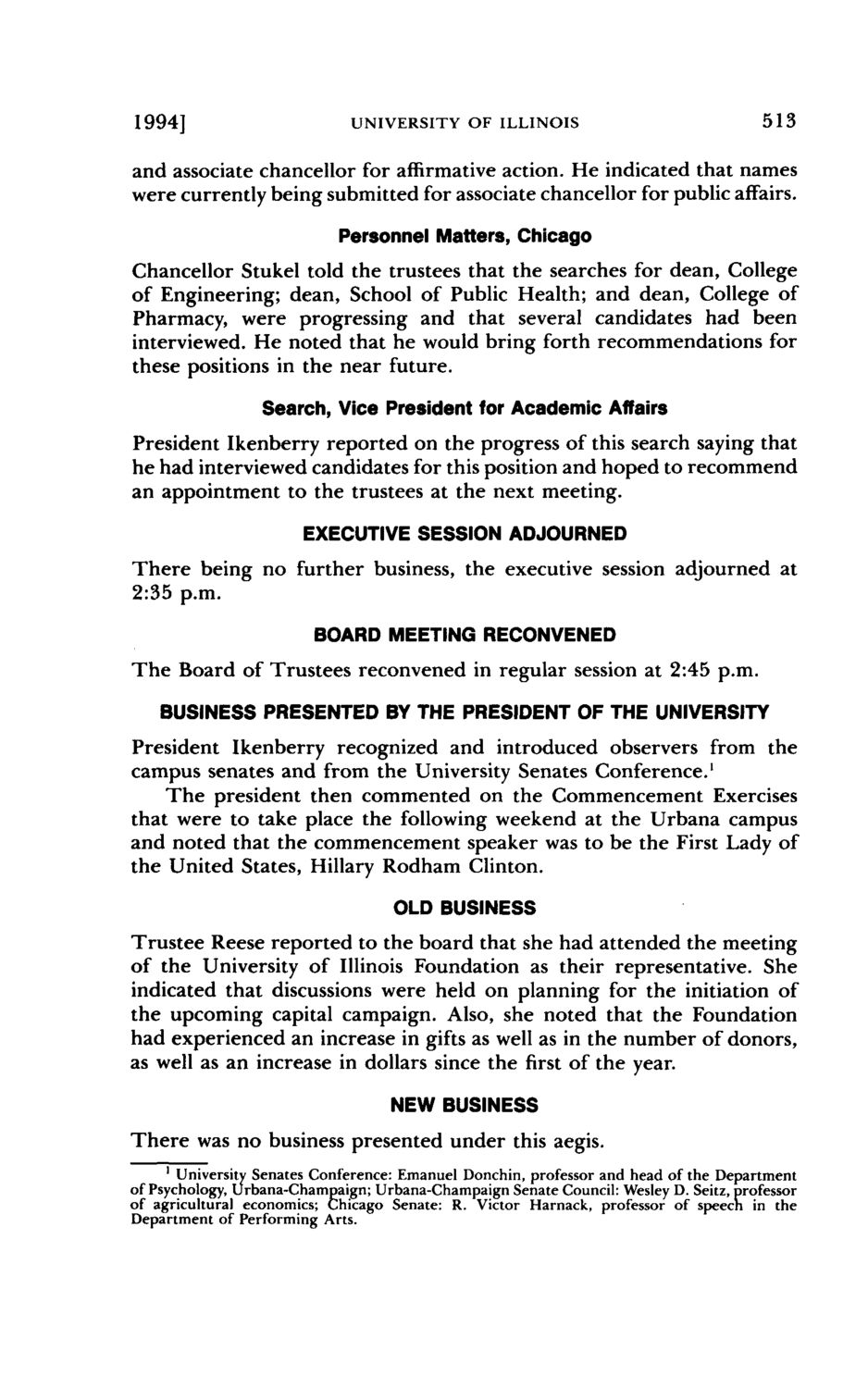 ---
EXTRACTED TEXT FROM PAGE:
1994]
UNIVERSITY OF ILLINOIS
513
and associate chancellor for affirmative action. He indicated that names were currently being submitted for associate chancellor for public affairs.
Personnel Matters, Chicago
Chancellor Stukel told the trustees that the searches for dean, College of Engineering; dean, School of Public Health; and dean, College of Pharmacy, were progressing and that several candidates had been interviewed. He noted that he would bring forth recommendations for these positions in the near future.
Search, Vice President for Academic Affairs
President Ikenberry reported on the progress of this search saying that he had interviewed candidates for this position and hoped to recommend an appointment to the trustees at the next meeting.
EXECUTIVE SESSION ADJOURNED
There being no further business, the executive session adjourned at 2:35 p.m.
BOARD MEETING RECONVENED
The Board of Trustees reconvened in regular session at 2:45 p.m.
BUSINESS PRESENTED BY THE PRESIDENT OF THE UNIVERSITY
President Ikenberry recognized and introduced observers from the campus senates and from the University Senates Conference.1 The president then commented on the Commencement Exercises that were to take place the following weekend at the Urbana campus and noted that the commencement speaker was to be the First Lady of the United States, Hillary Rodham Clinton.
OLD BUSINESS
Trustee Reese reported to the board that she had attended the meeting of the University of Illinois Foundation as their representative. She indicated that discussions were held on planning for the initiation of the upcoming capital campaign. Also, she noted that the Foundation had experienced an increase in gifts as well as in the number of donors, as well as an increase in dollars since the first of the year.
NEW BUSINESS
There was no business presented under this aegis.
1 University Senates Conference: Emanuel Donchin, professor and head of the Department of Psychology, Urbana-Champaign; Urbana-Champaign Senate Council: Wesley D. Seitz, professor of agricultural economics; Chicago Senate: R. Victor Harnack, professor of speech in the Department of Performing Arts.