Caption: Board of Trustees Minutes - 1992
This is a reduced-resolution page image for fast online browsing.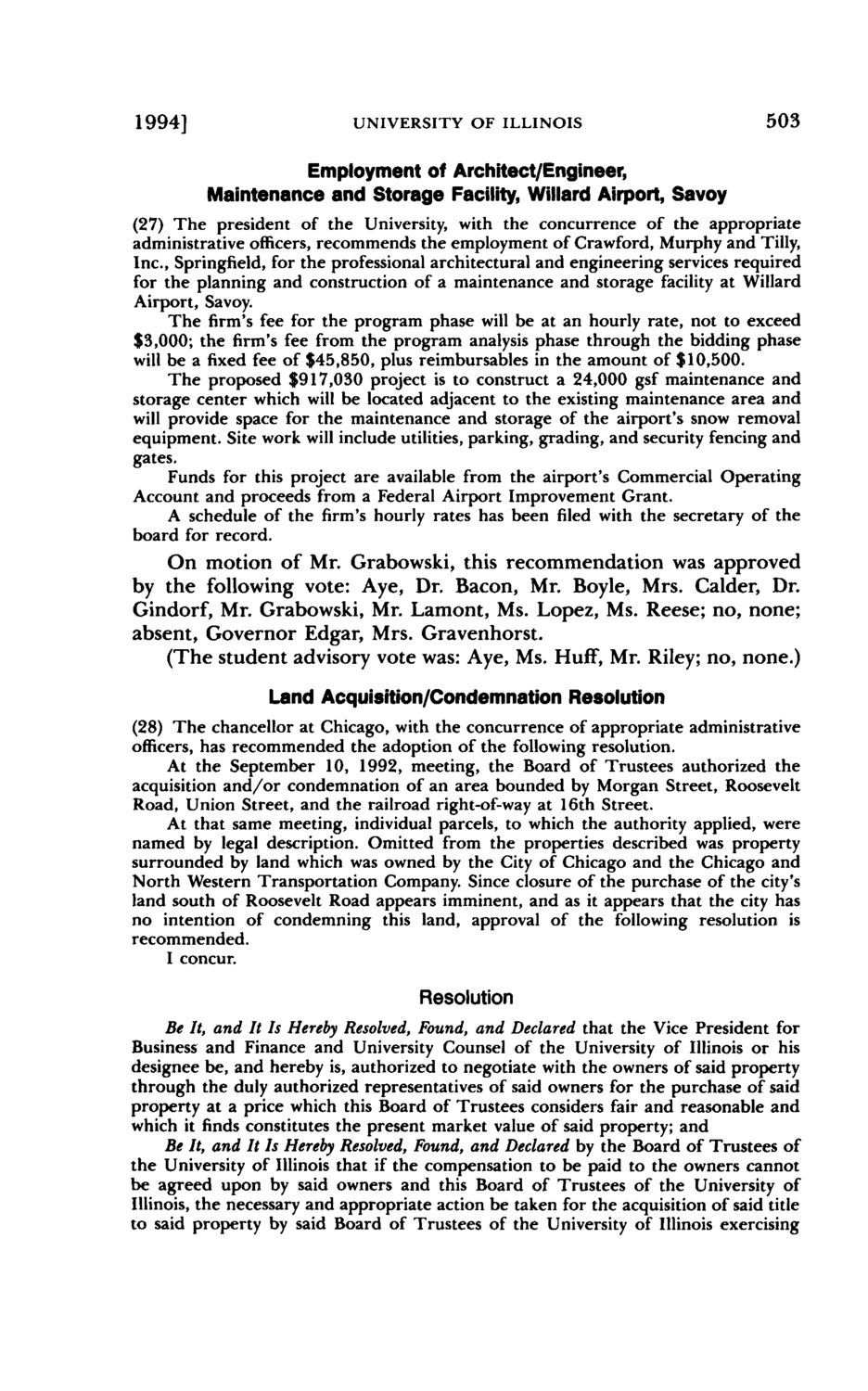 ---
EXTRACTED TEXT FROM PAGE:
1994]
UNIVERSITY OF ILLINOIS
503
Employment of Architect/Engineer, Maintenance and Storage Facility, Willard Airport, Savoy
(27) The president of the University, with the concurrence of the appropriate administrative officers, recommends the employment of Crawford, Murphy and Tilly, Inc., Springfield, for the professional architectural and engineering services required for the planning and construction of a maintenance and storage facility at Willard Airport, Savoy. The firm's fee for the program phase will be at an hourly rate, not to exceed $3,000; the firm's fee from the program analysis phase through the bidding phase will be a fixed fee of $45,850, plus reimbursables in the amount of $10,500. The proposed $917,030 project is to construct a 24,000 gsf maintenance and storage center which will be located adjacent to the existing maintenance area and will provide space for the maintenance and storage of the airport's snow removal equipment. Site work will include utilities, parking, grading, and security fencing and gates. Funds for this project are available from the airport's Commercial Operating Account and proceeds from a Federal Airport Improvement Grant. A schedule of the firm's hourly rates has been filed with the secretary of the board for record.
On motion of Mr. Grabowski, this recommendation was approved by the following vote: Aye, Dr. Bacon, Mr. Boyle, Mrs. Calder, Dr. Gindorf, Mr. Grabowski, Mr. Lamont, Ms. Lopez, Ms. Reese; no, none; absent, Governor Edgar, Mrs. Gravenhorst. (The student advisory vote was: Aye, Ms. HufF, Mr. Riley; no, none.)
Land Acquisition/Condemnation Resolution
(28) The chancellor at Chicago, with the concurrence of appropriate administrative officers, has recommended the adoption of the following resolution. At the September 10, 1992, meeting, the Board of Trustees authorized the acquisition and/or condemnation of an area bounded by Morgan Street, Roosevelt Road, Union Street, and the railroad right-of-way at 16th Street. At that same meeting, individual parcels, to which the authority applied, were named by legal description. Omitted from the properties described was property surrounded by land which was owned by the City of Chicago and the Chicago and North Western Transportation Company. Since closure of the purchase of the city's land south of Roosevelt Road appears imminent, and as it appears that the city has no intention of condemning this land, approval of the following resolution is recommended. I concur.
Resolution
Be It, and It Is Hereby Resolved, Found, and Declared that the Vice President for Business and Finance and University Counsel of the University of Illinois or his designee be, and hereby is, authorized to negotiate with the owners of said property through the duly authorized representatives of said owners for the purchase of said property at a price which this Board of Trustees considers fair and reasonable and which it finds constitutes the present market value of said property; and Be It, and It Is Hereby Resolved, Found, and Declared by the Board of Trustees of the University of Illinois that if the compensation to be paid to the owners cannot be agreed upon by said owners and this Board of Trustees of the University of Illinois, the necessary and appropriate action be taken for the acquisition of said title to said property by said Board of Trustees of the University of Illinois exercising