Caption: Board of Trustees Minutes - 1992
This is a reduced-resolution page image for fast online browsing.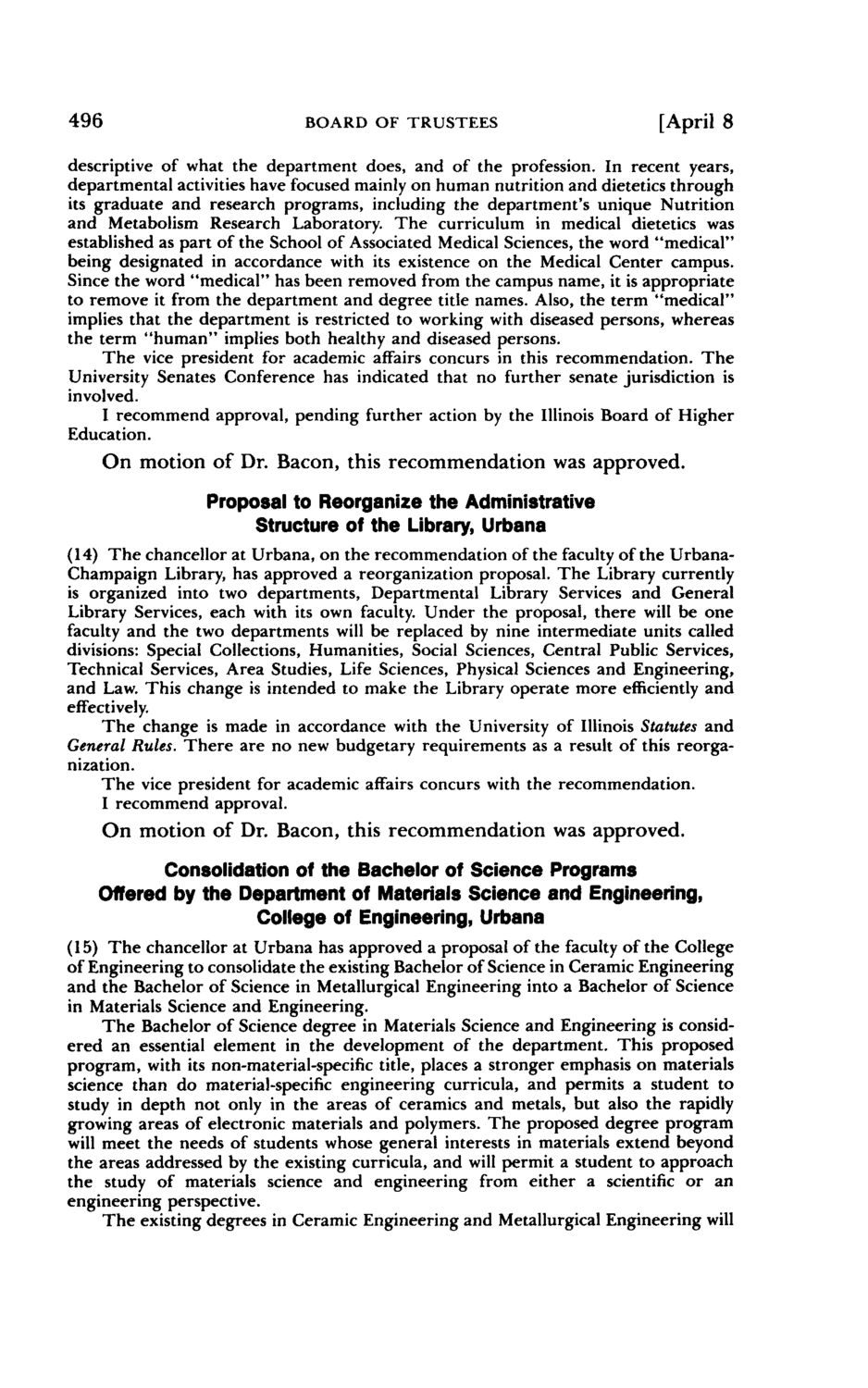 ---
EXTRACTED TEXT FROM PAGE:
496
BOARD OF TRUSTEES
[April 8
descriptive of what the department does, and of the profession. In recent years, departmental activities have focused mainly on human nutrition and dietetics through its graduate and research programs, including the department's unique Nutrition and Metabolism Research Laboratory. The curriculum in medical dietetics was established as part of the School of Associated Medical Sciences, the word "medical" being designated in accordance with its existence on the Medical Center campus. Since the word "medical" has been removed from the campus name, it is appropriate to remove it from the department and degree title names. Also, the term "medical" implies that the department is restricted to working with diseased persons, whereas the term "human" implies both healthy and diseased persons. The vice president for academic affairs concurs in this recommendation. The University Senates Conference has indicated that no further senate jurisdiction is involved. I recommend approval, pending further action by the Illinois Board of Higher Education.
On motion of Dr. Bacon, this recommendation was approved. Proposal to Reorganize the Administrative Structure of the Library, Urbana
(14) The chancellor at Urbana, on the recommendation of the faculty of the UrbanaChampaign Library, has approved a reorganization proposal. The Library currently is organized into two departments, Departmental Library Services and General Library Services, each with its own faculty. Under the proposal, there will be one faculty and the two departments will be replaced by nine intermediate units called divisions: Special Collections, Humanities, Social Sciences, Central Public Services, Technical Services, Area Studies, Life Sciences, Physical Sciences and Engineering, and Law. This change is intended to make the Library operate more efficiently and effectively. The change is made in accordance with the University of Illinois Statutes and General Rules. There are no new budgetary requirements as a result of this reorganization. The vice president for academic affairs concurs with the recommendation. I recommend approval.
On motion of Dr. Bacon, this recommendation was approved. Consolidation of the Bachelor of Science Programs Offered by the Department of Materials Science and Engineering, College of Engineering, Urbana
(15) The chancellor at Urbana has approved a proposal of the faculty of the College of Engineering to consolidate the existing Bachelor of Science in Ceramic Engineering and the Bachelor of Science in Metallurgical Engineering into a Bachelor of Science in Materials Science and Engineering. The Bachelor of Science degree in Materials Science and Engineering is considered an essential element in the development of the department. This proposed program, with its non-material-specific title, places a stronger emphasis on materials science than do material-specific engineering curricula, and permits a student to study in depth not only in the areas of ceramics and metals, but also the rapidly growing areas of electronic materials and polymers. The proposed degree program will meet the needs of students whose general interests in materials extend beyond the areas addressed by the existing curricula, and will permit a student to approach the study of materials science and engineering from either a scientific or an engineering perspective. The existing degrees in Ceramic Engineering and Metallurgical Engineering will