Caption: Board of Trustees Minutes - 1992
This is a reduced-resolution page image for fast online browsing.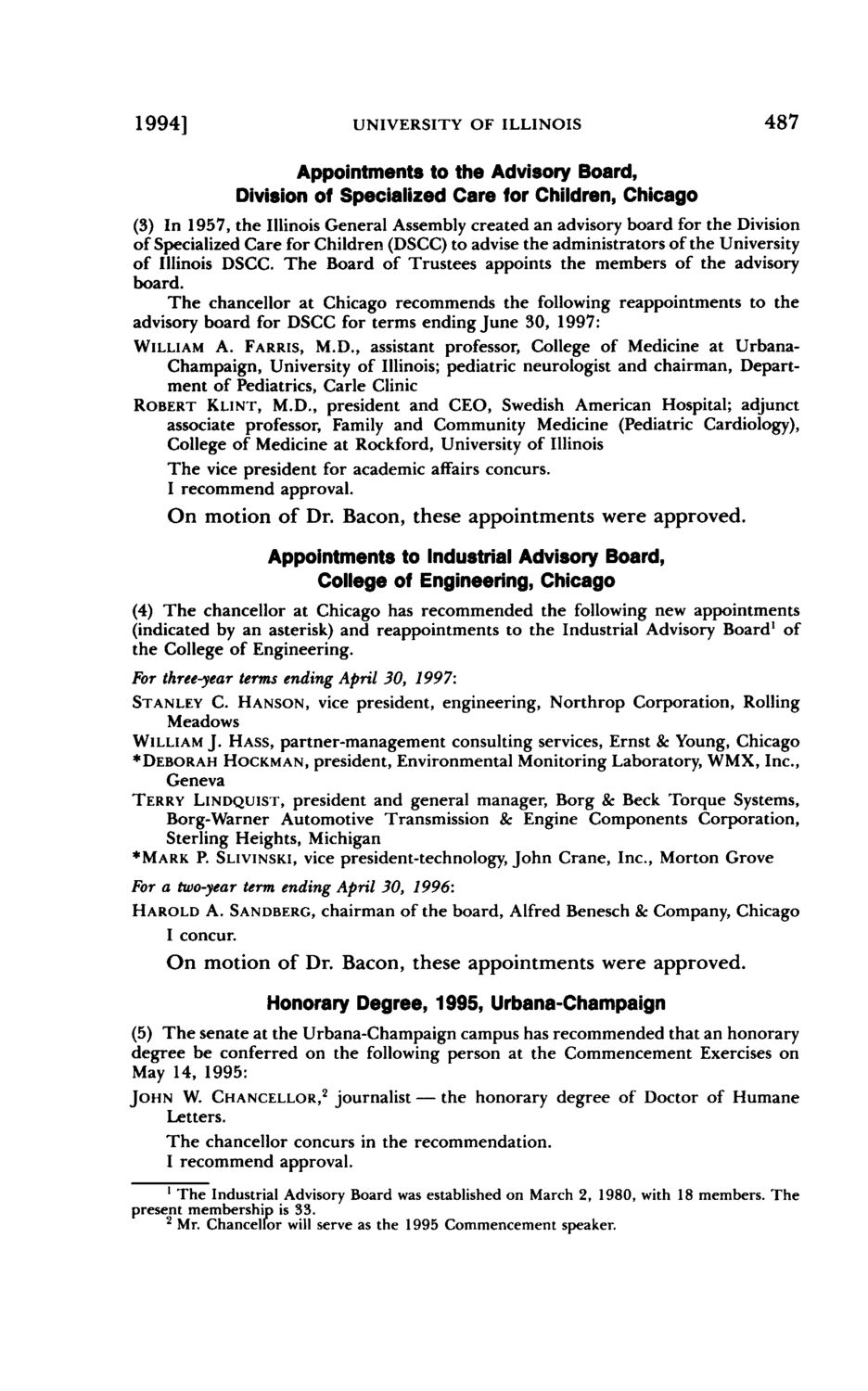 ---
EXTRACTED TEXT FROM PAGE:
1994]
U N I V E R S I T Y OF ILLINOIS
487
Appointments to the Advisory Board, Division of Specialized Care for Children, Chicago
(3) In 1957, the Illinois General Assembly created an advisory board for the Division of Specialized Care for Children (DSCC) to advise the administrators of the University of Illinois DSCC. The Board of Trustees appoints the members of the advisory board. The chancellor at Chicago recommends the following reappointments to the advisory board for DSCC for terms ending June 30, 1997: WILLIAM A. FARRIS, M.D., assistant professor, College of Medicine at UrbanaChampaign, University of Illinois; pediatric neurologist and chairman, Department of Pediatrics, Carle Clinic ROBERT KLINT, M.D., president and CEO, Swedish American Hospital; adjunct associate professor, Family and Community Medicine (Pediatric Cardiology), College of Medicine at Rockford, University of Illinois The vice president for academic affairs concurs. I recommend approval.
On motion of Dr. Bacon, these appointments were approved. Appointments to Industrial Advisory Board, College of Engineering, Chicago
(4) The chancellor at Chicago has recommended the following new appointments (indicated by an asterisk) and reappointments to the Industrial Advisory Board1 of the College of Engineering. For three-year terms ending April 30, 1997: STANLEY C. HANSON, vice president, engineering, Northrop Corporation, Rolling Meadows WILLIAM J. HASS, partner-management consulting services, Ernst 8c Young, Chicago •DEBORAH HOCKMAN, president, Environmental Monitoring Laboratory, WMX, Inc., Geneva TERRY LINDQUIST, president and general manager, Borg 8c Beck Torque Systems, Borg-Warner Automotive Transmission 8c Engine Components Corporation, Sterling Heights, Michigan •MARK P. SLIVINSKI, vice president-technology, John Crane, Inc., Morton Grove For a two-year term ending April 30, 1996: HAROLD A. SANDBERG, chairman of the board, Alfred Benesch 8c Company, Chicago I concur.
On motion of Dr. Bacon, these appointments were approved. Honorary Degree, 1995, Urbana-Champaign
(5) The senate at the Urbana-Champaign campus has recommended that an honorary degree be conferred on the following person at the Commencement Exercises on May 14, 1995: JOHN W. CHANCELLOR, 2 journalist — the honorary degree of Doctor of Humane Letters. The chancellor concurs in the recommendation. I recommend approval.
1 The Industrial Advisory Board was established on March 2, 1980, with 18 members. The present membership is 33. 2 Mr. Chancellor will serve as the 1995 Commencement speaker.