Caption: Board of Trustees Minutes - 1992
This is a reduced-resolution page image for fast online browsing.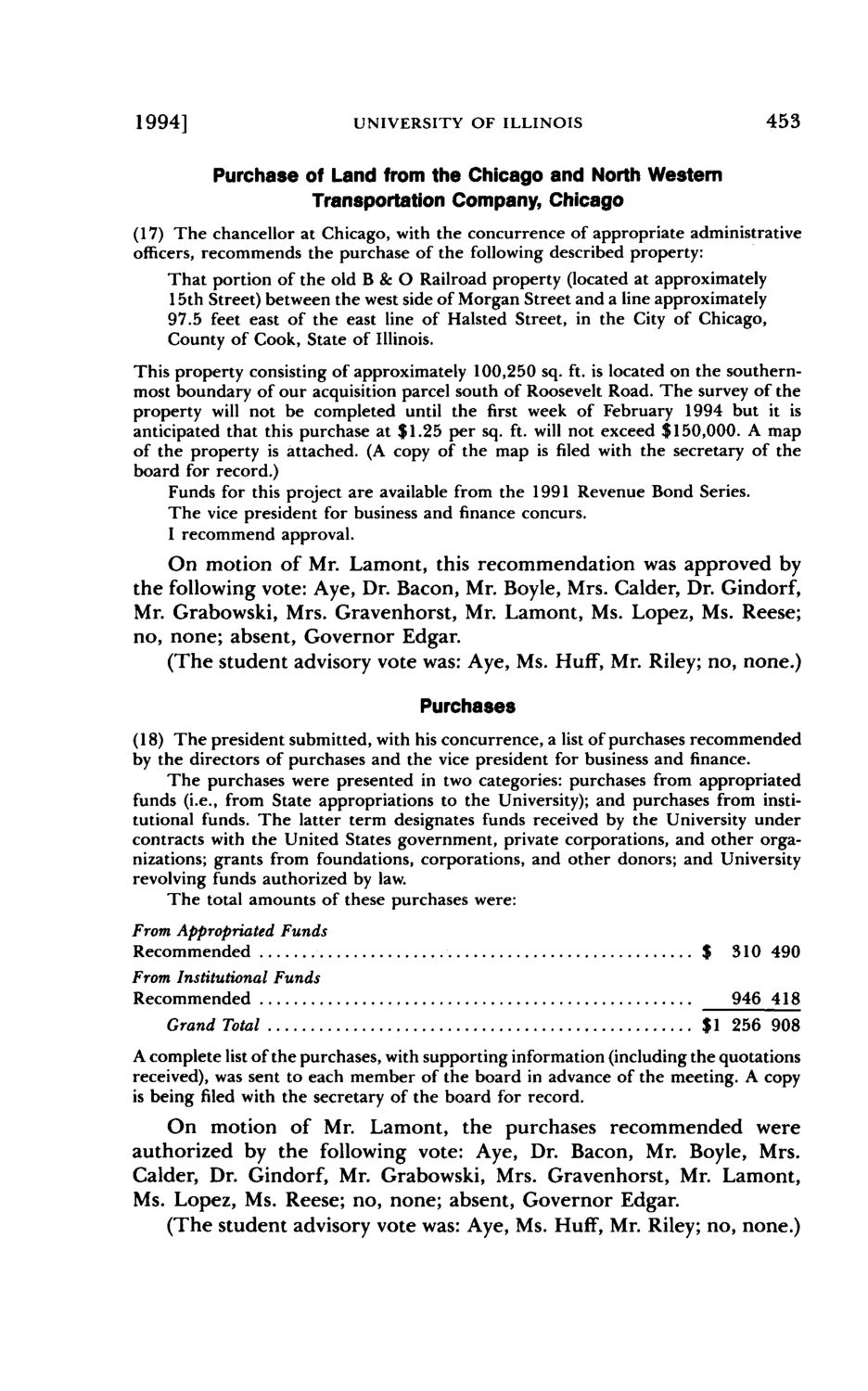 ---
EXTRACTED TEXT FROM PAGE:
1994]
UNIVERSITY OF ILLINOIS
453
Purchase of Land from the Chicago and North Western Transportation Company, Chicago
(17) The chancellor at Chicago, with the concurrence of appropriate administrative officers, recommends the purchase of the following described property: That portion of the old B 8c O Railroad property (located at approximately 15th Street) between the west side of Morgan Street and a line approximately 97.5 feet east of the east line of Halsted Street, in the City of Chicago, County of Cook, State of Illinois. This property consisting of approximately 100,250 sq. ft. is located on the southernmost boundary of our acquisition parcel south of Roosevelt Road. The survey of the property will not be completed until the first week of February 1994 but it is anticipated that this purchase at $1.25 per sq. ft. will not exceed $150,000. A map of the property is attached. (A copy of the map is filed with the secretary of the board for record.) Funds for this project are available from the 1991 Revenue Bond Series. The vice president for business and finance concurs. I recommend approval.
On motion of Mr. Lamont, this recommendation was approved by the following vote: Aye, Dr. Bacon, Mr. Boyle, Mrs. Calder, Dr. Gindorf, Mr. Grabowski, Mrs. Gravenhorst, Mr. Lamont, Ms. Lopez, Ms. Reese; no, none; absent, Governor Edgar. (The student advisory vote was: Aye, Ms. Huff, Mr. Riley; no, none.)
Purchases
(18) The president submitted, with his concurrence, a list of purchases recommended by the directors of purchases and the vice president for business and finance. The purchases were presented in two categories: purchases from appropriated funds (i.e., from State appropriations to the University); and purchases from institutional funds. The latter term designates funds received by the University under contracts with the United States government, private corporations, and other organizations; grants from foundations, corporations, and other donors; and University revolving funds authorized by law. The total amounts of these purchases were: From Appropriated Funds Recommended From Institutional Funds Recommended Grand Total $ 310 490 946 418 $1 256 908
A complete list of the purchases, with supporting information (including the quotations received), was sent to each member of the board in advance of the meeting. A copy is being filed with the secretary of the board for record.
On motion of Mr. Lamont, the purchases recommended were authorized by the following vote: Aye, Dr. Bacon, Mr. Boyle, Mrs. Calder, Dr. Gindorf, Mr. Grabowski, Mrs. Gravenhorst, Mr. Lamont, Ms. Lopez, Ms. Reese; no, none; absent, Governor Edgar. (The student advisory vote was: Aye, Ms. Huff, Mr. Riley; no, none.)