Caption: Board of Trustees Minutes - 1992
This is a reduced-resolution page image for fast online browsing.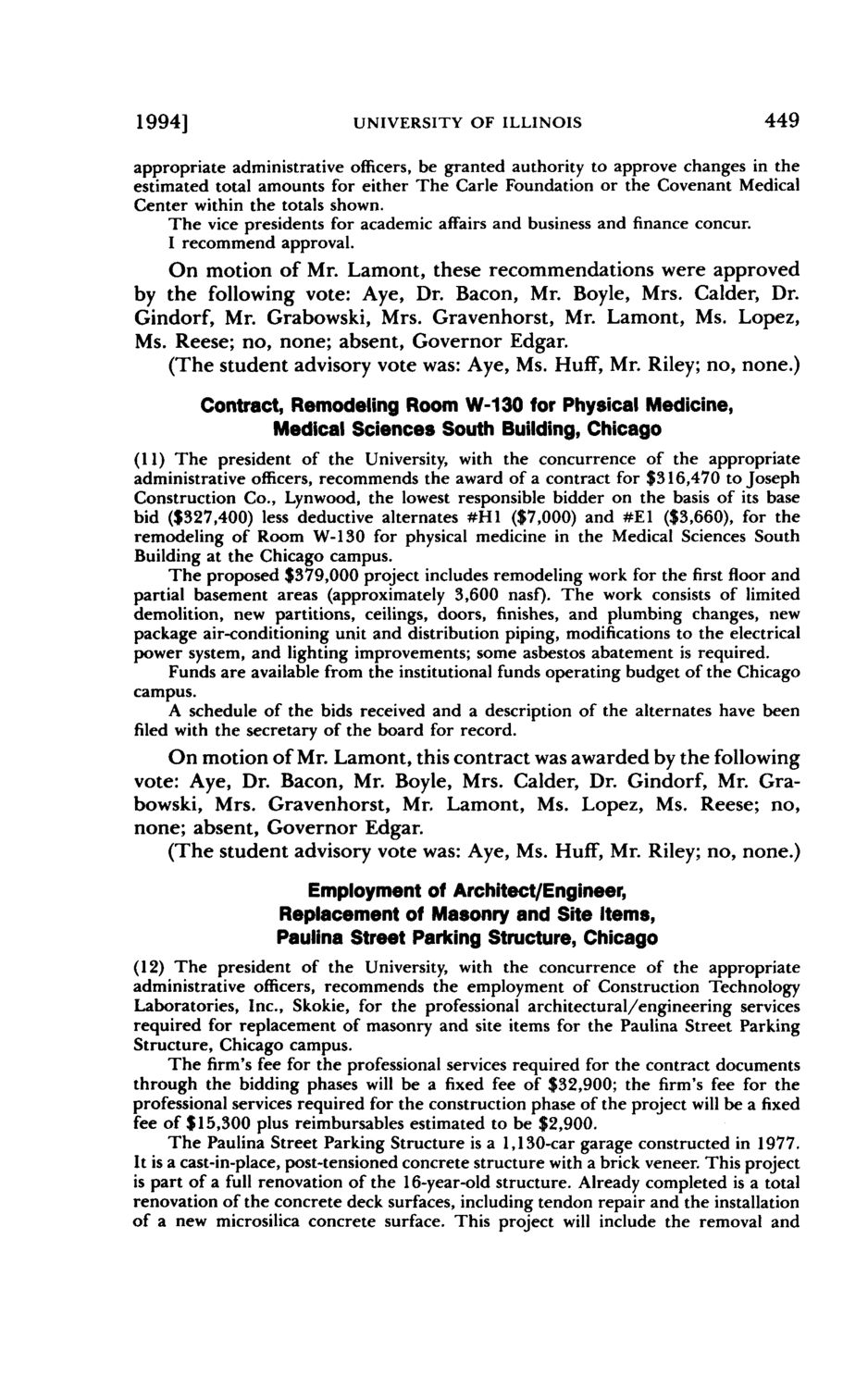 ---
EXTRACTED TEXT FROM PAGE:
1994]
UNIVERSITY OF ILLINOIS
449
appropriate administrative officers, be granted authority to approve changes in the estimated total amounts for either The Carle Foundation or the Covenant Medical Center within the totals shown. The vice presidents for academic affairs and business and finance concur. I recommend approval.
On motion of Mr. Lamont, these recommendations were approved by the following vote: Aye, Dr. Bacon, Mr. Boyle, Mrs. Calder, Dr. Gindorf, Mr. Grabowski, Mrs. Gravenhorst, Mr. Lamont, Ms. Lopez, Ms. Reese; no, none; absent, Governor Edgar. (The student advisory vote was: Aye, Ms. Huff, Mr. Riley; no, none.)
Contract, Remodeling Room W-130 for Physical Medicine, Medical Sciences South Building, Chicago
(11) The president of the University, with the concurrence of the appropriate administrative officers, recommends the award of a contract for $316,470 to Joseph Construction Co., Lynwood, the lowest responsible bidder on the basis of its base bid ($327,400) less deductive alternates #H1 ($7,000) and #E1 ($3,660), for the remodeling of Room W-130 for physical medicine in the Medical Sciences South Building at the Chicago campus. The proposed $379,000 project includes remodeling work for the first floor and partial basement areas (approximately 3,600 nasf). The work consists of limited demolition, new partitions, ceilings, doors, finishes, and plumbing changes, new package air-conditioning unit and distribution piping, modifications to the electrical power system, and lighting improvements; some asbestos abatement is required. Funds are available from the institutional funds operating budget of the Chicago campus. A schedule of the bids received and a description of the alternates have been filed with the secretary of the board for record.
On motion of Mr. Lamont, this contract was awarded by the following vote: Aye, Dr. Bacon, Mr. Boyle, Mrs. Calder, Dr. Gindorf, Mr. Grabowski, Mrs. Gravenhorst, Mr. Lamont, Ms. Lopez, Ms. Reese; no, none; absent, Governor Edgar. (The student advisory vote was: Aye, Ms. Huff, Mr. Riley; no, none.)
Employment of Architect/Engineer, Replacement of Masonry and Site Items, Paulina Street Parking Structure, Chicago
(12) The president of the University, with the concurrence of the appropriate administrative officers, recommends the employment of Construction Technology Laboratories, Inc., Skokie, for the professional architectural/engineering services required for replacement of masonry and site items for the Paulina Street Parking Structure, Chicago campus. The firm's fee for the professional services required for the contract documents through the bidding phases will be a fixed fee of $32,900; the firm's fee for the professional services required for the construction phase of the project will be a fixed fee of $15,300 plus reimbursables estimated to be $2,900. The Paulina Street Parking Structure is a 1,130-car garage constructed in 1977. It is a cast-in-place, post-tensioned concrete structure with a brick veneer. This project is part of a full renovation of the 16-year-old structure. Already completed is a total renovation of the concrete deck surfaces, including tendon repair and the installation of a new microsilica concrete surface. This project will include the removal and