Caption: Board of Trustees Minutes - 1992
This is a reduced-resolution page image for fast online browsing.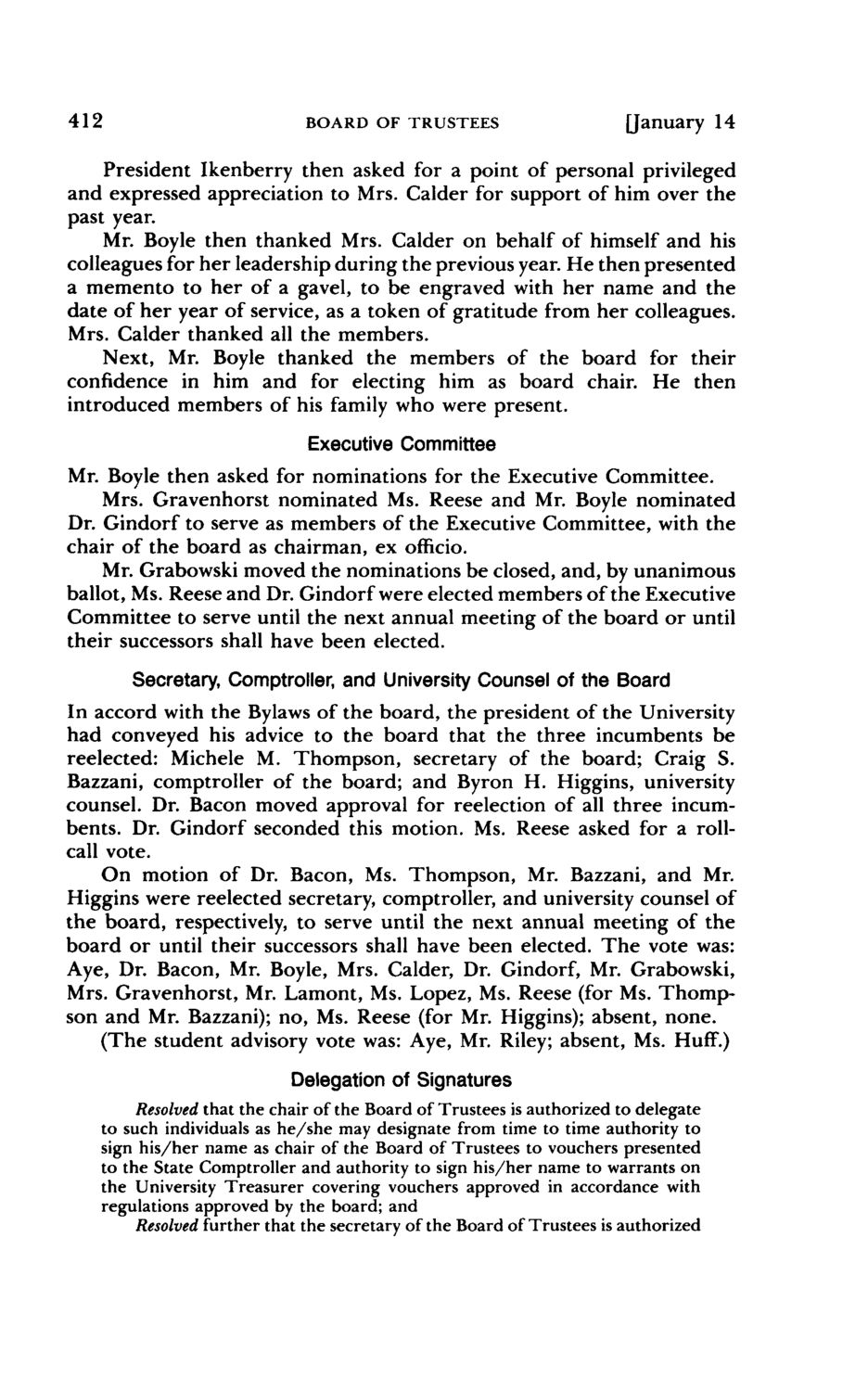 ---
EXTRACTED TEXT FROM PAGE:
412
BOARD OF TRUSTEES
[January 14
President Ikenberry then asked for a point of personal privileged and expressed appreciation to Mrs. Calder for support of him over the past year. Mr. Boyle then thanked Mrs. Calder on behalf of himself and his colleagues for her leadership during the previous year. He then presented a memento to her of a gavel, to be engraved with her name and the date of her year of service, as a token of gratitude from her colleagues. Mrs. Calder thanked all the members. Next, Mr. Boyle thanked the members of the board for their confidence in him and for electing him as board chair. He then introduced members of his family who were present.
Executive Committee
Mr. Boyle then asked for nominations for the Executive Committee. Mrs. Gravenhorst nominated Ms. Reese and Mr. Boyle nominated Dr. Gindorf to serve as members of the Executive Committee, with the chair of the board as chairman, ex officio. Mr. Grabowski moved the nominations be closed, and, by unanimous ballot, Ms. Reese and Dr. Gindorf were elected members of the Executive Committee to serve until the next annual meeting of the board or until their successors shall have been elected.
Secretary, Comptroller, and University Counsel of the Board
In accord with the Bylaws of the board, the president of the University had conveyed his advice to the board that the three incumbents be reelected: Michele M. Thompson, secretary of the board; Craig S. Bazzani, comptroller of the board; and Byron H. Higgins, university counsel. Dr. Bacon moved approval for reelection of all three incumbents. Dr. Gindorf seconded this motion. Ms. Reese asked for a rollcall vote. On motion of Dr. Bacon, Ms. Thompson, Mr. Bazzani, and Mr. Higgins were reelected secretary, comptroller, and university counsel of the board, respectively, to serve until the next annual meeting of the board or until their successors shall have been elected. The vote was: Aye, Dr. Bacon, Mr. Boyle, Mrs. Calder, Dr. Gindorf, Mr. Grabowski, Mrs. Gravenhorst, Mr. Lamont, Ms. Lopez, Ms. Reese (for Ms. Thompson and Mr. Bazzani); no, Ms. Reese (for Mr. Higgins); absent, none. (The student advisory vote was: Aye, Mr. Riley; absent, Ms. Huff.)
Delegation of Signatures
Resolved that the chair of the Board of Trustees is authorized to delegate to such individuals as he/she may designate from time to time authority to sign his/her name as chair of the Board of Trustees to vouchers presented to the State Comptroller and authority to sign his/her name to warrants on the University Treasurer covering vouchers approved in accordance with regulations approved by the board; and Resolved further that the secretary of the Board of Trustees is authorized