Caption: Board of Trustees Minutes - 1992
This is a reduced-resolution page image for fast online browsing.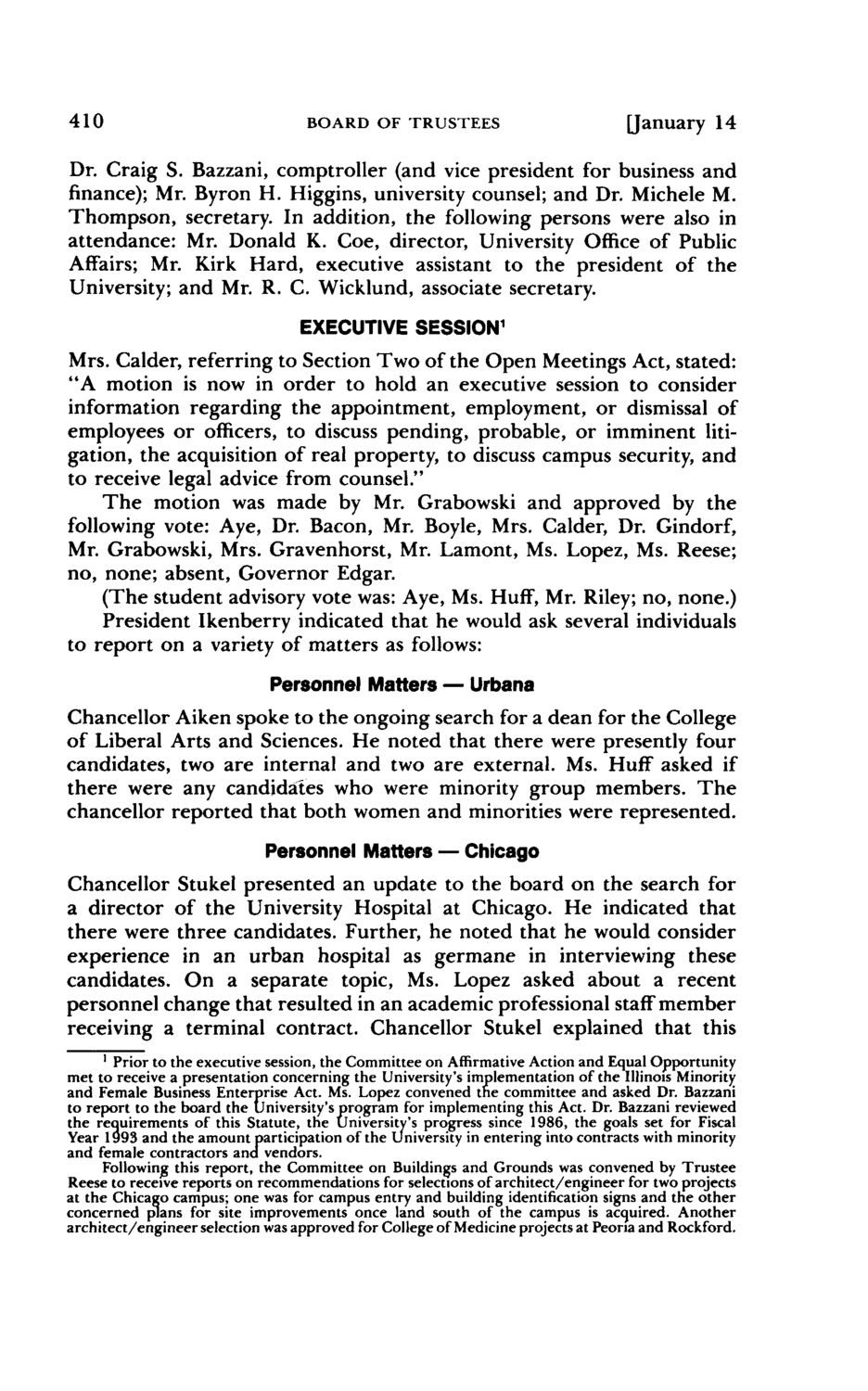 ---
EXTRACTED TEXT FROM PAGE:
410
BOARD OF TRUSTEES
[January 14
Dr. Craig S. Bazzani, comptroller (and vice president for business and finance); Mr. Byron H. Higgins, university counsel; and Dr. Michele M. Thompson, secretary. In addition, the following persons were also in attendance: Mr. Donald K. Coe, director, University Office of Public Affairs; Mr. Kirk Hard, executive assistant to the president of the University; and Mr. R. C. Wicklund, associate secretary.
EXECUTIVE SESSION1
Mrs. Calder, referring to Section Two of the Open Meetings Act, stated: "A motion is now in order to hold an executive session to consider information regarding the appointment, employment, or dismissal of employees or officers, to discuss pending, probable, or imminent litigation, the acquisition of real property, to discuss campus security, and to receive legal advice from counsel." The motion was made by Mr. Grabowski and approved by the following vote: Aye, Dr. Bacon, Mr. Boyle, Mrs. Calder, Dr. Gindorf, Mr. Grabowski, Mrs. Gravenhorst, Mr. Lamont, Ms. Lopez, Ms. Reese; no, none; absent, Governor Edgar. (The student advisory vote was: Aye, Ms. Huff, Mr. Riley; no, none.) President Ikenberry indicated that he would ask several individuals to report on a variety of matters as follows:
Personnel Matters — Urbana
Chancellor Aiken spoke to the ongoing search for a dean for the College of Liberal Arts and Sciences. He noted that there were presently four candidates, two are internal and two are external. Ms. Huff asked if there were any candidates who were minority group members. The chancellor reported that both women and minorities were represented.
Personnel Matters — Chicago
Chancellor Stukel presented an update to the board on the search for a director of the University Hospital at Chicago. He indicated that there were three candidates. Further, he noted that he would consider experience in an urban hospital as germane in interviewing these candidates. On a separate topic, Ms. Lopez asked about a recent personnel change that resulted in an academic professional staff member receiving a terminal contract. Chancellor Stukel explained that this
1 Prior to the executive session, the Committee on Affirmative Action and Equal Opportunity met to receive a presentation concerning the University's implementation of the Illinois Minority and Female Business Enterprise Act. Ms. Lopez convened the committee and asked Dr. Bazzani to report to the board the University's program for implementing this Act. Dr. Bazzani reviewed the requirements of this Statute, the University's progress since 1986, the goals set for Fiscal Year 1993 and the amount participation of the University in entering into contracts with minority and female contractors and vendors. Followinjg this report, the Committee on Buildings and Grounds was convened by Trustee Reese to receive reports on recommendations for selections of architect/engineer for two projects at the Chicago campus; one was for campus entry and building identification signs and the other concerned plans for site improvements once land south of the campus is acquired. Another architect/engineer selection was approved for College of Medicine projects at Peoria and Rockford.