Caption: Board of Trustees Minutes - 1992
This is a reduced-resolution page image for fast online browsing.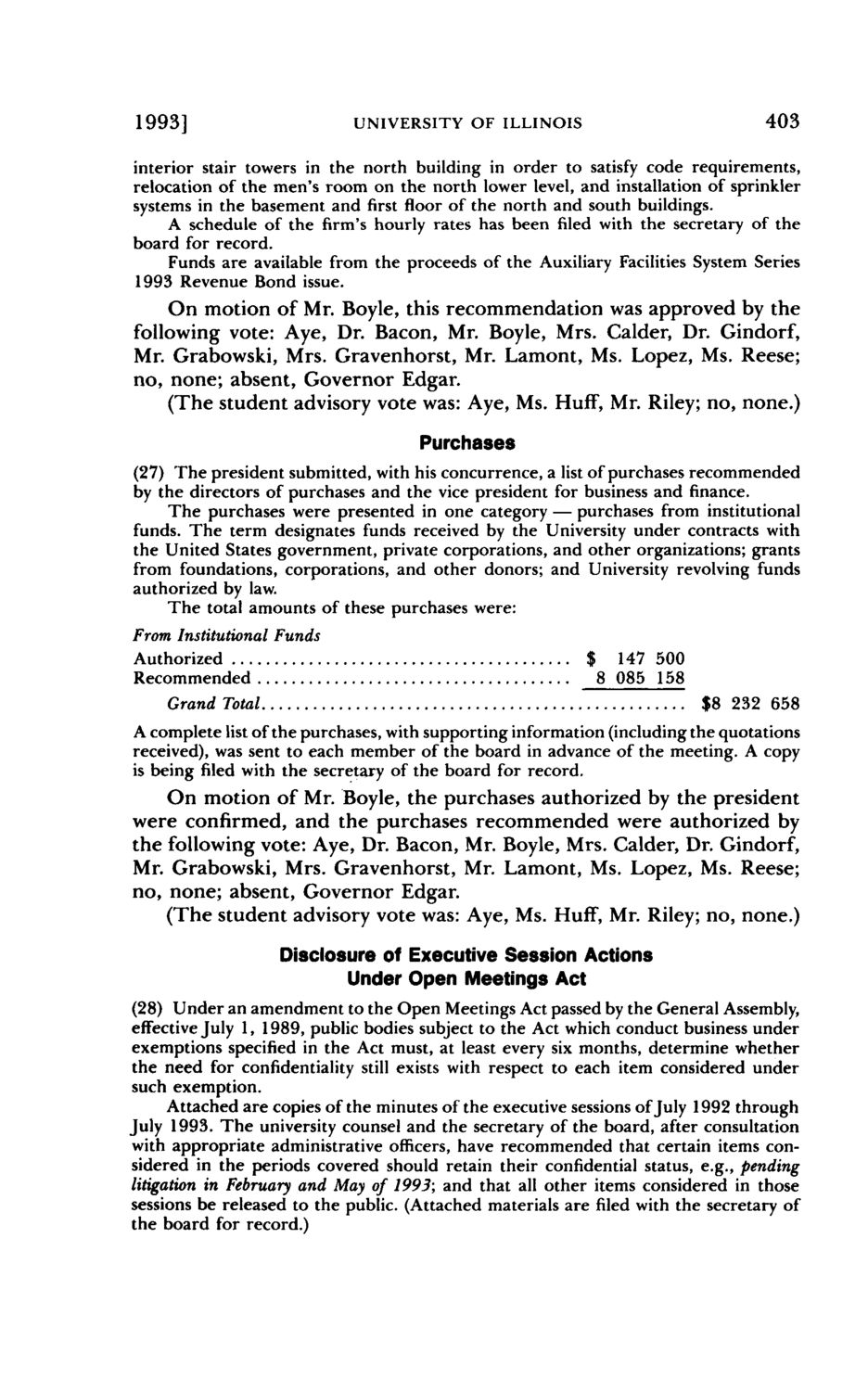 ---
EXTRACTED TEXT FROM PAGE:
1993]
UNIVERSITY OF ILLINOIS
403
interior stair towers in the north building in order to satisfy code requirements, relocation of the men's room on the north lower level, and installation of sprinkler systems in the basement and first floor of the north and south buildings. A schedule of the firm's hourly rates has been filed with the secretary of the board for record. Funds are available from the proceeds of the Auxiliary Facilities System Series 1993 Revenue Bond issue.
On motion of Mr. Boyle, this recommendation was approved by the following vote: Aye, Dr. Bacon, Mr. Boyle, Mrs. Calder, Dr. Gindorf, Mr. Grabowski, Mrs. Gravenhorst, Mr. Lamont, Ms. Lopez, Ms. Reese; no, none; absent, Governor Edgar. (The student advisory vote was: Aye, Ms. Huff, Mr. Riley; no, none.)
Purchases
(27) The president submitted, with his concurrence, a list of purchases recommended by the directors of purchases and the vice president for business and finance. The purchases were presented in one category — purchases from institutional funds. The term designates funds received by the University under contracts with the United States government, private corporations, and other organizations; grants from foundations, corporations, and other donors; and University revolving funds authorized by law. The total amounts of these purchases were: From Institutional Funds Authorized Recommended Grand Total $ 147 500 8 085 158 $8 232 658
A complete list of the purchases, with supporting information (including the quotations received), was sent to each member of the board in advance of the meeting. A copy is being filed with the secretary of the board for record.
On motion of Mr. Boyle, the purchases authorized by the president were confirmed, and the purchases recommended were authorized by the following vote: Aye, Dr. Bacon, Mr. Boyle, Mrs. Calder, Dr. Gindorf, Mr. Grabowski, Mrs. Gravenhorst, Mr. Lamont, Ms. Lopez, Ms. Reese; no, none; absent, Governor Edgar. (The student advisory vote was: Aye, Ms. Huff, Mr. Riley; no, none.)
Disclosure of Executive Session Actions Under Open Meetings Act
(28) Under an amendment to the Open Meetings Act passed by the General Assembly, effective July 1, 1989, public bodies subject to the Act which conduct business under exemptions specified in the Act must, at least every six months, determine whether the need for confidentiality still exists with respect to each item considered under such exemption. Attached are copies of the minutes of the executive sessions of July 1992 through July 1993. The university counsel and the secretary of the board, after consultation with appropriate administrative officers, have recommended that certain items considered in the periods covered should retain their confidential status, e.g., pending litigation in February and May of 1993; and that all other items considered in those sessions be released to the public. (Attached materials are filed with the secretary of the board for record.)