Caption: Board of Trustees Minutes - 1992
This is a reduced-resolution page image for fast online browsing.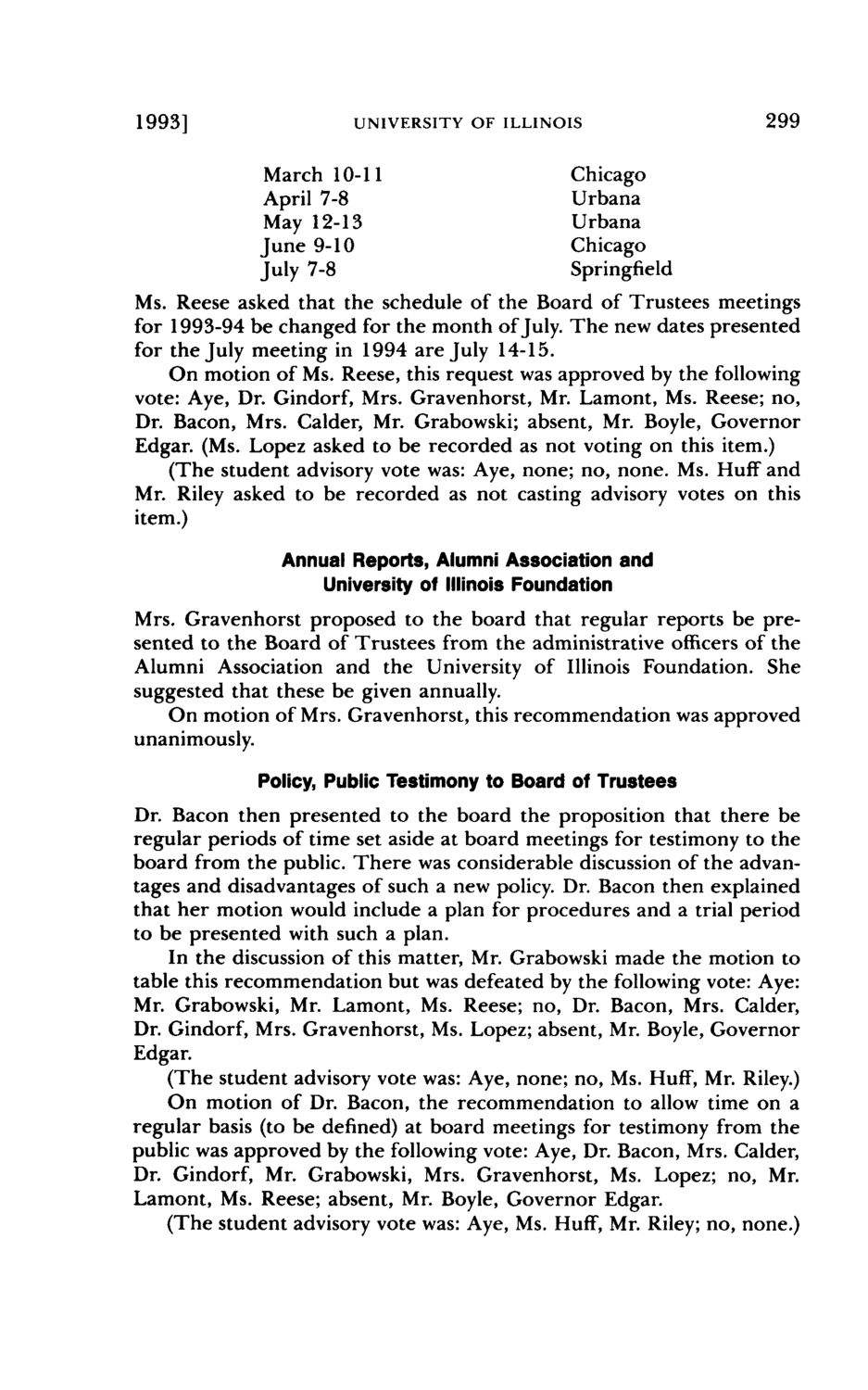 ---
EXTRACTED TEXT FROM PAGE:
1993]
UNIVERSITY OF ILLINOIS
299
March 10-11 April 7-8 May 12-13 June 9-10 July 7-8
Chicago Urbana Urbana Chicago Springfield
Ms. Reese asked that the schedule of the Board of Trustees meetings for 1993-94 be changed for the month of July. The new dates presented for the July meeting in 1994 are July 14-15. On motion of Ms. Reese, this request was approved by the following vote: Aye, Dr. Gindorf, Mrs. Gravenhorst, Mr. Lamont, Ms. Reese; no, Dr. Bacon, Mrs. Calder, Mr. Grabowski; absent, Mr. Boyle, Governor Edgar. (Ms. Lopez asked to be recorded as not voting on this item.) (The student advisory vote was: Aye, none; no, none. Ms. Huff and Mr. Riley asked to be recorded as not casting advisory votes on this item.)
Annual Reports, Alumni Association and University of Illinois Foundation
Mrs. Gravenhorst proposed to the board that regular reports be presented to the Board of Trustees from the administrative officers of the Alumni Association and the University of Illinois Foundation. She suggested that these be given annually. On motion of Mrs. Gravenhorst, this recommendation was approved unanimously.
Policy, Public Testimony to Board of Trustees
Dr. Bacon then presented to the board the proposition that there be regular periods of time set aside at board meetings for testimony to the board from the public. There was considerable discussion of the advantages and disadvantages of such a new policy. Dr. Bacon then explained that her motion would include a plan for procedures and a trial period to be presented with such a plan. In the discussion of this matter, Mr. Grabowski made the motion to table this recommendation but was defeated by the following vote: Aye: Mr. Grabowski, Mr. Lamont, Ms. Reese; no, Dr. Bacon, Mrs. Calder, Dr. Gindorf, Mrs. Gravenhorst, Ms. Lopez; absent, Mr. Boyle, Governor Edgar. (The student advisory vote was: Aye, none; no, Ms. Huff, Mr. Riley.) On motion of Dr. Bacon, the recommendation to allow time on a regular basis (to be defined) at board meetings for testimony from the public was approved by the following vote: Aye, Dr. Bacon, Mrs. Calder, Dr. Gindorf, Mr. Grabowski, Mrs. Gravenhorst, Ms. Lopez; no, Mr. Lamont, Ms. Reese; absent, Mr. Boyle, Governor Edgar. (The student advisory vote was: Aye, Ms. Huff, Mr. Riley; no, none.)