Caption: Board of Trustees Minutes - 1992
This is a reduced-resolution page image for fast online browsing.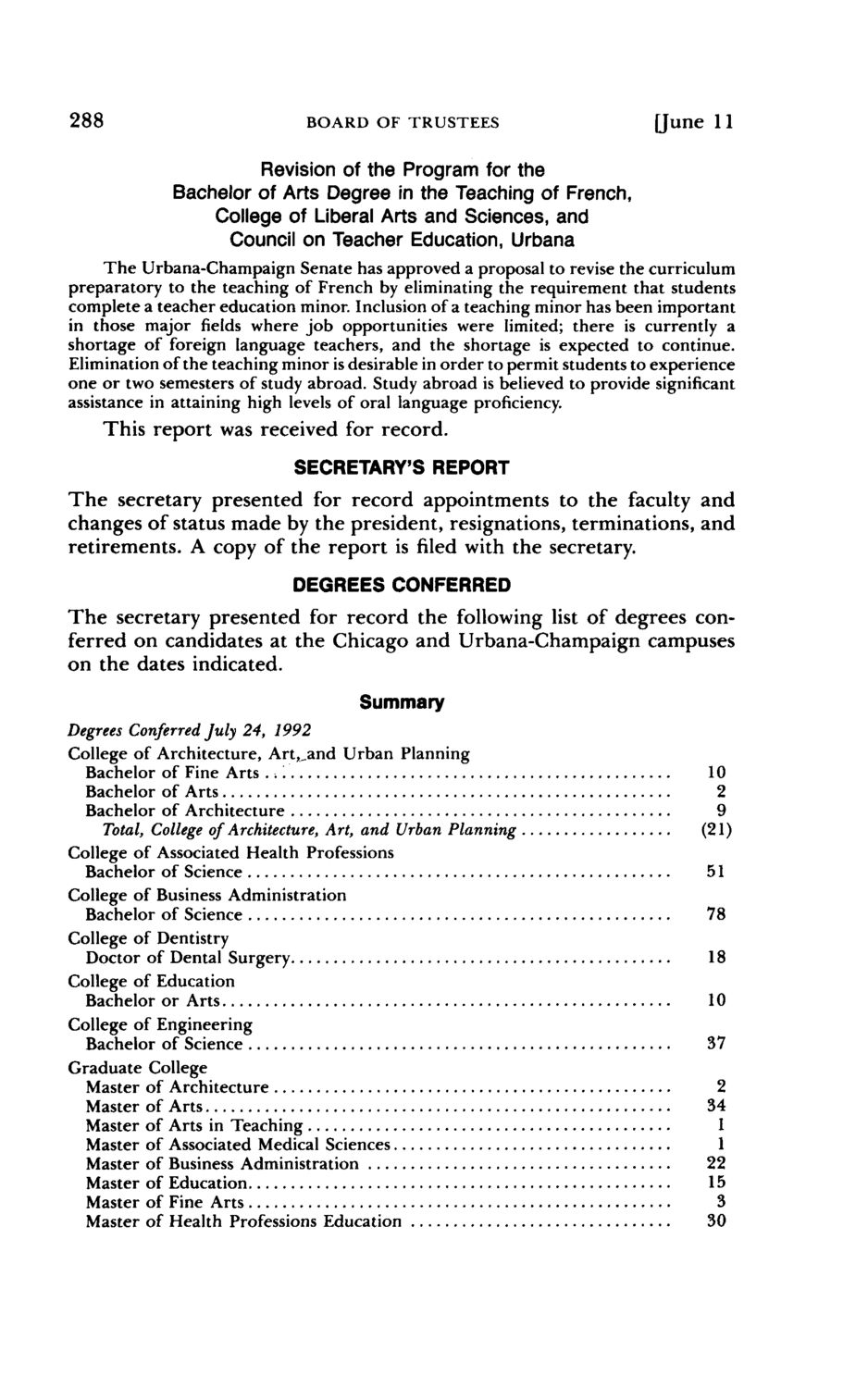 ---
EXTRACTED TEXT FROM PAGE:
288
BOARD OF TRUSTEES
[June 11
Revision of the Program for the Bachelor of Arts Degree in the Teaching of French, College of Liberal Arts and Sciences, and Council on Teacher Education, Urbana
The Urbana-Champaign Senate has approved a proposal to revise the curriculum preparatory to the teaching of French by eliminating the requirement that students complete a teacher education minor. Inclusion of a teaching minor has been important in those major fields where job opportunities were limited; there is currently a shortage of foreign language teachers, and the shortage is expected to continue. Elimination of the teaching minor is desirable in order to permit students to experience one or two semesters of study abroad. Study abroad is believed to provide significant assistance in attaining high levels of oral language proficiency.
This report was received for record.
SECRETARY'S REPORT
The secretary presented for record appointments to the faculty and changes of status made by the president, resignations, terminations, and retirements. A copy of the report is filed with the secretary.
DEGREES CONFERRED
The secretary presented for record the following list of degrees conferred on candidates at the Chicago and Urbana-Champaign campuses on the dates indicated.
Summary
Degrees Conferred July 24, 1992 College of Architecture, Art,_and Urban Planning Bachelor of Fine Arts .-.'. Bachelor of Arts Bachelor of Architecture Total, College of Architecture, Art, and Urban Planning College of Associated Health Professions Bachelor of Science College of Business Administration Bachelor of Science College of Dentistry Doctor of Dental Surgery College of Education Bachelor or Arts College of Engineering Bachelor of Science Graduate College Master of Architecture Master of Arts Master of Arts in Teaching Master of Associated Medical Sciences Master of Business Administration Master of Education Master of Fine Arts Master of Health Professions Education
10 2 9 (21) 51 78 18 10 37 2 34 1 1 22 15 3 30