Caption: Board of Trustees Minutes - 1992
This is a reduced-resolution page image for fast online browsing.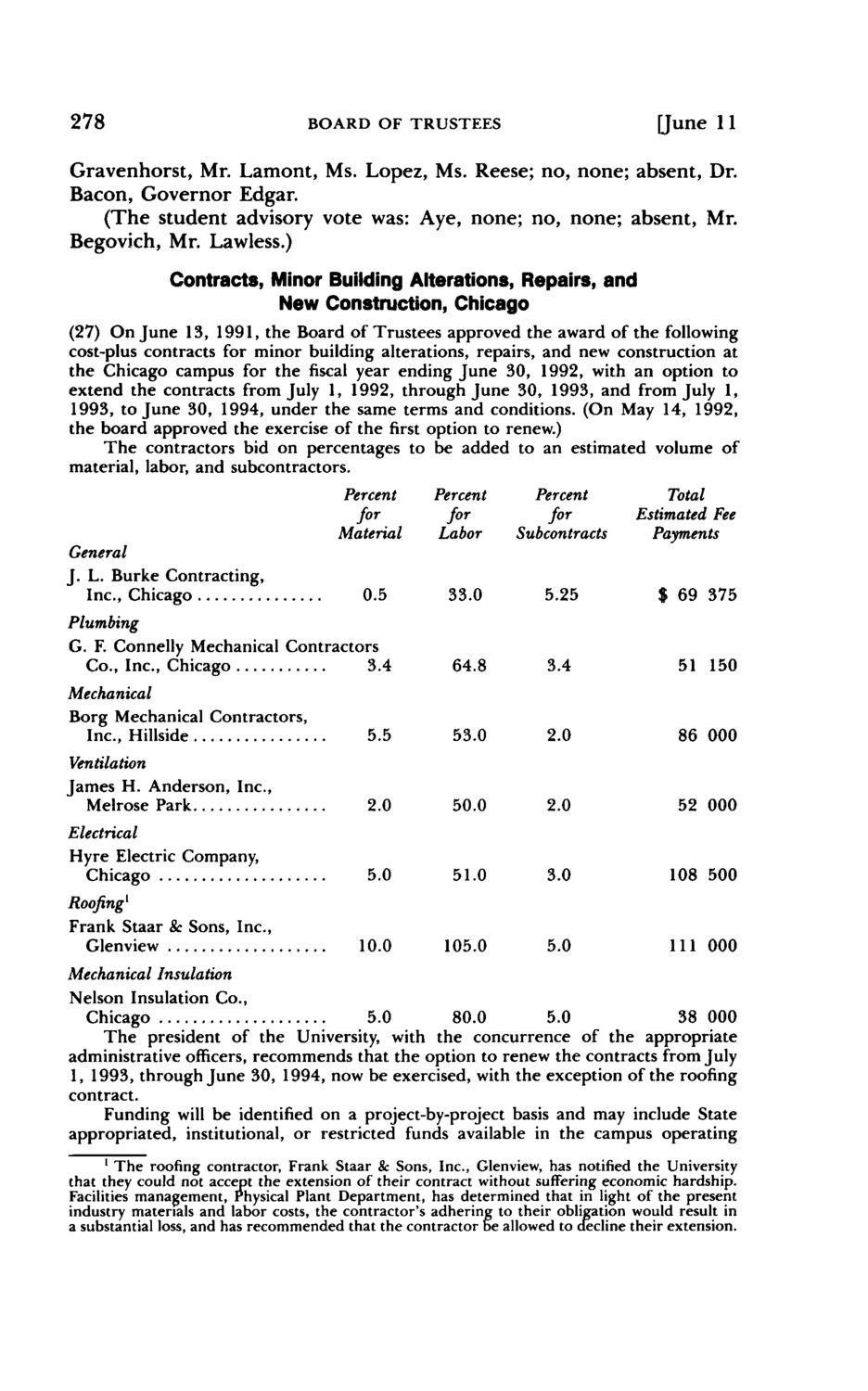 ---
EXTRACTED TEXT FROM PAGE:
278
BOARD OF TRUSTEES
[June 11
Gravenhorst, Mr. Lamont, Ms. Lopez, Ms. Reese; no, none; absent, Dr. Bacon, Governor Edgar. (The student advisory vote was: Aye, none; no, none; absent, Mr. Begovich, Mr. Lawless.)
Contracts, Minor Building Alterations, Repairs, and New Construction, Chicago
(27) On June 13, 1991, the Board of Trustees approved the award of the following cost-plus contracts for minor building alterations, repairs, and new construction at the Chicago campus for the fiscal year ending June 30, 1992, with an option to extend the contracts from July 1, 1992, through June 30, 1993, and from July 1, 1993, to June 30, 1994, under the same terms and conditions. (On May 14, 1992, the board approved the exercise of the first option to renew.) The contractors bid on percentages to be added to an estimated volume of material, labor, and subcontractors. Percent for Material General J. L. Burke Contracting, Inc., Chicago Percent for Labor Percent for Subcontracts Total Estimated Fee Payments
0.5
33.0
5.25
$ 69 375
Plumbing G. F. Connelly Mechanical Contractors Co., Inc., Chicago 3.4 Mechanical Borg Mechanical Contractors, Inc., Hillside Ventilation James H. Anderson, Inc., Melrose Park Electrical Hyre Electric Company, Chicago
64.8
3.4
51150
5.5
53.0
2.0
86 000
2.0
50.0
2.0
52 000
5.0
51.0
3.0
108 500
Roofing1
Frank Staar & Sons, Inc., Glenview 10.0 105.0 5.0 111 000
Mechanical Insulation Nelson Insulation Co., Chicago 5.0 80.0 5.0 38 000 The president of the University, with the concurrence of the appropriate administrative officers, recommends that the option to renew the contracts from July 1, 1993, through June 30, 1994, now be exercised, with the exception of the roofing contract. Funding will be identified on a project-by-project basis and may include State appropriated, institutional, or restricted funds available in the campus operating
1 T h e roofing contractor, Frank Staar & Sons, Inc., Glenview, has notified the University that they could not accept the extension of their contract without suffering economic hardship. Facilities management, Physical Plant Department, has determined that in light of the present industry materials and labor costs, the contractor's adhering to their obligation would result in a substantial loss, and has recommended that the contractor be allowed to cfecline their extension.