Caption: Board of Trustees Minutes - 1992
This is a reduced-resolution page image for fast online browsing.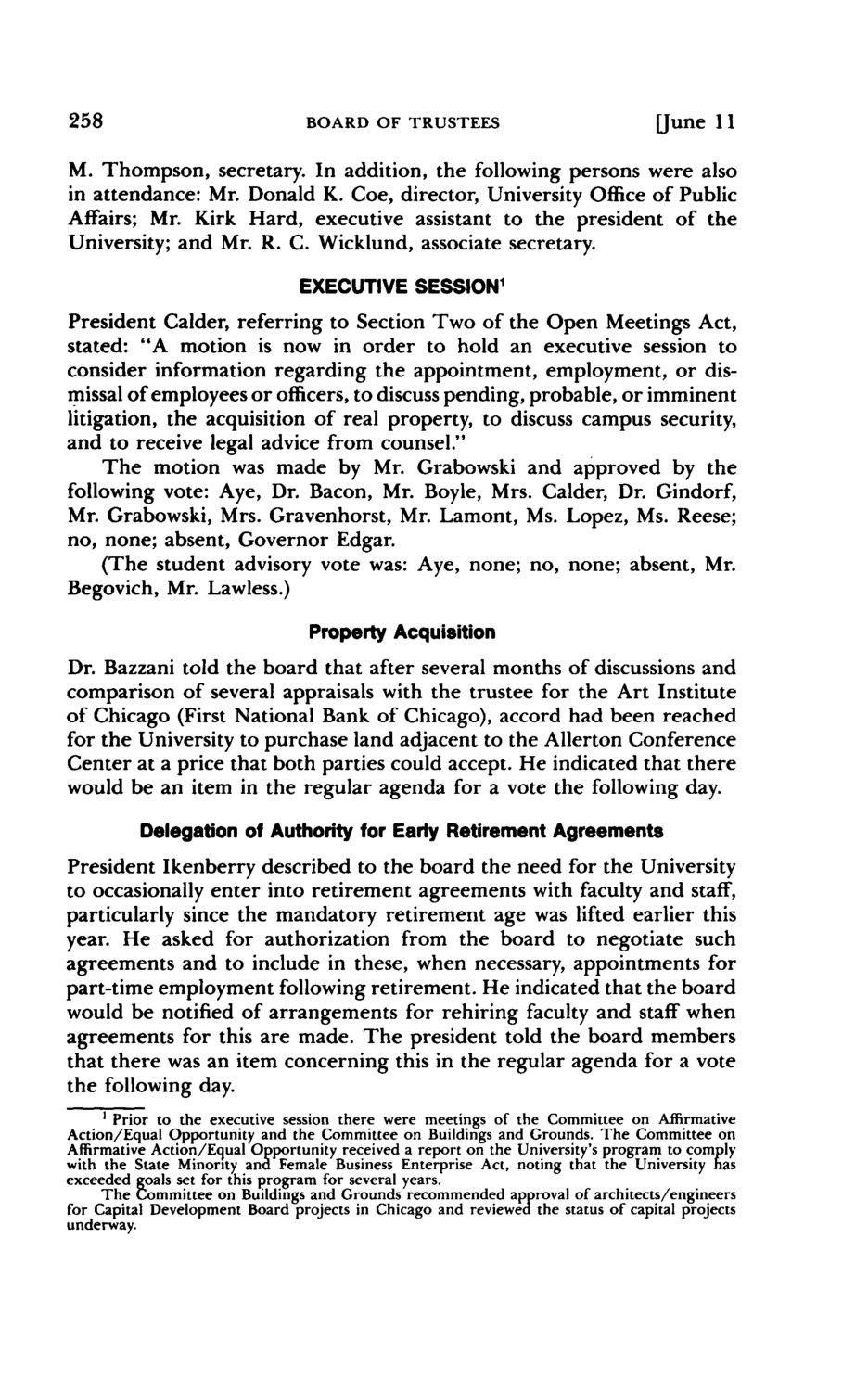 ---
EXTRACTED TEXT FROM PAGE:
258
BOARD OF TRUSTEES
[June 11
M. Thompson, secretary. In addition, the following persons were also in attendance: Mr. Donald K. Coe, director, University Office of Public Affairs; Mr. Kirk Hard, executive assistant to the president of the University; and Mr. R. C. Wicklund, associate secretary.
EXECUTIVE SESSION1
President Calder, referring to Section Two of the Open Meetings Act, stated: "A motion is now in order to hold an executive session to consider information regarding the appointment, employment, or dismissal of employees or officers, to discuss pending, probable, or imminent litigation, the acquisition of real property, to discuss campus security, and to receive legal advice from counsel." The motion was made by Mr. Grabowski and approved by the following vote: Aye, Dr. Bacon, Mr. Boyle, Mrs. Calder, Dr. Gindorf, Mr. Grabowski, Mrs. Gravenhorst, Mr. Lamont, Ms. Lopez, Ms. Reese; no, none; absent, Governor Edgar. (The student advisory vote was: Aye, none; no, none; absent, Mr. Begovich, Mr. Lawless.)
Property Acquisition
Dr. Bazzani told the board that after several months of discussions and comparison of several appraisals with the trustee for the Art Institute of Chicago (First National Bank of Chicago), accord had been reached for the University to purchase land adjacent to the Allerton Conference Center at a price that both parties could accept. He indicated that there would be an item in the regular agenda for a vote the following day.
Delegation of Authority for Early Retirement Agreements
President Ikenberry described to the board the need for the University to occasionally enter into retirement agreements with faculty and staff, particularly since the mandatory retirement age was lifted earlier this year. He asked for authorization from the board to negotiate such agreements and to include in these, when necessary, appointments for part-time employment following retirement. He indicated that the board would be notified of arrangements for rehiring faculty and staff when agreements for this are made. The president told the board members that there was an item concerning this in the regular agenda for a vote the following day.
1 Prior to the executive session there were meetings of the Committee on Affirmative Action/Equal Opportunity and the Committee on Buildings and Grounds. T h e Committee on Affirmative Action/Equal Opportunity received a report on the University's program to comply with the State Minority and Female Business Enterprise Act, noting that the University has exceeded goals set for this program for several years. T h e Committee on Buildings and Grounds recommended approval of architects/engineers for Capital Development Board projects in Chicago and reviewed the status of capital projects underway.