Caption: Board of Trustees Minutes - 1992
This is a reduced-resolution page image for fast online browsing.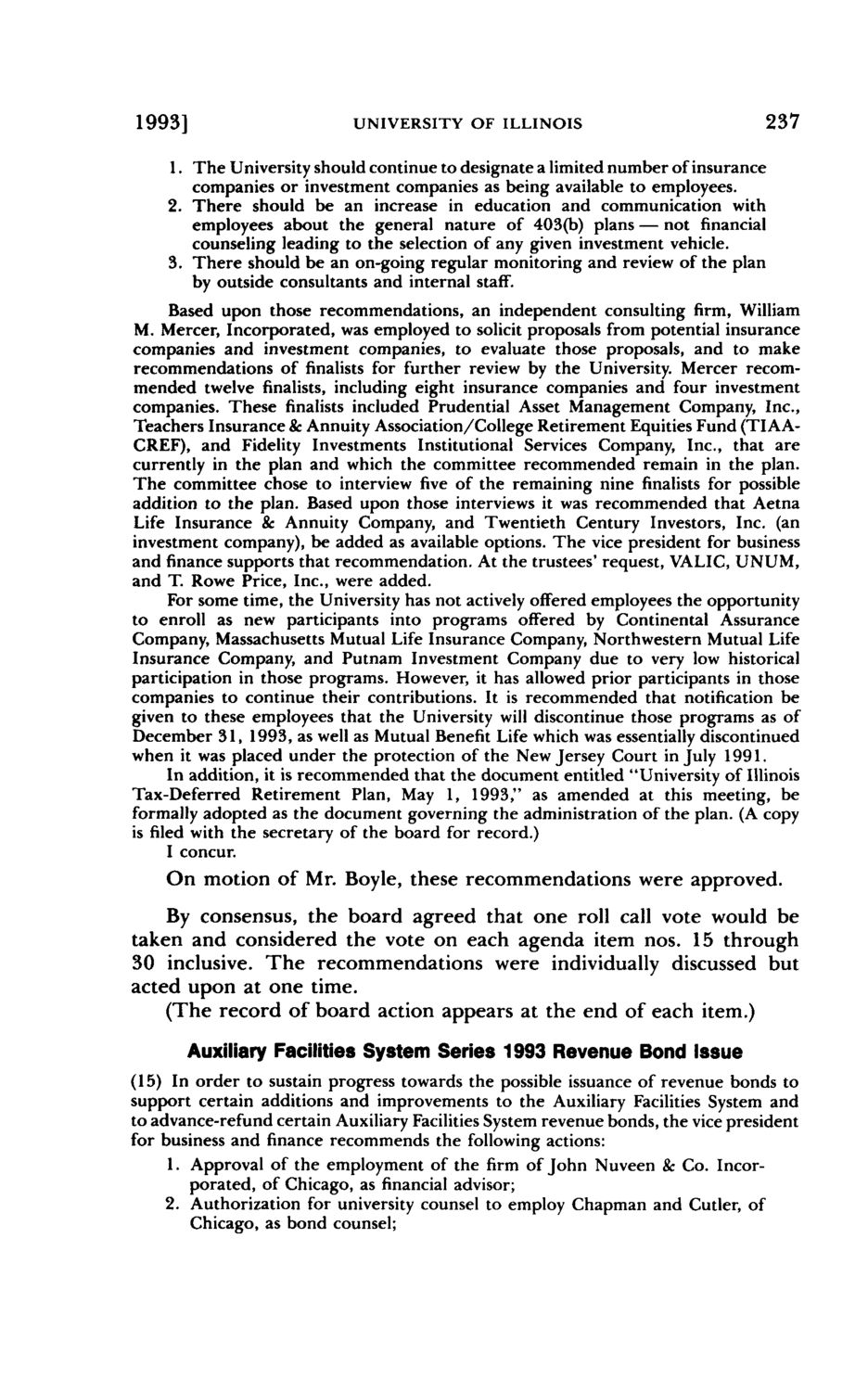 ---
EXTRACTED TEXT FROM PAGE:
1993]
UNIVERSITY OF ILLINOIS
237
1. The University should continue to designate a limited number of insurance companies or investment companies as being available to employees. 2. There should be an increase in education and communication with employees about the general nature of 403(b) plans — not financial counseling leading to the selection of any given investment vehicle. 3. There should be an on-going regular monitoring and review of the plan by outside consultants and internal staff. Based upon those recommendations, an independent consulting firm, William M. Mercer, Incorporated, was employed to solicit proposals from potential insurance companies and investment companies, to evaluate those proposals, and to make recommendations of finalists for further review by the University. Mercer recommended twelve finalists, including eight insurance companies and four investment companies. These finalists included Prudential Asset Management Company, Inc., Teachers Insurance 8c Annuity Association/College Retirement Equities Fund (TIAACREF), and Fidelity Investments Institutional Services Company, Inc., that are currently in the plan and which the committee recommended remain in the plan. The committee chose to interview five of the remaining nine finalists for possible addition to the plan. Based upon those interviews it was recommended that Aetna Life Insurance 8c Annuity Company, and Twentieth Century Investors, Inc. (an investment company), be added as available options. The vice president for business and finance supports that recommendation. At the trustees' request, VALIC, UNUM, and T. Rowe Price, Inc., were added. For some time, the University has not actively offered employees the opportunity to enroll as new participants into programs offered by Continental Assurance Company, Massachusetts Mutual Life Insurance Company, Northwestern Mutual Life Insurance Company, and Putnam Investment Company due to very low historical participation in those programs. However, it has allowed prior participants in those companies to continue their contributions. It is recommended that notification be given to these employees that the University will discontinue those programs as of December 31, 1993, as well as Mutual Benefit Life which was essentially discontinued when it was placed under the protection of the New Jersey Court in July 1991. In addition, it is recommended that the document entitled "University of Illinois Tax-Deferred Retirement Plan, May 1, 1993," as amended at this meeting, be formally adopted as the document governing the administration of the plan. (A copy is filed with the secretary of the board for record.) I concur.
On motion of Mr. Boyle, these recommendations were approved. By consensus, the board agreed that one roll call vote would be taken and considered the vote on each agenda item nos. 15 through 30 inclusive. The recommendations were individually discussed but acted upon at one time. (The record of board action appears at the end of each item.)
Auxiliary Facilities System Series 1993 Revenue Bond Issue
(15) In order to sustain progress towards the possible issuance of revenue bonds to support certain additions and improvements to the Auxiliary Facilities System and to advance-refund certain Auxiliary Facilities System revenue bonds, the vice president for business and finance recommends the following actions: 1. Approval of the employment of the firm of John Nuveen 8c Co. Incorporated, of Chicago, as financial advisor; 2. Authorization for university counsel to employ Chapman and Cutler, of Chicago, as bond counsel;