Caption: Board of Trustees Minutes - 1992
This is a reduced-resolution page image for fast online browsing.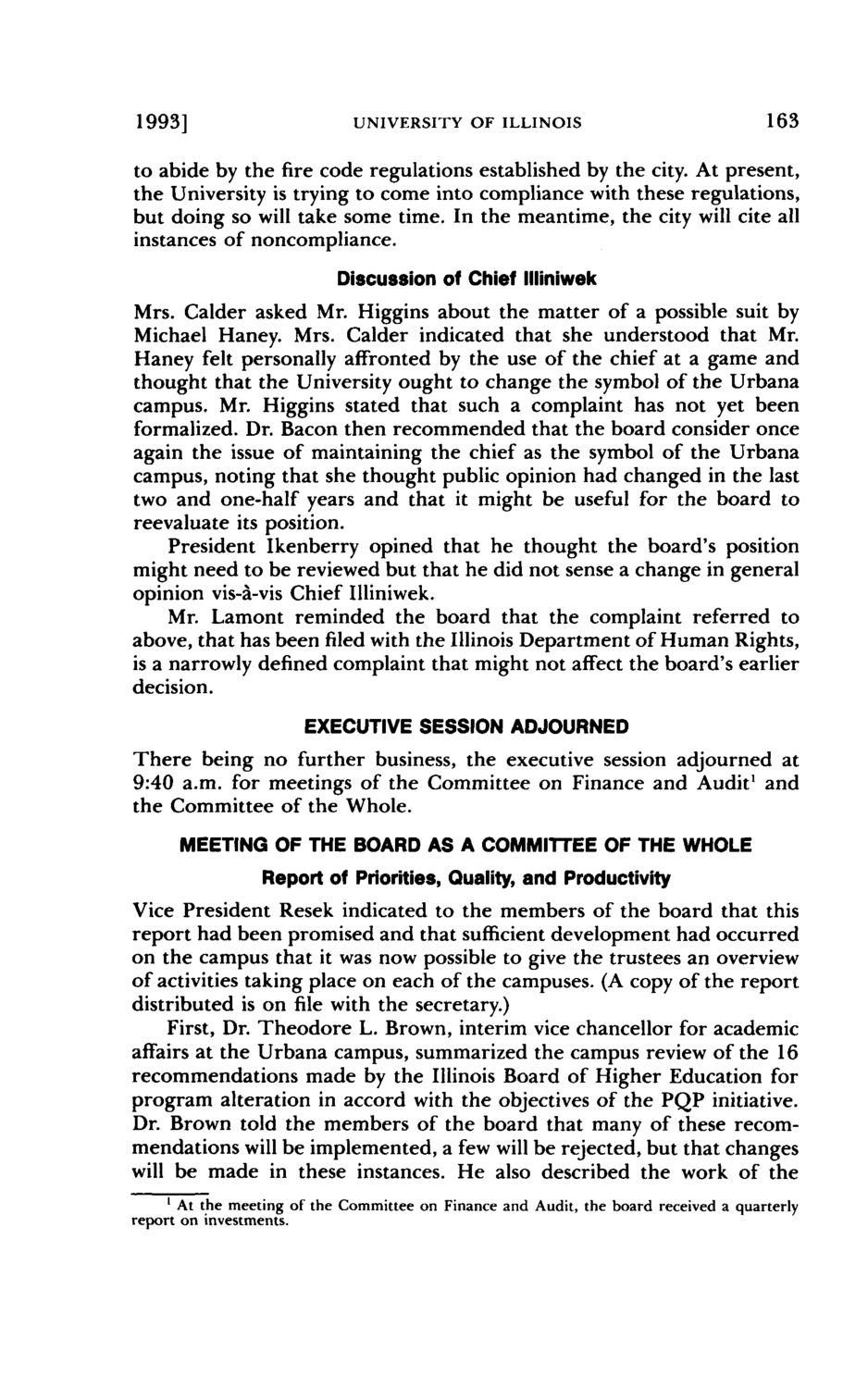 ---
EXTRACTED TEXT FROM PAGE:
1993]
UNIVERSITY OF ILLINOIS
163
to abide by the fire code regulations established by the city. At present, the University is trying to come into compliance with these regulations, but doing so will take some time. In the meantime, the city will cite all instances of noncompliance.
Discussion of Chief llliniwek
Mrs. Calder asked Mr. Higgins about the matter of a possible suit by Michael Haney. Mrs. Calder indicated that she understood that Mr. Haney felt personally affronted by the use of the chief at a game and thought that the University ought to change the symbol of the Urbana campus. Mr. Higgins stated that such a complaint has not yet been formalized. Dr. Bacon then recommended that the board consider once again the issue of maintaining the chief as the symbol of the Urbana campus, noting that she thought public opinion had changed in the last two and one-half years and that it might be useful for the board to reevaluate its position. President Ikenberry opined that he thought the board's position might need to be reviewed but that he did not sense a change in general opinion vis-a-vis Chief llliniwek. Mr. Lamont reminded the board that the complaint referred to above, that has been filed with the Illinois Department of Human Rights, is a narrowly defined complaint that might not affect the board's earlier decision.
EXECUTIVE SESSION ADJOURNED
There being no further business, the executive session adjourned at 9:40 a.m. for meetings of the Committee on Finance and Audit1 and the Committee of the Whole.
MEETING OF THE BOARD AS A COMMITTEE OF THE WHOLE Report of Priorities, Quality, and Productivity
Vice President Resek indicated to the members of the board that this report had been promised and that sufficient development had occurred on the campus that it was now possible to give the trustees an overview of activities taking place on each of the campuses. (A copy of the report distributed is on file with the secretary.) First, Dr. Theodore L. Brown, interim vice chancellor for academic affairs at the Urbana campus, summarized the campus review of the 16 recommendations made by the Illinois Board of Higher Education for program alteration in accord with the objectives of the PQP initiative. Dr. Brown told the members of the board that many of these recommendations will be implemented, a few will be rejected, but that changes will be made in these instances. He also described the work of the
1 At the meeting of the Committee on Finance and Audit, the board received a quarterly report on investments.