Caption: Board of Trustees Minutes - 1992
This is a reduced-resolution page image for fast online browsing.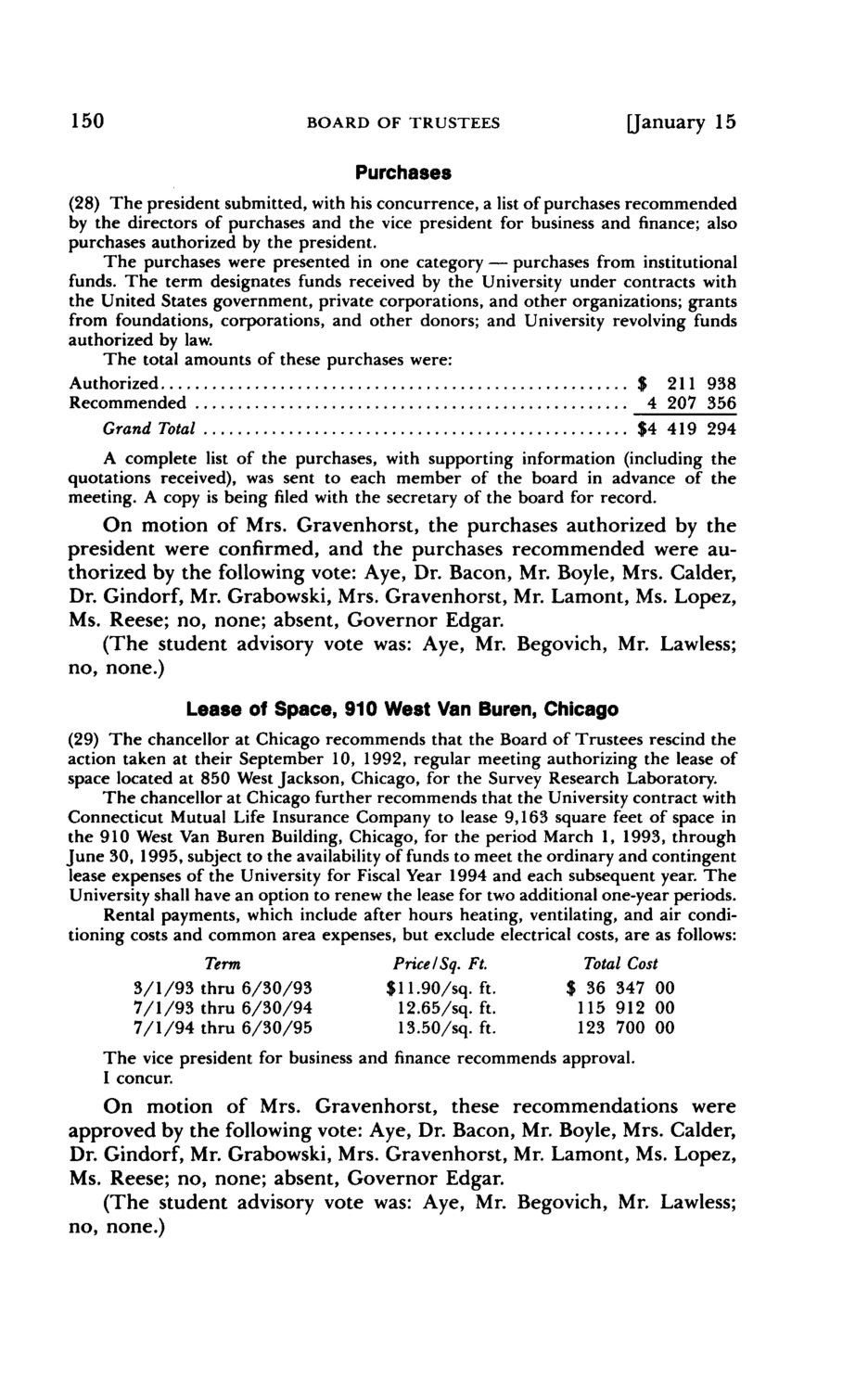 ---
EXTRACTED TEXT FROM PAGE:
150
BOARD OF TRUSTEES
[January 15
Purchases
(28) The president submitted, with his concurrence, a list of purchases recommended by the directors of purchases and the vice president for business and finance; also purchases authorized by the president. The purchases were presented in one category — purchases from institutional funds. The term designates funds received by the University under contracts with the United States government, private corporations, and other organizations; grants from foundations, corporations, and other donors; and University revolving funds authorized by law. The total amounts of these purchases were: Authorized $ 211 938 Recommended 4 207 356 Grand Total $4 419 294 A complete list of the purchases, with supporting information (including the quotations received), was sent to each member of the board in advance of the meeting. A copy is being filed with the secretary of the board for record.
On motion of Mrs. Gravenhorst, the purchases authorized by the president were confirmed, and the purchases recommended were authorized by the following vote: Aye, Dr. Bacon, Mr. Boyle, Mrs. Calder, Dr. Gindorf, Mr. Grabowski, Mrs. Gravenhorst, Mr. Lamont, Ms. Lopez, Ms. Reese; no, none; absent, Governor Edgar. (The student advisory vote was: Aye, Mr. Begovich, Mr. Lawless; no, none.)
Lease of Space, 910 West Van Buren, Chicago
(29) The chancellor at Chicago recommends that the Board of Trustees rescind the action taken at their September 10, 1992, regular meeting authorizing the lease of space located at 850 West Jackson, Chicago, for the Survey Research Laboratory. The chancellor at Chicago further recommends that the University contract with Connecticut Mutual Life Insurance Company to lease 9,163 square feet of space in the 910 West Van Buren Building, Chicago, for the period March 1, 1993, through June 30, 1995, subject to the availability of funds to meet the ordinary and contingent lease expenses of the University for Fiscal Year 1994 and each subsequent year. The University shall have an option to renew the lease for two additional one-year periods. Rental payments, which include after hours heating, ventilating, and air conditioning costs and common area expenses, but exclude electrical costs, are as follows: Term 3 / 1 / 9 3 thru 6 / 3 0 / 9 3 7 / 1 / 9 3 thru 6 / 3 0 / 9 4 7 / 1 / 9 4 thru 6 / 3 0 / 9 5 Price I Sq. Ft. $11.90/sq. ft. 12.65/sq. ft. 13.50/sq. ft. Total Cost $ 36 347 00 115 912 00 123 700 00
The vice president for business and finance recommends approval. I concur.
On motion of Mrs. Gravenhorst, these recommendations were approved by the following vote: Aye, Dr. Bacon, Mr. Boyle, Mrs. Calder, Dr. Gindorf, Mr. Grabowski, Mrs. Gravenhorst, Mr. Lamont, Ms. Lopez, Ms. Reese; no, none; absent, Governor Edgar. (The student advisory vote was: Aye, Mr. Begovich, Mr. Lawless; no, none.)