Caption: Board of Trustees Minutes - 1992
This is a reduced-resolution page image for fast online browsing.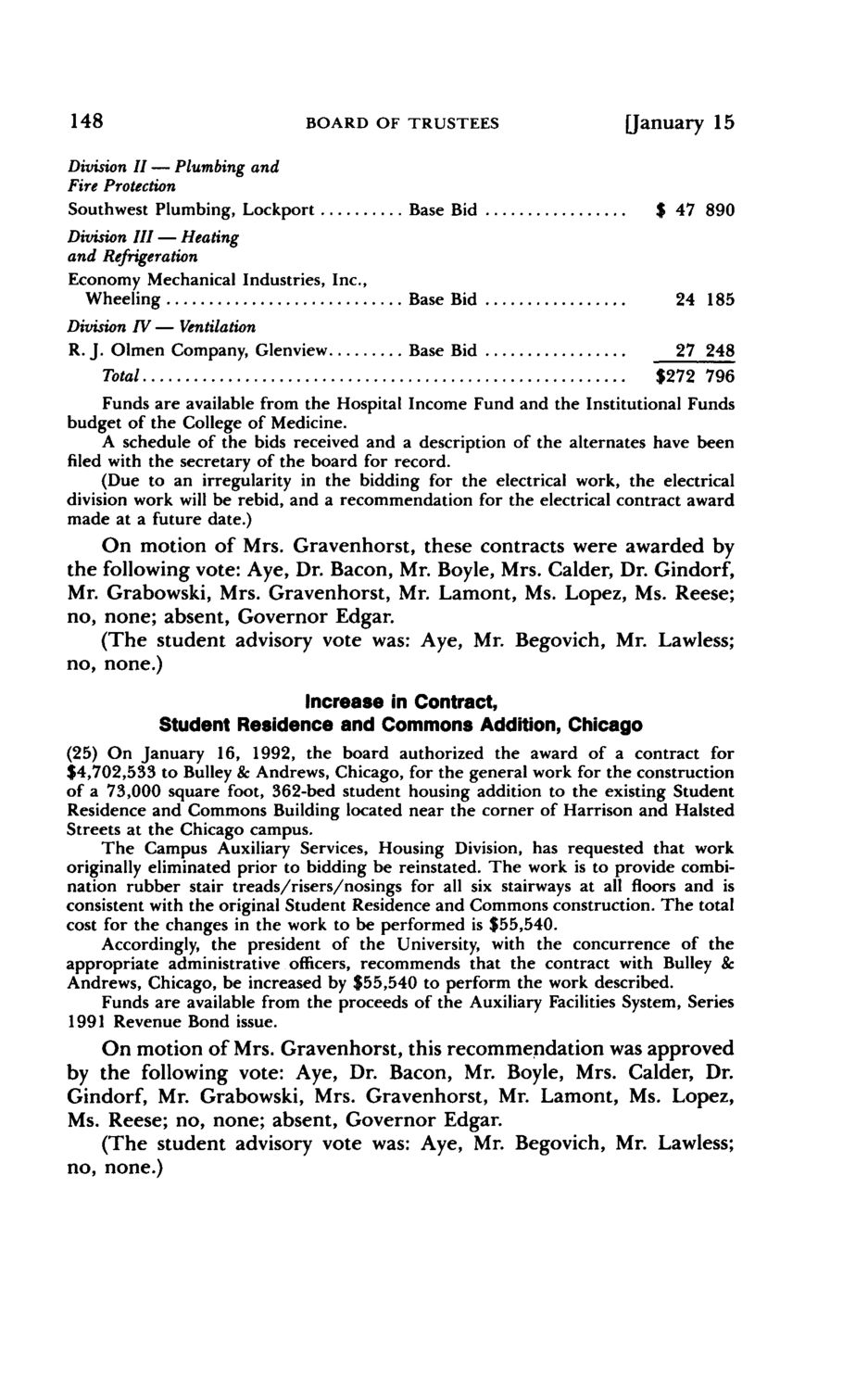 ---
EXTRACTED TEXT FROM PAGE:
148
BOARD OF TRUSTEES
[January 15
Division II — Plumbing and Fire Protection Southwest Plumbing, Lockport Division III — Heating and Refrigeration Economy Mechanical Industries, Inc., Wheeling Division TV — Ventilation R. J. Olmen Company, Glenview Total
Base Bid
$ 47 890
Base Bid Base Bid
24 185 27 248 $272 796
Funds are available from the Hospital Income Fund and the Institutional Funds budget of the College of Medicine. A schedule of the bids received and a description of the alternates have been filed with the secretary of the board for record. (Due to an irregularity in the bidding for the electrical work, the electrical division work will be rebid, and a recommendation for the electrical contract award made at a future date.)
On motion of Mrs. Gravenhorst, these contracts were awarded by the following vote: Aye, Dr. Bacon, Mr. Boyle, Mrs. Calder, Dr. Gindorf, Mr. Grabowski, Mrs. Gravenhorst, Mr. Lamont, Ms. Lopez, Ms. Reese; no, none; absent, Governor Edgar. (The student advisory vote was: Aye, Mr. Begovich, Mr. Lawless; no, none.)
Increase in Contract, Student Residence and Commons Addition, Chicago
(25) On January 16, 1992, the board authorized the award of a contract for $4,702,533 to Bulley 8c Andrews, Chicago, for the general work for the construction of a 73,000 square foot, 362-bed student housing addition to the existing Student Residence and Commons Building located near the corner of Harrison and Halsted Streets at the Chicago campus. The Campus Auxiliary Services, Housing Division, has requested that work originally eliminated prior to bidding be reinstated. The work is to provide combination rubber stair treads/risers/nosings for all six stairways at all floors and is consistent with the original Student Residence and Commons construction. The total cost for the changes in the work to be performed is $55,540. Accordingly, the president of the University, with the concurrence of the appropriate administrative officers, recommends that the contract with Bulley 8c Andrews, Chicago, be increased by $55,540 to perform the work described. Funds are available from the proceeds of the Auxiliary Facilities System, Series 1991 Revenue Bond issue.
On motion of Mrs. Gravenhorst, this recommendation was approved by the following vote: Aye, Dr. Bacon, Mr. Boyle, Mrs. Calder, Dr. Gindorf, Mr. Grabowski, Mrs. Gravenhorst, Mr. Lamont, Ms. Lopez, Ms. Reese; no, none; absent, Governor Edgar. (The student advisory vote was: Aye, Mr. Begovich, Mr. Lawless; no, none.)