Caption: Board of Trustees Minutes - 1992
This is a reduced-resolution page image for fast online browsing.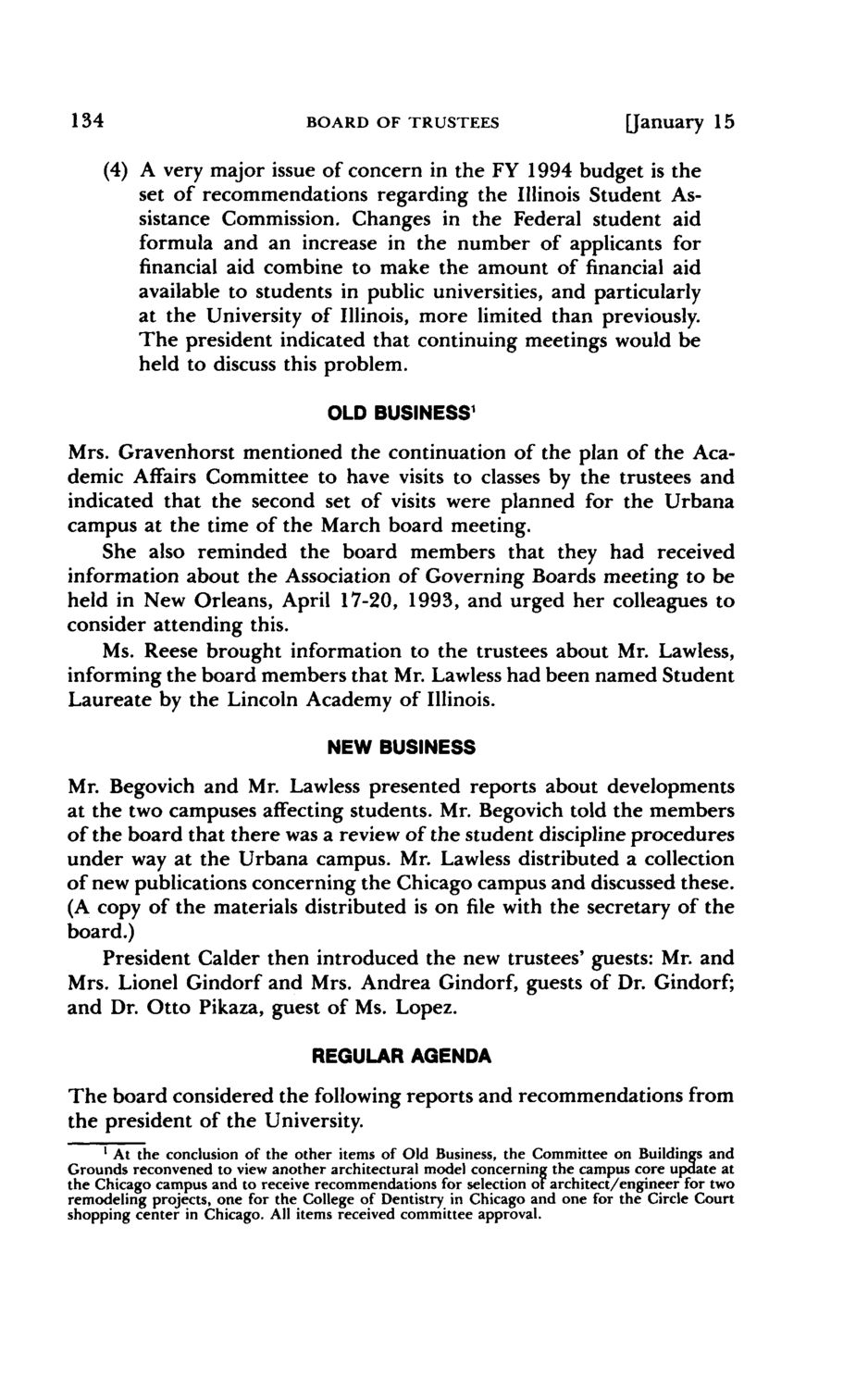 ---
EXTRACTED TEXT FROM PAGE:
134
BOARD OF TRUSTEES
[January 15
(4) A very major issue of concern in the FY 1994 budget is the set of recommendations regarding the Illinois Student Assistance Commission. Changes in the Federal student aid formula and an increase in the number of applicants for financial aid combine to make the amount of financial aid available to students in public universities, and particularly at the University of Illinois, more limited than previously. The president indicated that continuing meetings would be held to discuss this problem.
OLD BUSINESS1
Mrs. Gravenhorst mentioned the continuation of the plan of the Academic Affairs Committee to have visits to classes by the trustees and indicated that the second set of visits were planned for the Urbana campus at the time of the March board meeting. She also reminded the board members that they had received information about the Association of Governing Boards meeting to be held in New Orleans, April 17-20, 1993, and urged her colleagues to consider attending this. Ms. Reese brought information to the trustees about Mr. Lawless, informing the board members that Mr. Lawless had been named Student Laureate by the Lincoln Academy of Illinois.
NEW BUSINESS
Mr. Begovich and Mr. Lawless presented reports about developments at the two campuses affecting students. Mr. Begovich told the members of the board that there was a review of the student discipline procedures under way at the Urbana campus. Mr. Lawless distributed a collection of new publications concerning the Chicago campus and discussed these. (A copy of the materials distributed is on file with the secretary of the board.) President Calder then introduced the new trustees' guests: Mr. and Mrs. Lionel Gindorf and Mrs. Andrea Gindorf, guests of Dr. Gindorf; and Dr. Otto Pikaza, guest of Ms. Lopez.
REGULAR AGENDA
The board considered the following reports and recommendations from the president of the University.
1 At the conclusion of the other items of Old Business, the Committee on Buildings and Grounds reconvened to view another architectural model concerning the campus core update at the Chicago campus and to receive recommendations for selection of architect/engineer for two remodeling projects, one for the College of Dentistry in Chicago and one for the Circle Court shopping center in Chicago. All items received committee approval.