Caption: Board of Trustees Minutes - 1992
This is a reduced-resolution page image for fast online browsing.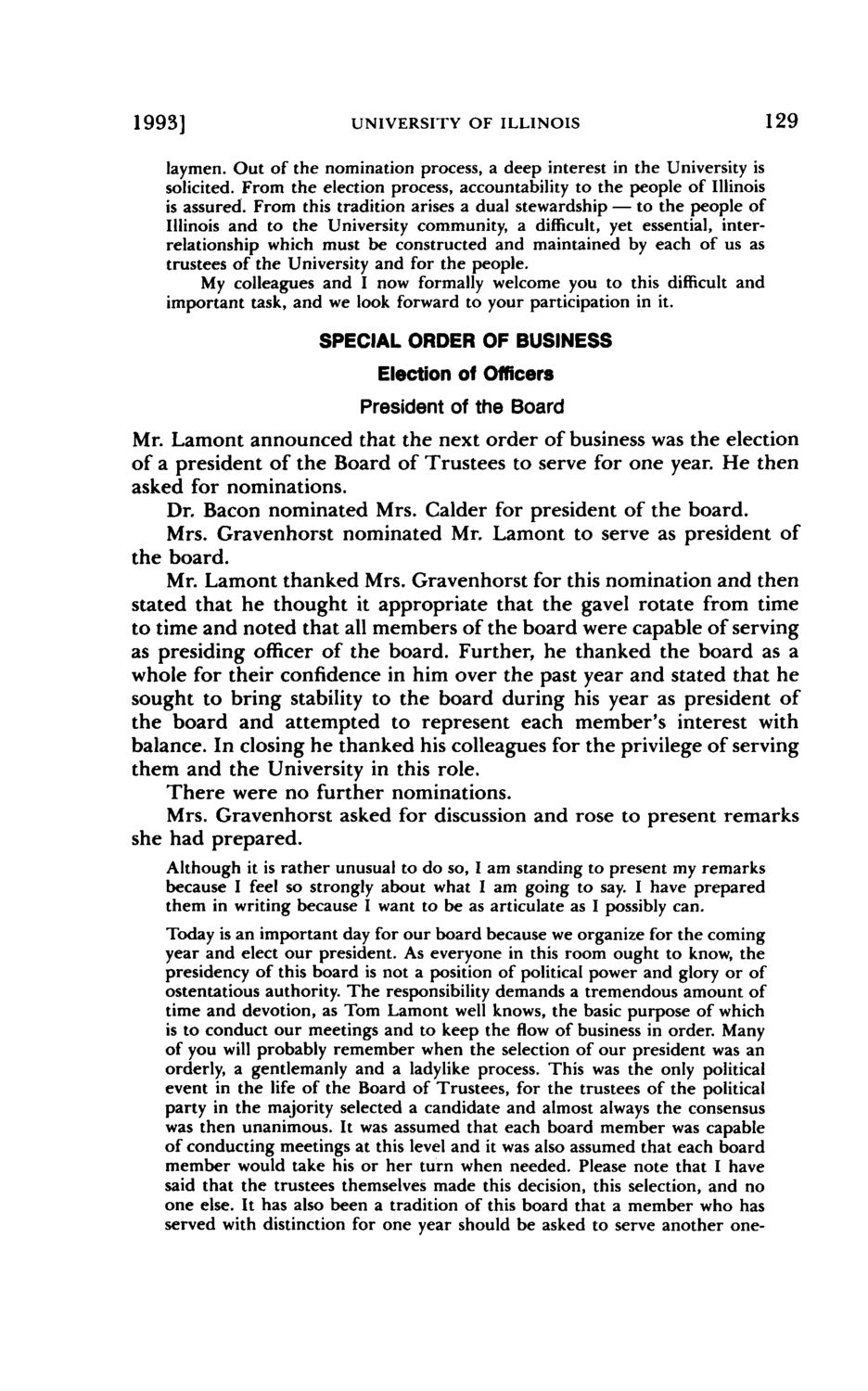 ---
EXTRACTED TEXT FROM PAGE:
1993]
UNIVERSITY OF ILLINOIS
129
laymen. Out of the nomination process, a deep interest in the University is solicited. From the election process, accountability to the people of Illinois is assured. From this tradition arises a dual stewardship — to the people of Illinois and to the University community, a difficult, yet essential, interrelationship which must be constructed and maintained by each of us as trustees of the University and for the people. My colleagues and I now formally welcome you to this difficult and important task, and we look forward to your participation in it.
SPECIAL ORDER OF BUSINESS Election of Officers President of the Board
Mr. Lamont announced that the next order of business was the election of a president of the Board of Trustees to serve for one year. He then asked for nominations. Dr. Bacon nominated Mrs. Calder for president of the board. Mrs. Gravenhorst nominated Mr. Lamont to serve as president of the board. Mr. Lamont thanked Mrs. Gravenhorst for this nomination and then stated that he thought it appropriate that the gavel rotate from time to time and noted that all members of the board were capable of serving as presiding officer of the board. Further, he thanked the board as a whole for their confidence in him over the past year and stated that he sought to bring stability to the board during his year as president of the board and attempted to represent each member's interest with balance. In closing he thanked his colleagues for the privilege of serving them and the University in this role. There were no further nominations. Mrs. Gravenhorst asked for discussion and rose to present remarks she had prepared.
Although it is rather unusual to do so, I am standing to present my remarks because I feel so strongly about what I am going to say. I have prepared them in writing because I want to be as articulate as I possibly can. Today is an important day for our board because we organize for the coming year and elect our president. As everyone in this room ought to know, the presidency of this board is not a position of political power and glory or of ostentatious authority. The responsibility demands a tremendous amount of time and devotion, as Tom Lamont well knows, the basic purpose of which is to conduct our meetings and to keep the flow of business in order. Many of you will probably remember when the selection of our president was an orderly, a gentlemanly and a ladylike process. This was the only political event in the life of the Board of Trustees, for the trustees of the political party in the majority selected a candidate and almost always the consensus was then unanimous. It was assumed that each board member was capable of conducting meetings at this level and it was also assumed that each board member would take his or her turn when needed. Please note that I have said that the trustees themselves made this decision, this selection, and no one else. It has also been a tradition of this board that a member who has served with distinction for one year should be asked to serve another one-