Caption: Board of Trustees Minutes - 1992
This is a reduced-resolution page image for fast online browsing.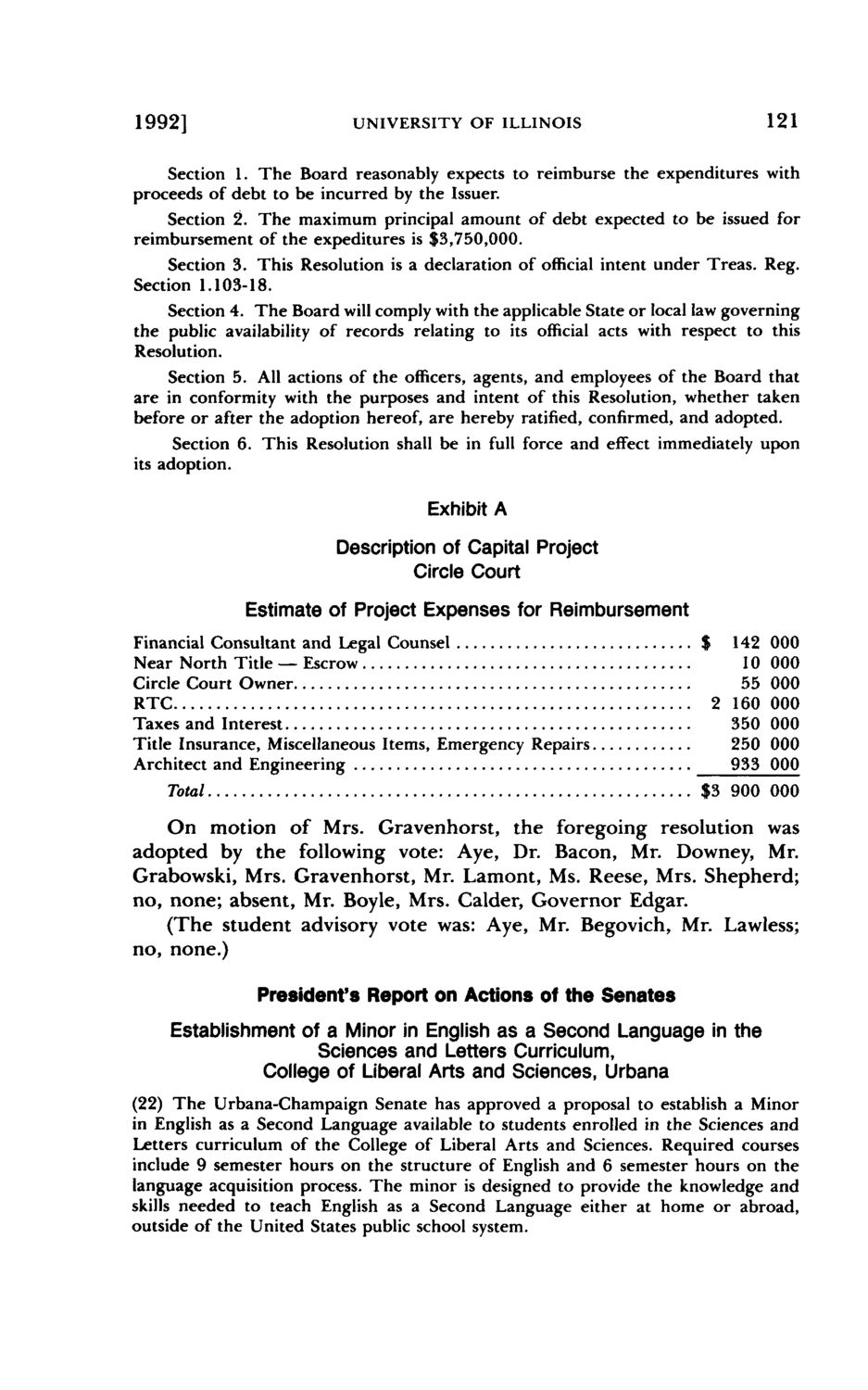 ---
EXTRACTED TEXT FROM PAGE:
1992]
UNIVERSITY OF ILLINOIS
121
Section 1. The Board reasonably expects to reimburse the expenditures with proceeds of debt to be incurred by the Issuer. Section 2. The maximum principal amount of debt expected to be issued for reimbursement of the expeditures is $3,750,000. Section 3. This Resolution is a declaration of official intent under Treas. Reg. Section 1.103-18. Section 4. The Board will comply with the applicable State or local law governing the public availability of records relating to its official acts with respect to this Resolution. Section 5. All actions of the officers, agents, and employees of the Board that are in conformity with the purposes and intent of this Resolution, whether taken before or after the adoption hereof, are hereby ratified, confirmed, and adopted. Section 6. This Resolution shall be in full force and effect immediately upon its adoption.
Exhibit A Description of Capital Project Circle Court Estimate of Project Expenses for Reimbursement
Financial Consultant and Legal Counsel Near North Title — Escrow Circle Court Owner RTC Taxes and Interest Title Insurance, Miscellaneous Items, Emergency Repairs Architect and Engineering Total $ 142 10 55 2 160 350 250 933 000 000 000 000 000 000 000
$3 900 000
On motion of Mrs. Gravenhorst, the foregoing resolution was adopted by the following vote: Aye, Dr. Bacon, Mr. Downey, Mr. Grabowski, Mrs. Gravenhorst, Mr. Lamont, Ms. Reese, Mrs. Shepherd; no, none; absent, Mr. Boyle, Mrs. Calder, Governor Edgar. (The student advisory vote was: Aye, Mr. Begovich, Mr. Lawless; no, none.) President's Report on Actions of the Senates Establishment of a Minor in English as a Second Language in the Sciences and Letters Curriculum, College of Liberal Arts and Sciences, Urbana
(22) The Urbana-Champaign Senate has approved a proposal to establish a Minor in English as a Second Language available to students enrolled in the Sciences and Letters curriculum of the College of Liberal Arts and Sciences. Required courses include 9 semester hours on the structure of English and 6 semester hours on the language acquisition process. The minor is designed to provide the knowledge and skills needed to teach English as a Second Language either at home or abroad, outside of the United States public school system.