Caption: Board of Trustees Minutes - 1992
This is a reduced-resolution page image for fast online browsing.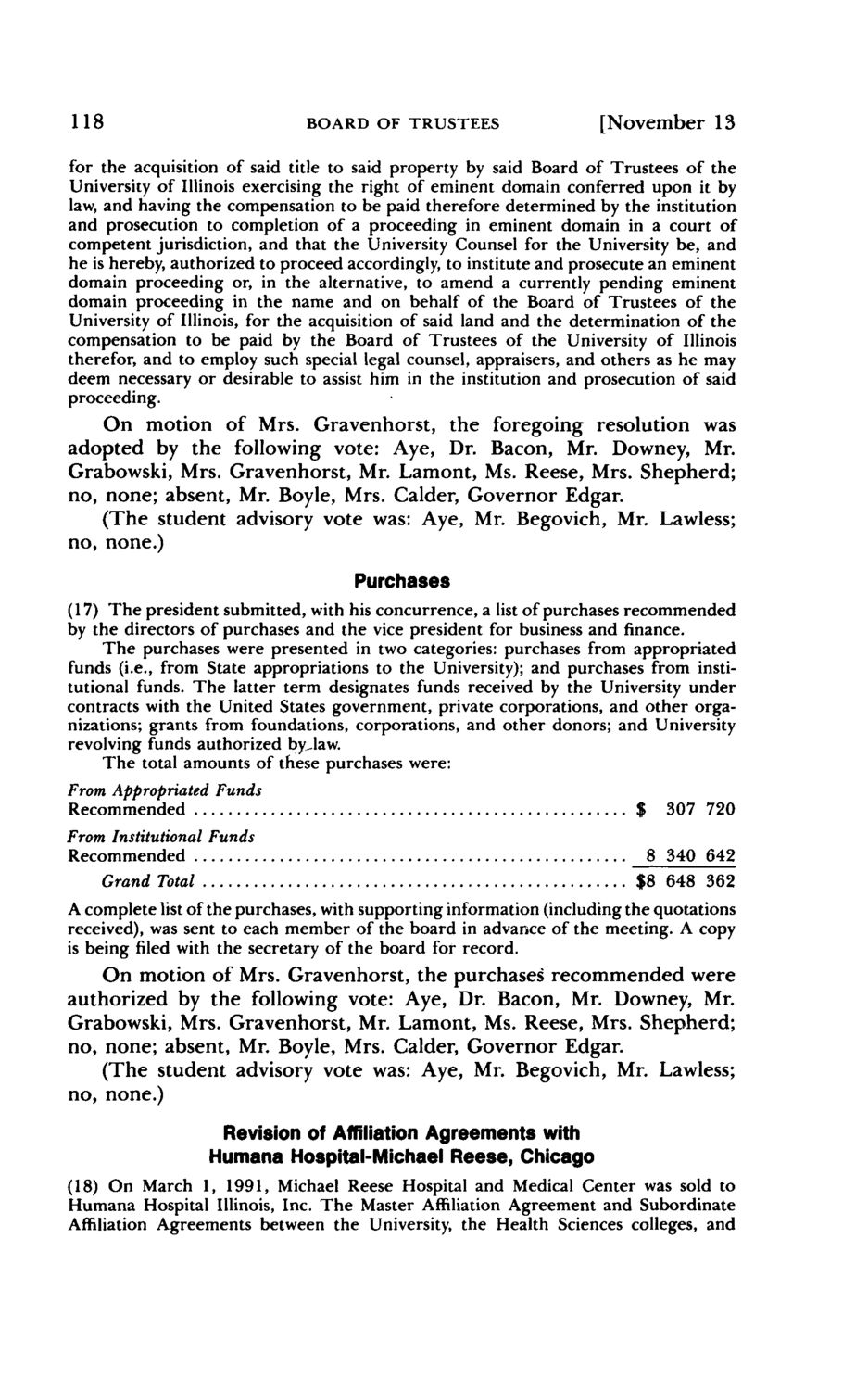 ---
EXTRACTED TEXT FROM PAGE:
118
BOARD OF TRUSTEES
[November 13
for the acquisition of said title to said property by said Board of Trustees of the University of Illinois exercising the right of eminent domain conferred upon it by law, and having the compensation to be paid therefore determined by the institution and prosecution to completion of a proceeding in eminent domain in a court of competent jurisdiction, and that the University Counsel for the University be, and he is hereby, authorized to proceed accordingly, to institute and prosecute an eminent domain proceeding or, in the alternative, to amend a currently pending eminent domain proceeding in the name and on behalf of the Board of Trustees of the University of Illinois, for the acquisition of said land and the determination of the compensation to be paid by the Board of Trustees of the University of Illinois therefor, and to employ such special legal counsel, appraisers, and others as he may deem necessary or desirable to assist him in the institution and prosecution of said proceeding.
On motion of Mrs. Gravenhorst, the foregoing resolution was adopted by the following vote: Aye, Dr. Bacon, Mr. Downey, Mr. Grabowski, Mrs. Gravenhorst, Mr. Lamont, Ms. Reese, Mrs. Shepherd; no, none; absent, Mr. Boyle, Mrs. Calder, Governor Edgar. (The student advisory vote was: Aye, Mr. Begovich, Mr. Lawless; no, none.)
Purchases
(17) The president submitted, with his concurrence, a list of purchases recommended by the directors of purchases and the vice president for business and finance. The purchases were presented in two categories: purchases from appropriated funds (i.e., from State appropriations to the University); and purchases from institutional funds. The latter term designates funds received by the University under contracts with the United States government, private corporations, and other organizations; grants from foundations, corporations, and other donors; and University revolving funds authorized byJaw. The total amounts of these purchases were: From Appropriated Funds Recommended From Institutional Funds Recommended Grand Total $ 307 720
8 340 642 $8 648 362
A complete list of the purchases, with supporting information (including the quotations received), was sent to each member of the board in advance of the meeting. A copy is being filed with the secretary of the board for record.
On motion of Mrs. Gravenhorst, the purchases recommended were authorized by the following vote: Aye, Dr. Bacon, Mr. Downey, Mr. Grabowski, Mrs. Gravenhorst, Mr. Lamont, Ms. Reese, Mrs. Shepherd; no, none; absent, Mr. Boyle, Mrs. Calder, Governor Edgar. (The student advisory vote was: Aye, Mr. Begovich, Mr. Lawless; no, none.)
Revision of Affiliation Agreements with Humana Hospital-Michael Reese, Chicago
(18) On March 1, 1991, Michael Reese Hospital and Medical Center was sold to Humana Hospital Illinois, Inc. The Master Affiliation Agreement and Subordinate Affiliation Agreements between the University, the Health Sciences colleges, and