Caption: Board of Trustees Minutes - 1874
This is a reduced-resolution page image for fast online browsing.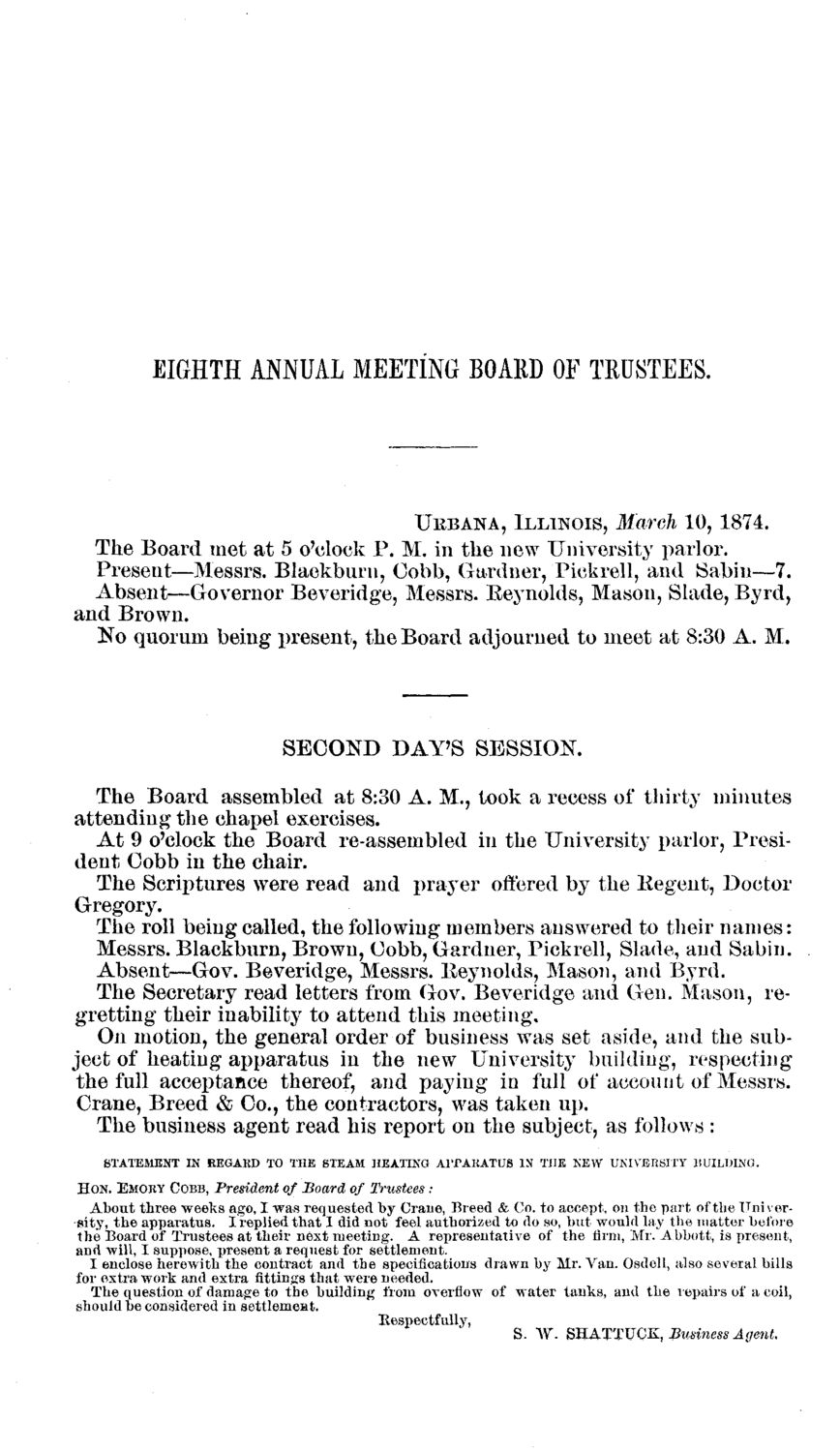 ---
EXTRACTED TEXT FROM PAGE:
EIGHTH ANNUAL MEETING BOARD OF TRUSTEES.
URBANA, ILLINOIS, March 10, 1874.
The Board met at 5 o'clock P. M. in the new University parlor. Present—Messrs. Blackburn, Cobb, Gardner, Pickrell, and Sabiu—7. Absent—Governor Beveridge, Messrs. Beynolds, Mason, Slade, Byrd, and Brown. No quorum being present, the Board adjourned to meet at 8:30 A. M.
SECOND DAY'S SESSION. The Board assembled at 8:30 A. M., took a recess of thirty minutes attending the chapel exercises. At 9 o'clock the Board re-assembled in the University parlor, President Cobb in the chair. The Scriptures were read and prayer offered by the Kegent, Doctor Gregory. The roll being called, the following members answered to their names: Messrs. Blackburn, Brown, Oobb, Gardner, Pickrell, Slade, and Sabin. Absent—Gov. Beveridge, Messrs. Reynolds, Mason, and Byrd. The Secretary read letters from Gov. Beveridge and Gen. Mason, regretting their inability to attend this meeting. On motion, the general order of business was set aside, and the subject of heating apparatus in the new University building, respecting the full acceptance thereof, and paying in full of account of Messrs. Crane, Breed & Co., the contractors, was taken up. The business agent read his report on the subject, as follows :
STATEMENT IN REGARD TO THE STEAM HEATING APPARATUS IN THE NEW UNIVERSITY BUILDING.
HON. EMORY COBB, President of Board of Trustees : About three weeks ago, I was requested by Crane, Breed & Co. to accept, on the part of the University, the apparatus. I replied that I did not feel authorized to do so, but would lay the matter before the Board of Trustees at their next meeting. A representative of the firm, Mr. Abbott, is present, and will, I suppose, present a request for settlement. I enclose herewith the contract and the specifications drawn by Mr. Van. Osdoll, also several bills for extra work and extra fittings that were needed. The question of damage to the building from overflow of water tanks, and the repairs of a coil, should be considered in settlemeHt. Respectfully, S. "W- SSATTUCK, Business Agent,