Caption: Board of Trustees Minutes - 1874
This is a reduced-resolution page image for fast online browsing.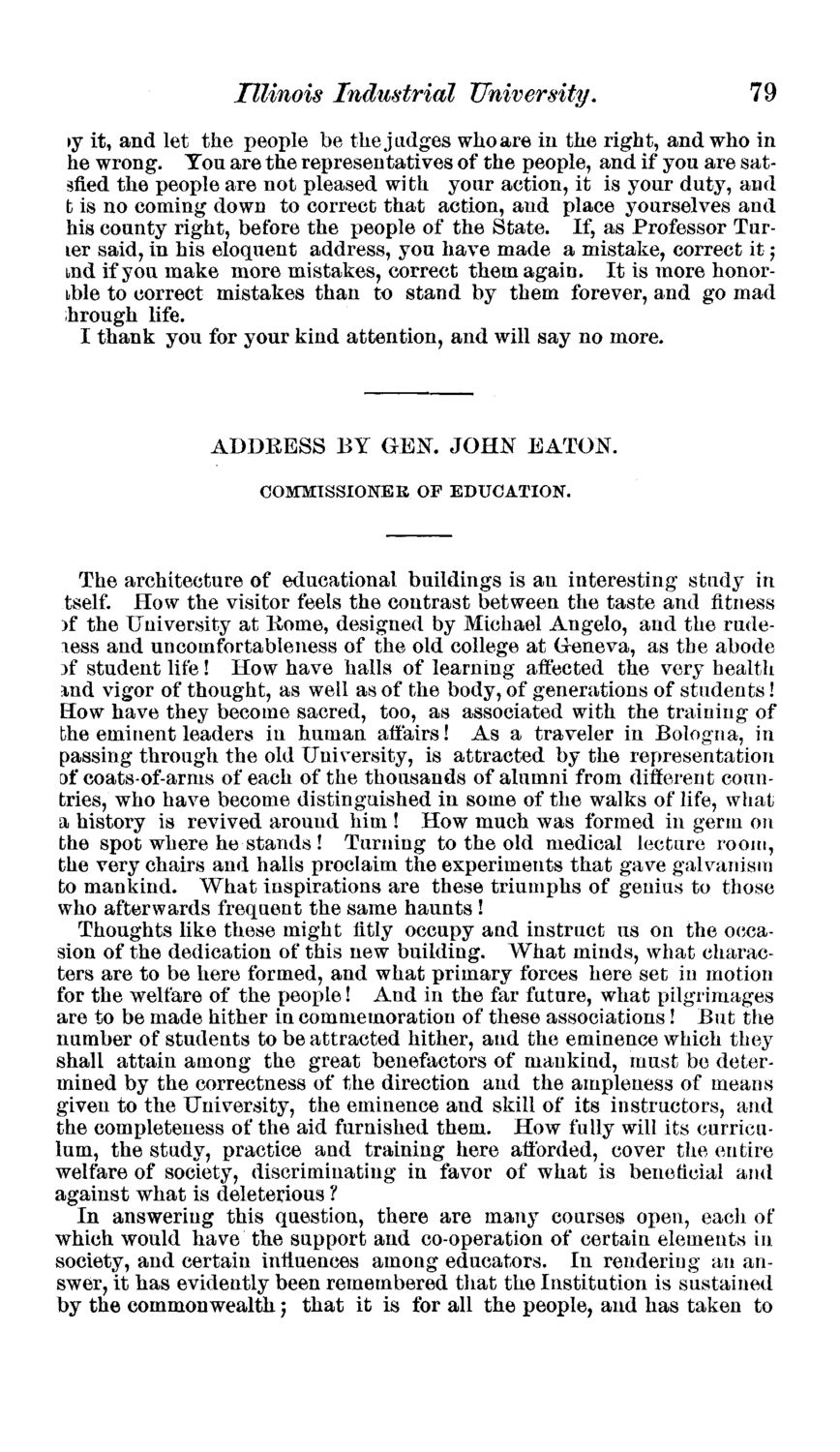 ---
EXTRACTED TEXT FROM PAGE:
Illinois Industrial
University.
79
>y it, and let the people be the judges who are in the right, and who in he wrong. You are the representatives of the people, and if you are satsfied the people are not pleased with your action, it is your duty, and t is no coming down to correct that action, and place yourselves and his county right, before the people of the State. If, as Professor Turler said, in his eloquent address, you have made a mistake, correct it j ind if you make more mistakes, correct them again. I t is more honorible to correct mistakes than to stand by them forever, and go mad hrough life. I thank you for your kind attention, and will say no more.
ADDRESS BY GEN. JOHN EATON.
COMMISSIONER OF EDUCATION.
The architecture of educational buildings is an interesting study in tself. How the visitor feels the contrast between the taste and fitness )f the University at Rome, designed by Michael Angelo, and the rudeless and uncomfortableness of the old college at (xeneva, as the abode )f student life! How have halls of learning affected the very health a,nd vigor of thought, as well as of the body, of generations of students! Eow have they become sacred, too, as associated with the training of the eminent leaders in human affairs! As a traveler in Bologna, in passing through the old University, is attracted by the representation of coats-of-arms of each of the thousands of alumni from different countries, who have become distinguished in some of the walks of life, what a history is revived around him ! How much was formed in germ on the spot where he stands ! Turning to the old medical lecture room, the very chairs and halls proclaim the experiments that gave galvanism to mankind. What inspirations are these triumphs of genius to those who afterwards frequent the same haunts ! Thoughts like these might fitly occupy and instruct us on the occasion of the dedication of this new building. What minds, what characters are to be here formed, and what primary forces here set in motion for the welfare of the people! And in the far future, what pilgrimages are to be made hither in commemoration of these associations! But the number of students to be attracted hither, and the eminence which they shall attain among the great benefactors of mankind, must be determined by the correctness of the direction and the ampleness of means given to the University, the eminence and skill of its instructors, and the completeness of the aid furnished them. How fully will its curriculum, the study, practice and training here afforded, cover the entire welfare of society, discriminating in favor of what is beneficial and against what is deleterious ? In answering this question, there are many courses open, each of which would have the support and co-operation of certain elements in society, and certain influences among educators. In rendering an answer, it has evidently been remembered that the Institution is sustained by the commonwealth; that it is for all the people, and has taken to