Caption: Board of Trustees Minutes - 1874
This is a reduced-resolution page image for fast online browsing.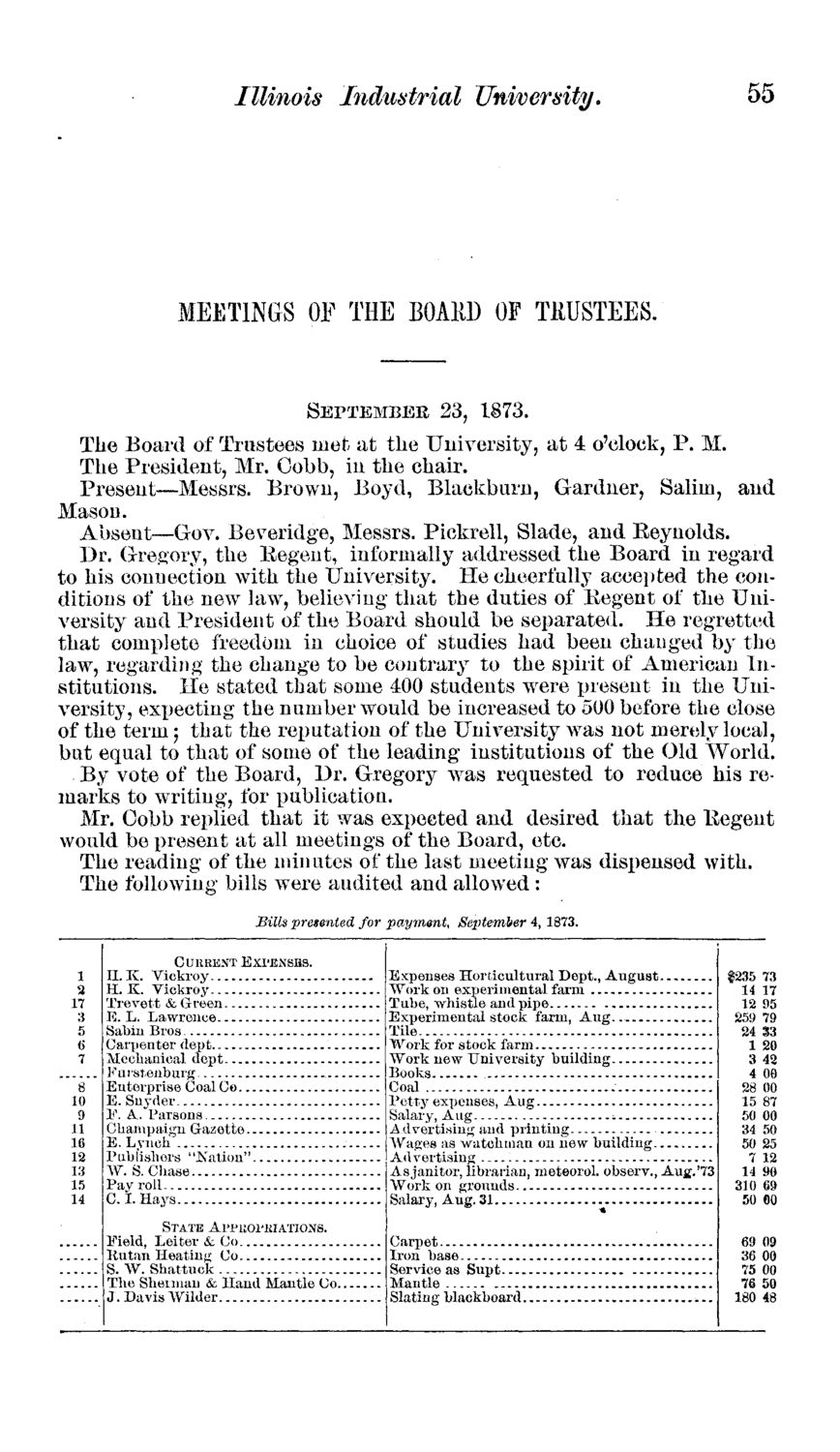 ---
EXTRACTED TEXT FROM PAGE:
Illinois
Industrial
University.
55
MEETINGS OF THE BQAltD OF TRUSTEES.
S E P T E M B E R 23,
1873.
The Board of Trustees met at the University, at 4 o'clock, P. M. The President, Mr. Cobb, in the chair. Present—Messrs. Brown, Boyd, Blackburn, Gardner, Salim, and Mason. Absent—Gov. Beveridge, Messrs. Pickrell, Slade, and Eeynolds. Dr. Gregory, the Regent, informally addressed the Board in regard to his connection with the University. He cheerfully accepted the conditions of the new law, believing that the duties of Regent of the University and President of the Board should be separated. He regretted that complete freedom in choice of studies had been chauged by the law, regarding the change to be contrary to the spirit of American Institutions. He stated that some 400 students were present in the University, expecting the number would be increased to 500 before the close of the term; that the reputation of the University was not merely local, but equal to that of some of the leading institutions of the Old World. By vote of the Board, Dr. Gregory was requested to reduce his remarks to writing, for publication. Mr. Cobb replied that it was expected and desired that the Regent would be present at all meetings of the Board, etc. The reading of the minutes of the last meeting was dispensed with. The following bills were audited and allowed:
Bills presented for payment, September 4, 1873.
CURRENT EXPENSES.
1 2 17 3 5 6 7 8 10 9 11 16 12 13 15 14
H. K. Vickroy H. K. Vickroy Trevett & Green K. L. Lawrence Sabin Bros Carpenter dept Mechanical dept Furstenburg Enterprise Coal Co E. Snyder F. A. Parsons Champaign Gazette E. Lynch Publishers "Nation" W. S.Chase Pay roll C.LHays
...
Expenses Horticultural Dept., August $235 73 Work on experimental farm 14 17 Tube, whistle and pipe 12 95 Experimental stock farm, Aug. 259 79 Tile 24 33 Work for stock farm 1 20 Work new University building 3 42 Books 4 00 Coal 28 00 Petty expenses, Aug 15 87 Salary, Aug ;. 50 00 Advertising and printing 34 50 Wages as watchman on new building 50 25 Advertising 1 7 12 As janitor, librarian, meteorol. observ., Aug.'73 14 90 Work on grounds 310 69 Salary, Aug. 31 50 00 Carpet Iron base Service as Supt Mantle Slating blackboard
69 36 75 76 180 09 00 00 50 48
Field, Leiter & Co Kutan Heating Co S. W. Shattuck The Sherman & Hand Mantle Co. J. Davis Wilder
STATE APPROPRIATIONS.