Caption: Board of Trustees Minutes - 1874
This is a reduced-resolution page image for fast online browsing.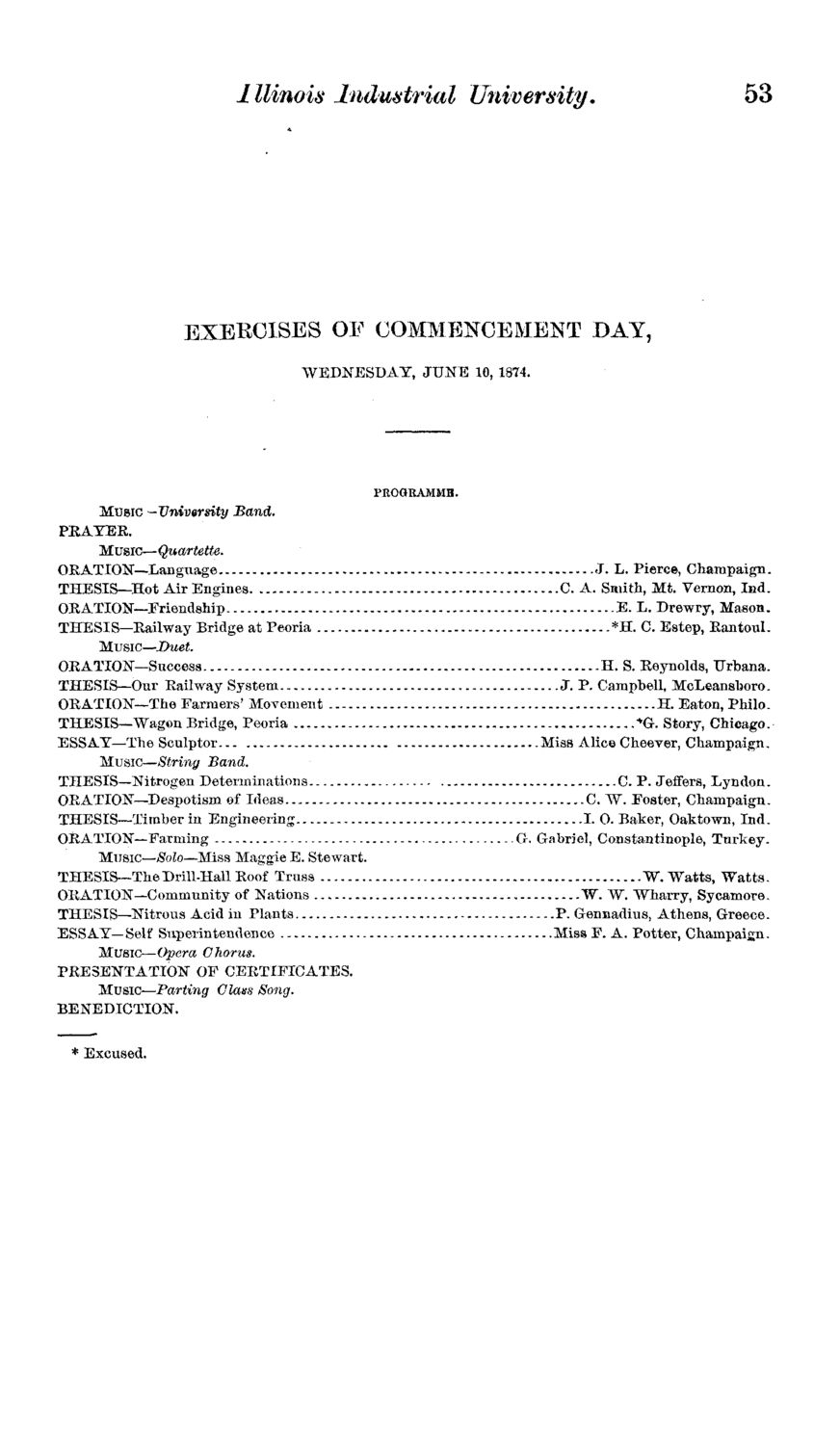 ---
EXTRACTED TEXT FROM PAGE:
Illinois Industrial
University.
53
EXEECISES OF COMMENCEMENT DAY,
WEDNESDAY, J U N E 10, 1874.
PROGRAMME.
Music —University Band. PRAYER. Music— Quartette. ORATION—Language THESIS—Hot Air Engines ORATION—Friendship..... THESIS—Railway Bridge at Peoria Music—Duet. ORATION—Success THESIS—Our Railway System ORATION—The Farmers' Movement THESIS—Wagon Bridge, Peoria ESSAY—The Sculptor Music—String Band. THESIS—Nitrogen Determinations ORATION—Despotism of Ideas THESIS—Timber in Engineering ORATION—Farming Music—Solo—Miss Maggie E. Stewart. THESIS—The Drill-Hall Roof Truss ORATION—Community of Nations THESIS—Nitrous Acid in Plants ESSAY—Self Superintendence Music—Opera Chorus. PRESENTATION OF CERTIFICATES. Music—Parting Class Song. BENEDICTION. * Excused.
J . L. Pierce, Champaign. C. A. Smith, Mt. Vernon, Ind. E. L. Drewry, Mason. *H. C. Estep, Rantoul. H. S. Reynolds, TJrbana. J. P. Campbell, McLeansboro. H. Eaton, Philo. *G. Story, Chicago. Miss Alice Cheever, Champaign. C. P. Jeffers, Lyndon. C. W. Foster, Champaign. I. 0. Baker, Oaktown, Ind. G. Gabriel, Constantinople, Turkey. W. Watts, Watts. W. W. Wharry, Sycamore. P. Gennadius, Athens, Greece. Miss F. A. Potter, Champaign.