Caption: Board of Trustees Minutes - 1874
This is a reduced-resolution page image for fast online browsing.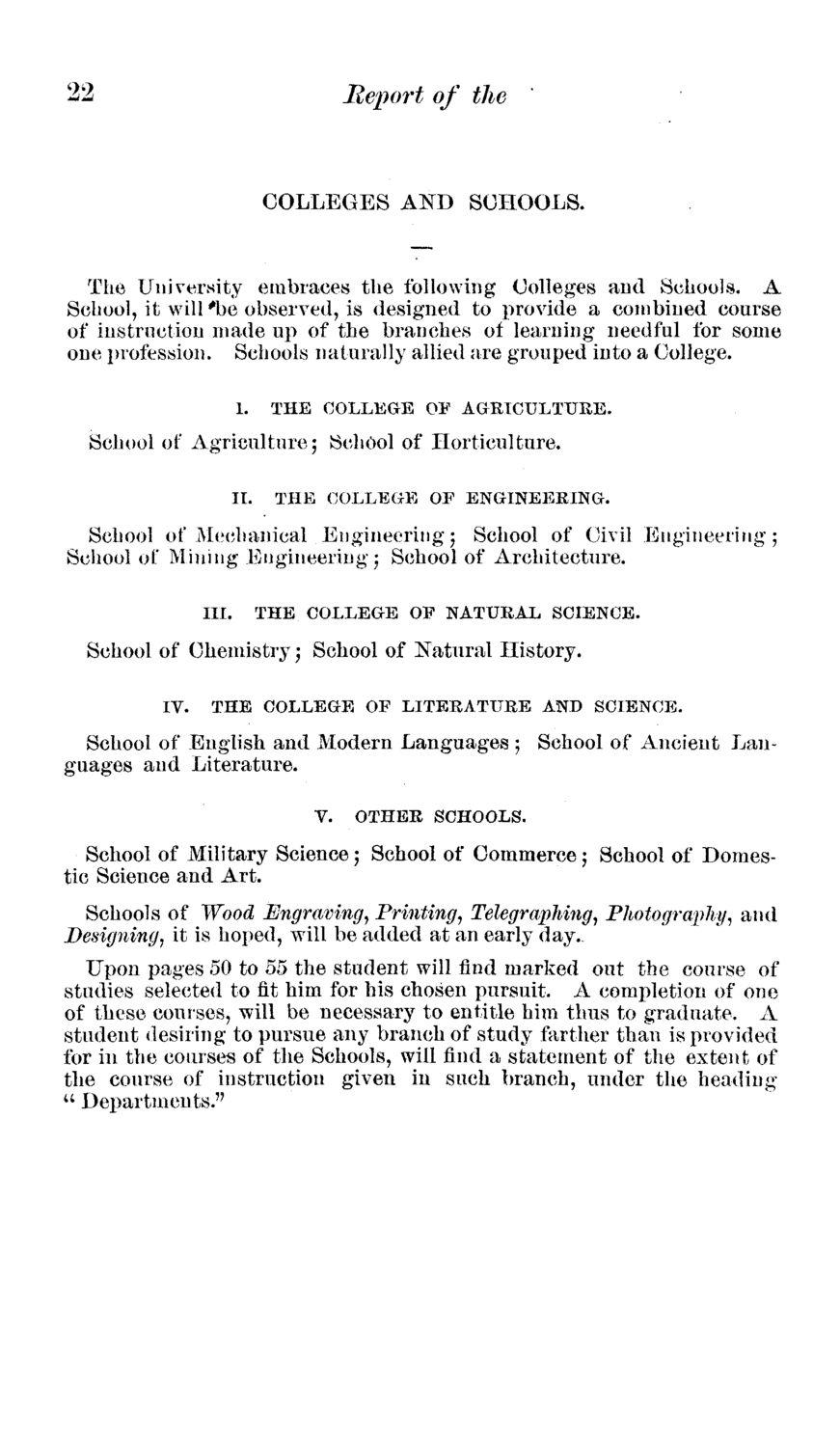 ---
EXTRACTED TEXT FROM PAGE:
22
Report of tlie
COLLEGES AND SCHOOLS.
The University embraces the following Colleges and Schools. A School, it will 'be observed, is designed to provide a combined course of instruction made np of the branches of learning needful for some one profession. Schools naturally allied are grouped into a College.
I. THE COLLEGE OF AGRICULTURE.
School of Agriculture 5 School of Horticulture.
II. THE COLLEGE OF ENGINEERING.
School of Mechanical Engineering; School of Civil Engineering; School of Mining Engineering; School of Architecture.
III. THE COLLEGE OF NATURAL SCIENCE.
School of Chemistry; School of Natural History.
IV. THE COLLEGE OF LITERATURE AND SCIENCE.
School of English and Modern Languages ; School of Ancient Languages and Literature.
V. OTHER SCHOOLS.
School of Military Science; School of Commerce; School of Domestic Science and Art. Schools of Wood Engraving, Printing, Telegraphing, Photography, and Designing, it is hoped, will be added at an early day. Upon pages 50 to 55 the student will find marked out the course of studies selected to fit him for his chosen pursuit. A completion of one of these courses, will be necessary to entitle him thus to graduate. A student desiring to pursue any branch of study farther than is provided for in the courses of the Schools, will find a statement of the extent of the course of instruction given in such branch, under the heading 44 Departments."