Caption: Board of Trustees Minutes - 1874
This is a reduced-resolution page image for fast online browsing.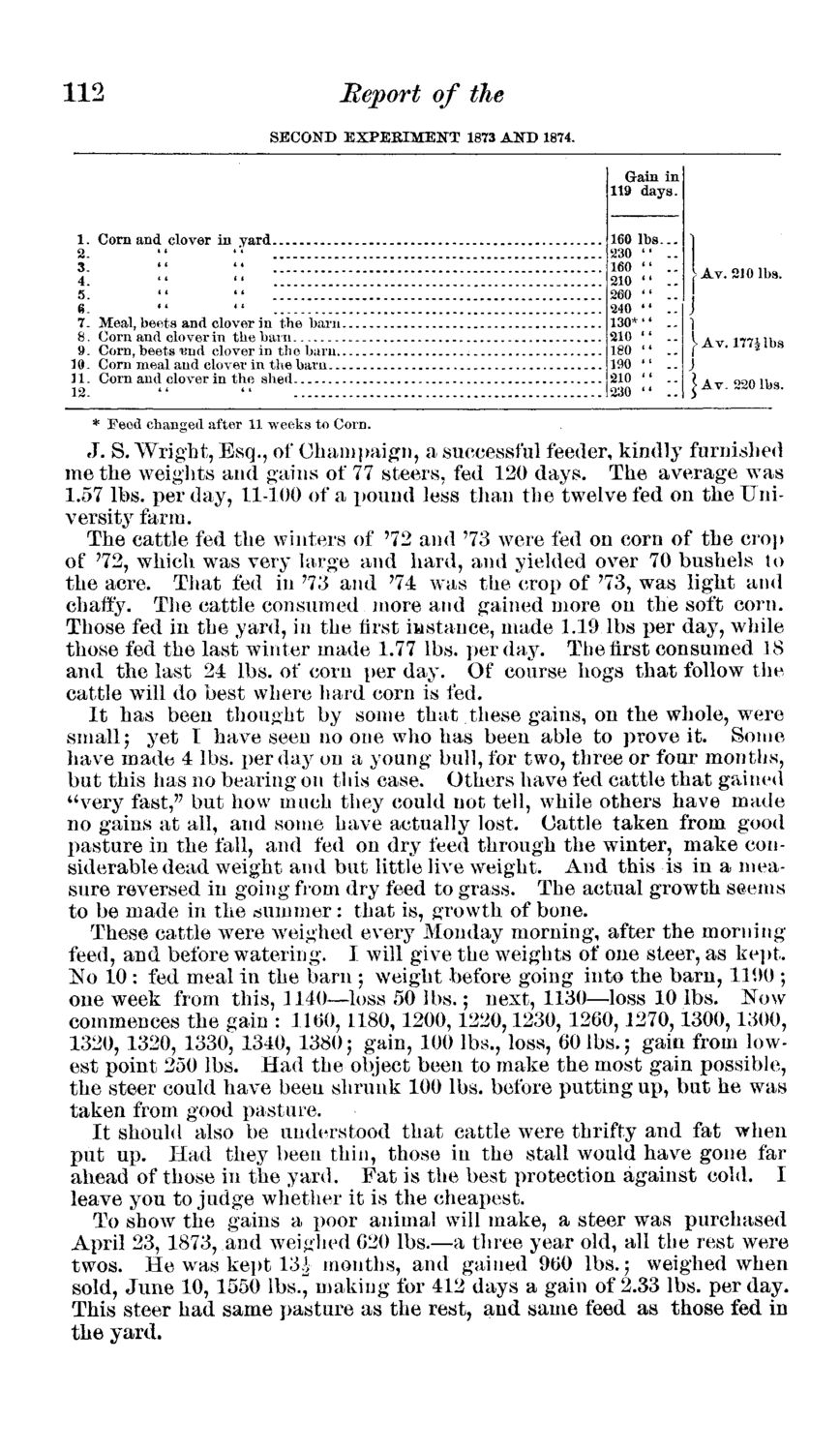 ---
EXTRACTED TEXT FROM PAGE:
112
Report of the
SECOND EXPERIMENT 1873 AND 1874. Grain in 1119 days.
1. 2. 3. 4. 5. 6. 7. 8. 9. 10. 11. 12.
Corn and clover in yard " '' *' " " " " " , " " Meal, beets and clover in the barn Corn and clover in the barn Corn, beets -end clover in the barn. Corn meal and clover in the barn... Corn and clover in the shed " " * Feed changed after 11 weeks to Corn.
160 lbs. 230 " 160 " 210 " 260 " 240 '* 130*" 210 " 180 ' « 190 " 210 " 1230 "
SAv. 210 lbs.
\>AY.
177| lbs
220 lbs.
f
AT.
J. S. Wright, Esq., of Champaign, a successful feeder, kindly furnished me the weights and gains of 77 steers, fed 120 days. The average was 1.57 lbs. per day, 11-100 of a pound less than the twelve fed on the University farm. The cattle fed the winters of '72 and '73 were fed on corn of the crop of '72, which was very large and hard, and yielded over 70 bushels to the acre. That fed in '73 and '74 was the crop of '73, was light and chaffy. The cattle consumed more and gained more on the soft corn. Those fed in the yard, in the first instance, made 1.19 lbs per day, while those fed the last winter made 1.77 lbs. per day. The first consumed 18 and the last 24 lbs. of corn per day. Of course hogs that follow the cattle will do best where hard corn is fed. It has been thought by some that these gains, on the whole, were small) yet 1 have seen no one who has been able to prove it. Some have made 4 lbs. per day on a young bull, for two, three or four months, but this has no bearing on this case. Others have fed cattle that gained "very fast,'7 but how much they could not tell, while others have made no gains at all, and some have actually lost. Cattle taken from good pasture in the fall, and fed on dry feed through the winter, make considerable dead weight and but little live weight. And this is in a measure reversed in going from dry feed to grass. The actual growth seems to be made in the summer: that is, growth of bone. These cattle were weighed every Monday morning, after the morningfeed, and before watering. I will give the weights of one steer, as kept. No 10 : fed meal in the barn ; weight before going into the barn, 1100 ; one week from this, 1140—loss 50 lbs.; next, 1130—loss 10 lbs. Now commences the gain : 1100, 1180,1200,1220,1230, 1260,1270,1300,1300, 1320, 1320, 1330, 1340, 1380; gain, 100 lbs., loss, 60 lbs.; gain from lowest point 250 lbs. Had the object been to make the most gain possible, the steer could have been shrunk 100 lbs. before putting up, but he was taken from good pasture. It should also be understood that cattle were thrifty and fat when put up. Had they been thin, those in the stall would have gone far ahead of those in the yard. Fat is the best protection against cold. I leave you to judge whether it is the cheapest. To show the gains a poor animal will make, a steer was purchased April 23, 1873, and weighed 620 lbs.—a three year old, all the rest were twos. He was kept 13J months, and gained 960 lbs. 5 weighed when sold, June 10, 1550 lbs., making for 412 days a gain of 2.33 lbs. per day. This steer had same pasture as the rest, and same feed as those fed in the yard.