Foreword

In the fall of 1992, a retired construction manager in his late 60s was visiting farms that, with his older brother. he manages in Villa Grove, III., not far from the Urbana-Champaign campus of the University of Illinois. Before catching his plane back to Phoenix, he stopped by Talbot Laboratory and was about to leave the building, when Prof. George A. Costello asked the stranger if he could be of any help.
"Oh, no thanks," the visitor said humbly. Then, pointing to the oil portrait of Arthur Newell Talbot (1857-1942) that is prominently displayed on the second floor of Talbot Laboratory, he explained. "I was just looking at that painting of my grandfather."
The visitor turned out to be Arthur Newell Talbot II, younger son of Kenneth Hammet Talbot, Arthur's first child. Finally realizing who the visitor was, and wishing to make him feel more at home in the building named after his grandfather, Professor Costello immediately took him to the TAM Department's main office and introduced him to Prof. Donald E. Carlson, who was acting department head at the time.
"Don," George said. "I 'd like you to meet Arthur Newell Talbot."
"Oh, sure," Don replied, thinking his good friend George was playing a trick on him. "And may I see your driver's license, please?"
Art Talbot was later introduced to Prof. James W. Phillips, who invited Art and his brother Phil back to reminisce about their grandfather. Professor Phillips learned that there were ten grandchildren in all, of whom seven are living today. However, they are scattered all over the country, and, prior to April 1994, some of the cousins had not seen each other for decades.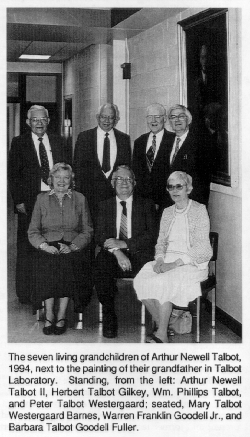 In April 1994, a wonderful family reunion took place as part of a special two-day conference planned by the TAM Department to commemorate the technical contributions of TAM's founder and first department head, Arthur Newell Talbot. All seven living grandchildren attended, most with their spouses, and many with their children. Many alumni, as well as present and former faculty, also attended. Dr. Albert J. Reinschmidt, a prominent research director at the Association of American Railroads, had accepted TAM's invitation to present Talbot's many engineering contributions at a graduate seminar during the conference. His presentation brought to light the diversity of Talbot's interests and the many instances of current theoretical, experimental, and design procedures that are based on Talbot's exhaustive and careful work. Professor Phillips presented a family history of Arthur Newell Talbot, his wife Virginia, their four children, and the ten grandchildren. Professor Hassan Aref, the current department head, spoke on the TAM Department as it is today.
These Talbot Symposium Proceedings consist of a reprint of selected parts of an earlier Engineering Experiment Station Bulletin, prepared in 1938 when the former Materials Testing Laboratory was renamed the Arthur Newell Talbot Laboratory, plus a family history prepared over the course of the last year by Professor Phillips in consultation with all the family members, extended family members, and many of their associates.
When the grandchildren and their children pay visits to the campus in the future, there will certainly be no need to display driver's licenses. They are always welcome! And, by virtue of Dr. Reinschmidt's excellent presentation, the current faculty and students have come to know why in 1938 the Board of Trustees, for the first time in the University's history, named a building after a living individual. Arthur Newell Talbot certainly deserved this honor.
James W. Phillips, August 1994


About This Site
Table Of Contents