Caption: Student Regulations - Undergraduates - 1961
This is a reduced-resolution page image for fast online browsing.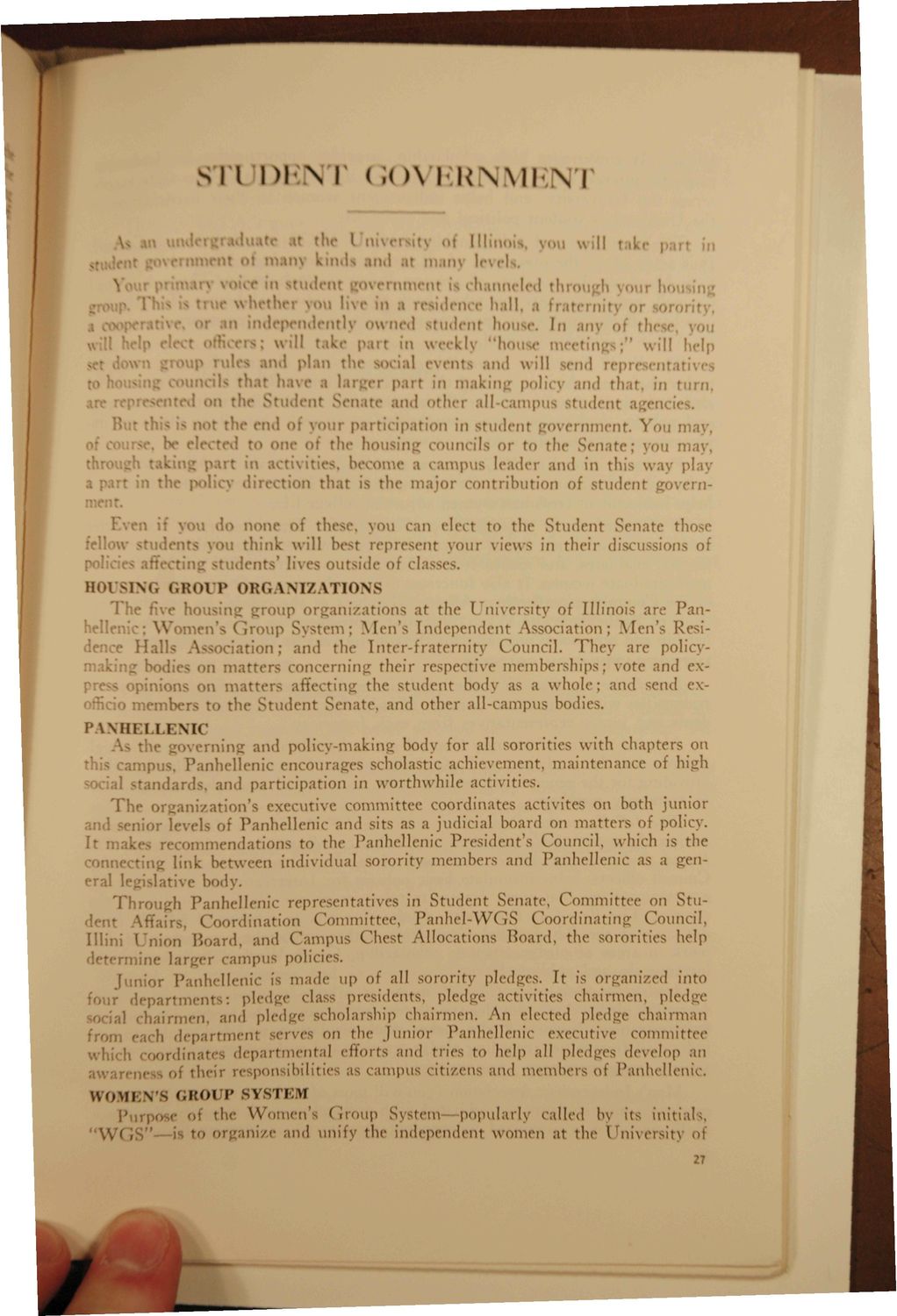 ---
EXTRACTED TEXT FROM PAGE:
SI I Dl \ I < .<>\ I K N M I \ T
\s
- .
radi
It
• M the I nivemit) ol Nlirx
u n kin.U and at n u n \ !»-\ i
u will tal
in studcni nment i hanneled thro h ir I g • \\ hethei you live n\ n'dei hall, a fraternii in indei identlj owned student house. In an] th will help i t < will take ; | in weelclj 'ho c mectinj will hel \ \ s and i in the s ial events and will jend rep t thai ivc la r i l \n makii olii and th. • in tui I on the Student nafl md othei ill impu student a enci< s nor the end of participat n in student | rnment. You mi < el - I • * the housing unci Is or to the Senate; you ma th: r in 3, h >me a campus leader- and in this way pi < a i the polio direction that s the major contribution of student -mfel U do none of th< . you ran elect to the S t u d e n t Sena thos lents u think will best represent your views in their discussions of
1
i
v•
p fi< tin ir students' liv< outside of classes. BOUSING GROl P ORGANIZATIONS I he : hoi .up or in iz ations at the University of Illinois are Panhelle: W o m e n ' s G r o u p S y s t e m ; M e n ' s Independent Association; M e n ' s Reside: Halls Ass ition ; and the Inter-fraternity Council. T h e y are policy-
n matter tncerning their respective memberships; vote and exinions on matter- affecting the student body as a whole; and <cnd exmembt to the Student Senate, and other all-campus bodies.
PAN HI I I I NIC
this campi
rning and policy-making body for all sororities with chapters on Panhellenic encourages scholastic achievement, maintenance of high
tandard- and participation in w o r t h w h i l e activities. T h e organization's executive committee coordinates activites on both junioi I senior levels of Panhellenic and sits as a judicial hoard on matters of policy.
Ir make
rm mend ations to the Panhellenic President's Council, which is the link between individual sorority members and Panhellenic as a genral legislative body. Through Panhellenic representatives in Student Senate, Committee on Stunt \ffain ( rdination Committee, Panhel-WGS Coordinating Council, Junior Panhellenic is made up of all sorority pledges. It is organized into ir depart! rnts: pledge class presidents, pledge activities chairmen, pledge
J
Mini I "nion Board, and C a m p u s Chest Allocations Board, the sororities help dete; ine larger campus policies.
i r ; department serves on the Junior Panhellenic executive committee h ordinates departmental efforts and tries to help all pledges develop an re , 0f their responsibilities as campus citizens and members of Panhellenic. WOMEN'S GROUP SYSTEM Purpose of the Women's Group System—popularly called h\ its initials, Is "WG " to organize and unify the independent women at the Dniversitj ol
27
!
irmen, and pledge scholarship chairmen. An elected pledge chairman