Caption: Student Regulations - Undergraduates - 1961
This is a reduced-resolution page image for fast online browsing.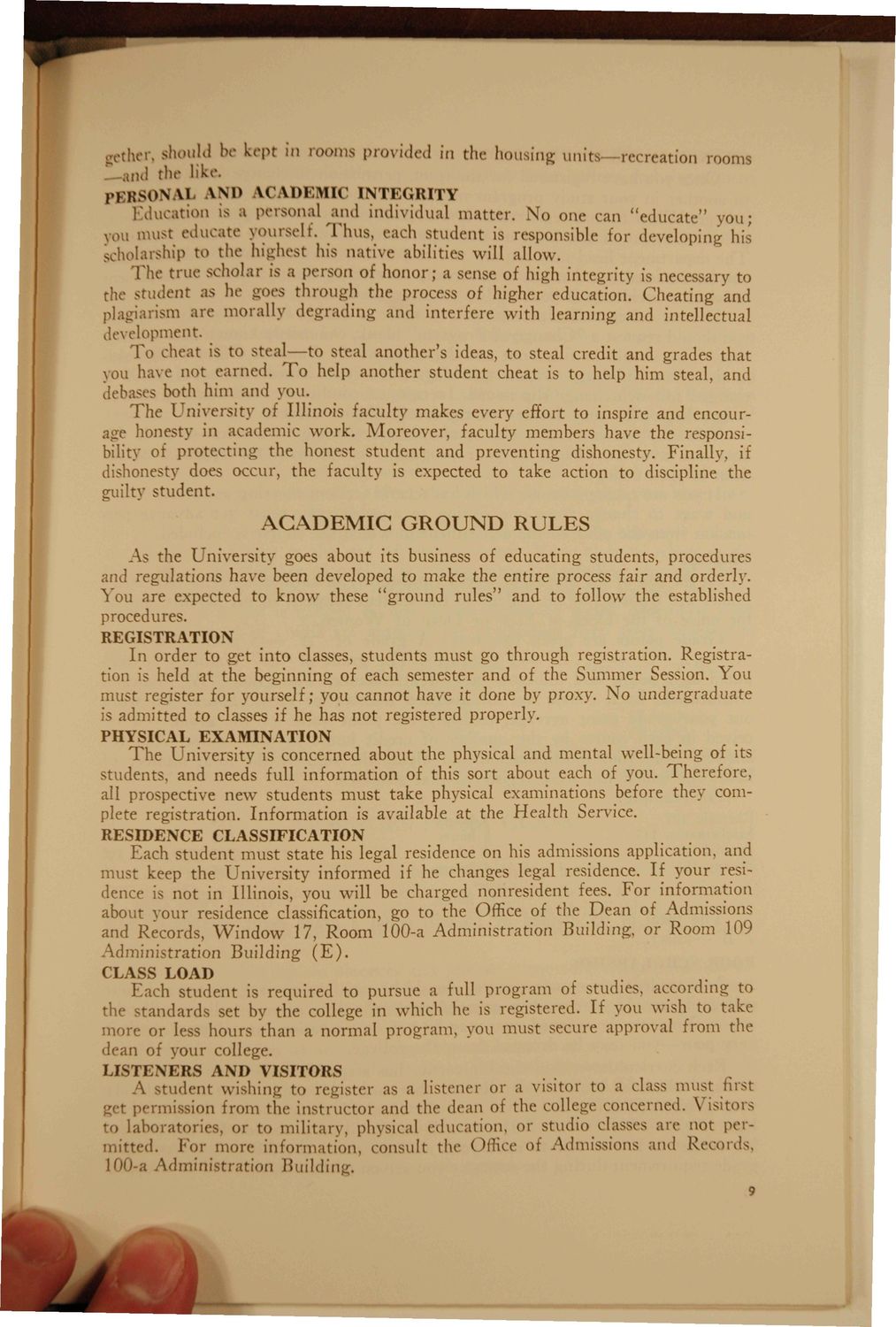 ---
EXTRACTED TEXT FROM PAGE:
ether, should be kept in rooms provided i n the housing units—recreation rooms and the like.
PERSONAL AND M YDEMIC INTEGRITY Education is a personal and individual matter. No one can "educate" you; you must educate yourself. T h u s , each student is responsible for developing his
scholarship to the highest his native abilities will allow.
The true scholar is a person of honor; a sense of high integrity is necessary to the student as he goes through the process of higher education. Cheating and plagiarism are morally degrading and interfere with learning and intellectual development T o cheat is to steal—to steal another's ideas, to steal credit and grades that you have not earned. T o help another student cheat is to help him steal, and debases both him and you. T h e University of Illinois faculty makes every effort to inspire and encourage honesty in academic work. Moreover, faculty members have the responsibility of protecting the honest student and preventing dishonesty. Finally, if dishonesty does occur, the faculty is expected to take action to discipline the guilty student.
ACADEMIC GROUND RULES
As the University goes about its business of educating students, procedures and regulations have been developed to make the entire process fair and orderly. You are expected to know these "ground rules" and to follow the established procedures. REGISTRATION In order to get into classes, students must go through registration. Registration is held at the beginning of each semester and of the Summer Session. You must register for yourself; you cannot have it done by proxy. No undergraduate is admitted to classes if he has not registered properly. PHYSICAL EXAMINATION T h e University is concerned about the physical and mental well-being of its students, and needs full information of this sort about each of you. Therefore, all prospective new students must take physical examinations before they complete registration. Information is available at the Health Service. RESIDENCE CLASSIFICATION Each student must state his legal residence on his admissions application, and must keep the University informed if he changes legal residence. If your residence is not in Illinois, you will be charged nonresident fees. For information about your residence classification, go to the Office of the Dean of Admissions and Records, W i n d o w 17, Room 100-a Administration Building, or Room 109 Administration Building ( E ) . CLASS LOAD Each student is required to pursue a full program of studies, according to the standards set by the college in which he is registered. If you wish to take more or less hours than a normal program, you must secure approval from the dean of your college. LISTENERS AND VISITORS A student wishing to register as a listener or a visitor to a class must first get permission from the instructor and the dean of the college concerned. Visitors to laboratories, or to military, physical education, or studio classes are not permitted. For more information, consult the Office of Admissions and Records, 10< i Administration Building.