Caption: Book - Overview of University of Illinois for Chicago Alumni (1926)
This is a reduced-resolution page image for fast online browsing.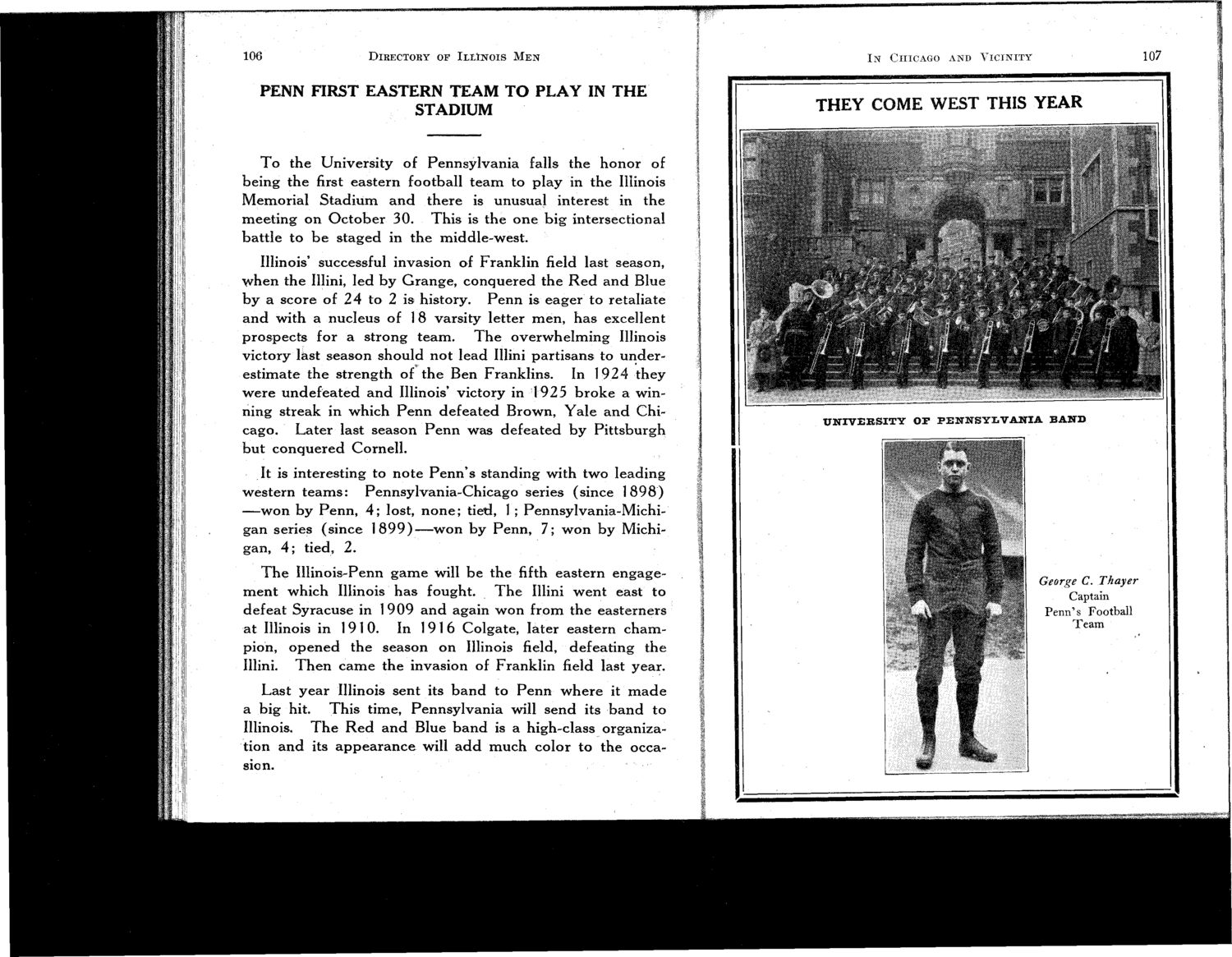 ---
EXTRACTED TEXT FROM PAGE:
106
DIRECTORY OF ILLINOIS M E N
IN
CHICAGO
AND
VICINITY
107
PENN FIRST EASTERN TEAM TO PLAY IN THE STADIUM
To the University of Pennsylvania falls the honor of being the first eastern football team to play in the Illinois Memorial Stadium and there is unusual interest in the meeting on October 30. This is the one big intersectional battle to be staged in the middle-west. Illinois' successful invasion of Franklin field last season, when the Illini, led by Grange, conquered the Red and Blue by a score of 24 to 2 is history. Penn is eager to retaliate and with a nucleus of 1 8 varsity letter men, has excellent prospects for a strong team. The overwhelming Illinois victory last season should not lead Illini partisans to underestimate the strength of the Ben Franklins. In 1924 they were undefeated and Illinois' victory in 1 925 broke a winning streak in which Penn defeated Brown, Yale and Chicago. Later last season Penn was defeated by Pittsburgh but conquered Cornell. It is interesting to note Penn's standing with two leading western teams: Pennsylvania-Chicago series (since 1898) —won by Penn, 4; lost, none; tietl, 1 ; Pennsylvania-Michigan series (since 1899)—won by Penn, 7; won by Michigan, 4; tied, 2. The Illinois-Penn game will be the fifth eastern engagement which Illinois has fought. The Illini went east to defeat Syracuse in 1909 and again won from the easterners at Illinois in 1910. In 1916 Colgate, later eastern champion, opened the season on Illinois field, defeating the Illini. Then came the invasion of Franklin field last year. Last year Illinois sent its band to Penn where it made a big hit. This time, Pennsylvania will send its band to Illinois. The Red and Blue band is a high-class organization and its appearance will add much color to the occasion.
THEY COME WEST THIS YEAR
>%M
UNIVERSITY OP PENNSYLVANIA BAND
George C. Thayer Captain Perm's Football Team