Caption: Book - Overview of University of Illinois for Chicago Alumni (1926)
This is a reduced-resolution page image for fast online browsing.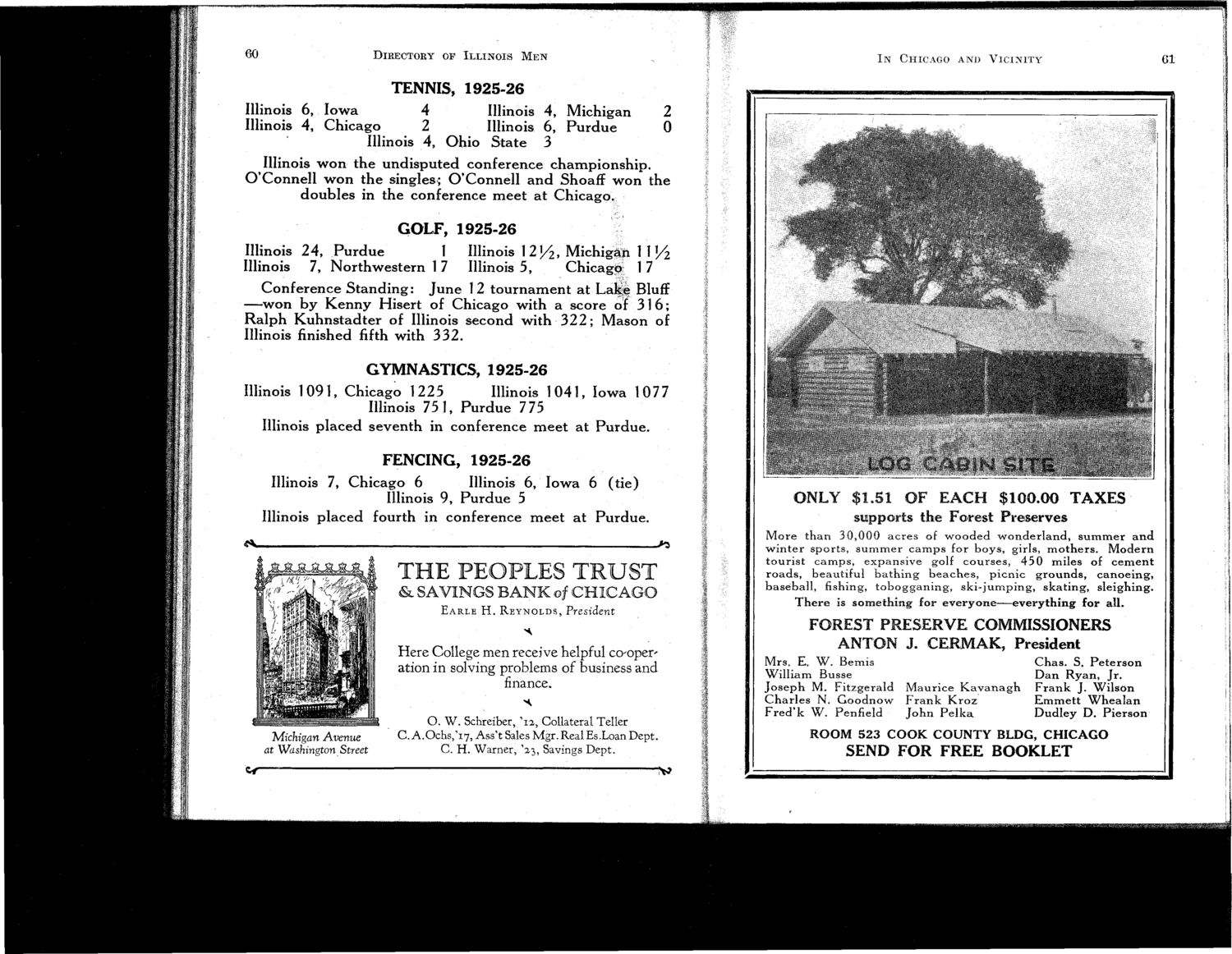 ---
EXTRACTED TEXT FROM PAGE:
60
DIRECTORY OF ILLINOIS
MEN
IN
CHICAGO AND
VICINITY
61
TENNIS, 1925-26 Illinois 6, Iowa 4 Illinois 4, Michigan 2 Illinois 4, Chicago 2 Illinois 6, Purdue 0 Illinois 4, Ohio State 3 Illinois won the undisputed conference championship. O'Connell won the singles; O'Connell and Shoaff won the doubles in the conference meet at Chicago. GOLF, 1925-26 Illinois 24, Purdue 1 Illinois 12J/2, Michigan 1 1 J/2 Illinois 7, Northwestern 17 Illinois 5, Chicago 17 Conference Standing: June 12 tournament at Lake Bluff —won by Kenny Hisert of Chicago with a score of 316; Ralph Kuhnstadter of Illinois second with 322; Mason of Illinois finished fifth with 332. GYMNASTICS, 1925-26 Illinois 1091, Chicago 1225 Illinois 1041, Iowa 1077 Illinois 751, Purdue 775 Illinois placed seventh in conference meet at Purdue. FENCING, 1925-26 Illinois 7, Chicago 6 Illinois 6, Iowa 6 (tie) Illinois 9, Purdue 5 Illinois placed fourth in conference meet at Purdue.
$\-
ONLY $1.51 O F EACH $100.00 TAXES supports the Forest Preserves
More than 30,000 acres of wooded wonderland, summer and winter sports, summer camps for boys, girls, mothers. Modern tourist camps, expansive golf courses, 450 miles of cement roads, beautiful bathing beaches, picnic grounds, canoeing, baseball, fishing, tobogganing, ski-jumping, skating, sleighing. There Is something for everyone—everything for all.
THE PEOPLES TRUST
& SAVINGS B A N K of C H I C A G O
EARLE H. REYNOLDS, President
Here College men receive helpful co-operation in solving problems of business and finance.
O. W. Schreiber, '12, Collateral Teller C. A.Ochs, , i7, Ass't Sales Mgr.RealEsXoanDept. C. H. Warner, '23, Savings Dept.
FOREST PRESERVE COMMISSIONERS ANTON J. CERMAK, President
Mrs. E. W. Bemis William Busse Joseph M. Fitzgerald Charles N. Goodnow F r e d ' k W. Penfield Maurice Kavanagh F r a n k Kroz John Pelka Chas. S. Peterson Dan Ryan, Jr. F r a n k J. Wilson Emmett Whealan Dudley D. Pierson
Michigan Avenue at Washington Street
ROOM 5 2 3 COOK COUNTY BLDG, CHICAGO
SEND FOR FREE BOOKLET