Caption: Booklet - Illinois Day Celebration 1917
This is a reduced-resolution page image for fast online browsing.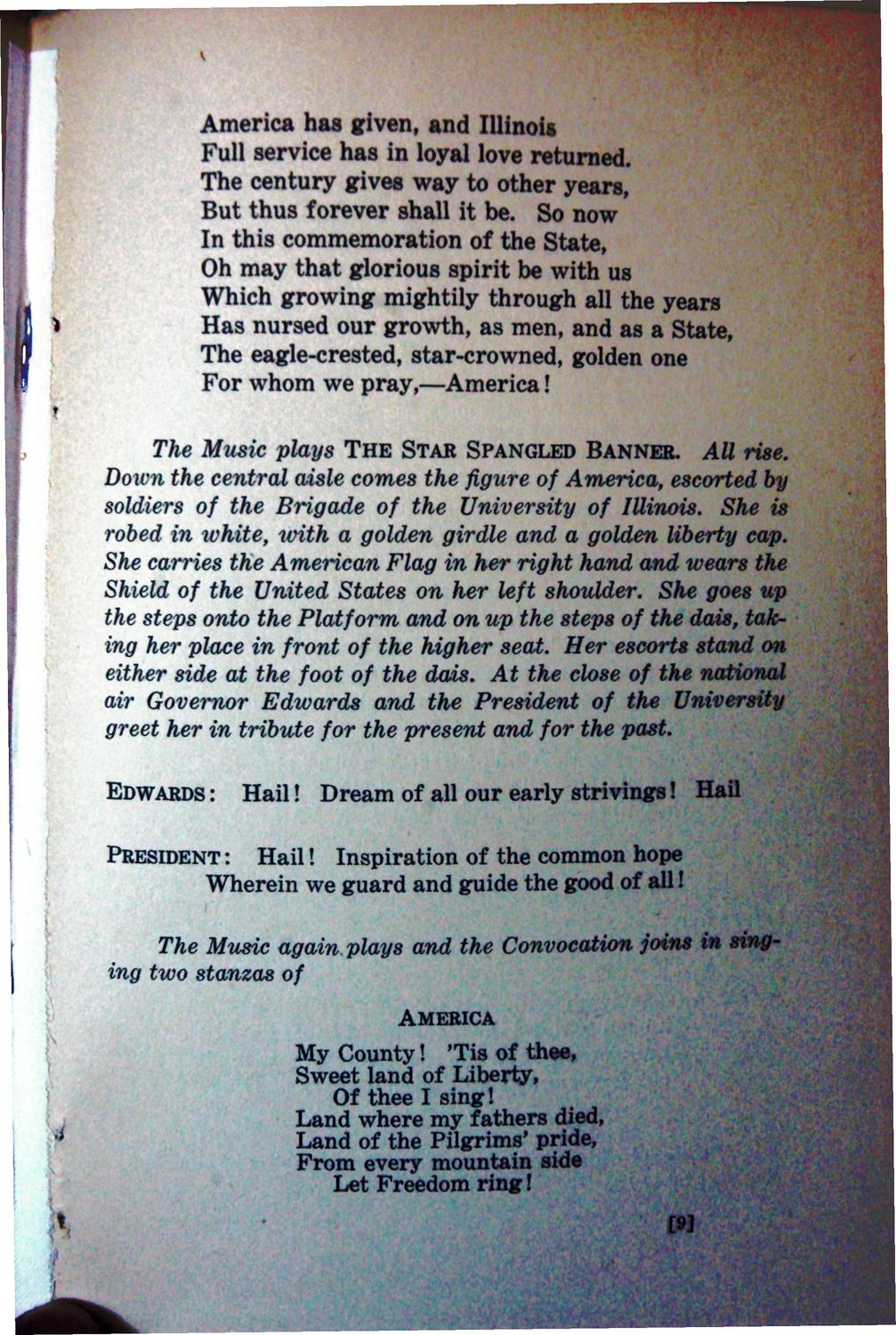 ---
EXTRACTED TEXT FROM PAGE:
America has given, and Illinois Full service has in loyal love returned. The century gives way to other years, But thus forever shall it be. So now In this commemoration of the State, Oh may that glorious spirit be with us Which growing mightily through all the years Has nursed our growth, as men, and as a State The eagle-crested, star-crowned, golden one For whom we pray,—America! The Music plays THE STAR SPANGLED BANNER. All rise. Down the central aisle comes the figure of America, escorted by soldiers of the Brigade of the University of Illinois. She is robed in white, with a golden girdle and a golden liberty cap. She carries the A merican Flag in her right hand and wears the Shield of the United States on her left shoulder. She goes up the steps onto the Platform and on up the steps of the dais, taking her place in front of the higher seat. Her escorts stand on either side at the foot of the dais. At the close of the national air Governor Edwards and the President of the University greet her in tribute for the present and for the past.
EDWARDS: PRESIDENT :
V,
Hail! Dream of all our early strivings! Hail
Hail! Inspiration of the common hope Wherein we guard and guide the good of all I
The Music again, plays and the Convocation joins ing two stanzas of
i
>
AMERICA
.
•i
My County! 'Tis of thee, Sweet land of Liberty. Of thee I sing 1 Land where my fathers died, T n n / ) st-f 4-UA Dllim'ma' Land of the Pilgrims' TtlH/fo. pride, From every mountain side Let Freedom ring!
[9]
t
•
;