Arthur Karr Gilkey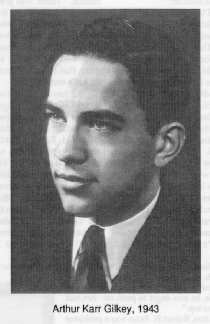 Arthur Karr Gilkey, Mildred and Herbert James Gilkey's second child, was born in 1926. "Although he started school very slowly, even had trouble reading at first, he turned into a virtual straight-A student, and skipped his senior year of high school to enroll at Iowa State," his brother Herb recalls. It was during that period that "he and three friends became very interested in things related to nature.
"They were taken under the wing of Dr. Paul L. Errington, a professor of zoology at Iowa State. They would get on their bikes and go out in the woods around Ames. They recorded for the first time the incubation period for great horned owls. They found a nest being built and observed it until the eggs were laid and then observed when the eggs were hatched. The professor, giving the boys due credit, published a paper on it."
"He had hawks," Barbara Fuller remembers. "He flew hawks in his back yard." "One was a sparrow hawk named Susie, who flew and hunted on command from Arthur," Mary Barnes adds.
"He also raised a crow that stayed around for several weeks," says Herb. "The crow, though quite a pet for a while, was not particularly appreciated by the neighbors. For example, he could desecrate a neighbor's clothesline on wash day, especially when our mulberry tree was loaded with berries; and he thought clothespins made great trophies."
And Arthur loved to climb. "Growing up in Iowa, you wouldn't think you'd turn into a mountain climber, but that's what happened," says Barbara Fuller. "I n fact he got a job in high school changing the light bulbs in the top of the radio tower when they went out, which they often did in winter storms. Anything to climb!"
Arthur then began studies in geology at Iowa State, but his studies were interrupted by a tour of duty in the Navy near the end and just after World War II.
"When he was released from the Navy," Herb recalls, "Art and three friends drove to Wyoming to climb Devil's Tower. (That was the same summer -- I think it was 1946 -- that some idiot had parachuted onto the tower, and rangers had to rescue him because he was unable to climb down.) The four had planned to climb the tower that summer. They charted their route from photographs before leaving Ames, and had no problem obtaining permission for the ascent from the ranger there. A week or two earlier, two Iowa State faculty families on a fly-drive vacation in the west had dropped a paint can on the tower for Art and his friends to retrieve. When they reached the tower, they learned that the ranger staff had been rather nervous when they saw a light plane circling the tower, for they did not want to have to rescue another parachutist. The news of their climb was reported by the wire services and the Des Moines Register carried a front-page story about it."
That fall Arthur returned to his undergraduate studies in geology at Iowa State. "He was a leader of the student government, and into a lot of activities on campus," Herb continues. "He even attended outings of the Iowa Mountaineers, a mountain climbing club at the University of Iowa in Iowa City. Recently a friend told me that Art felt he did not need to be roped on the climbing done by the club members, but, because it was a rule of the club, he went along.
"He went on to graduate school at Columbia, in geology. He spent one summer and part of another as a guide in Grand Teton National Park, and met many very interesting people -- Dimitri Mitropoulos, then a world-renowned orchestra conductor, for example.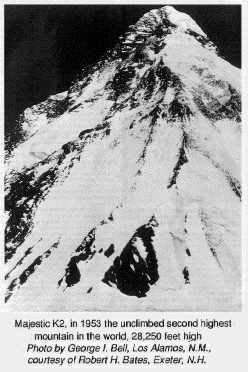 "He also spent the summers of 1950 and 1952 with a geological research expedition on the Juneau Ice Field in Alaska. (9) He told of flying over the glacier prior to the 1952 expedition and pushing supplies out the open door of the plane. That same summer, the expedition was visited by Lowell Thomas, a noted radio commentator and newspaper columnist of the time. Thomas flew in on a ski equipped DC-3; the plane was also fitted with 'JATO bottles' -- bottles of propellant that were ignited to give a jet-assist for takeoff from a short or confined runway. Remember this was in 1952 when helicopters were not available as they would be today. The members of the expedition felt that flying in and out, as Thomas did, was a luxurious way to travel reserved for celebrities; they themselves hiked in and out, carrying their own supplies, except for those that had been dropped earlier."
Barbara Fuller flew over what is now called Gilkey Glacier a couple of years ago. "I t's just about 20 minutes by plane north of Juneau, over the ice cap. And there's a Gilkey River, too. Quite exciting to fly over it!"
"Arthur spent the summer of 1951 doing geological research in central New Mexico. His work, sponsored by the Atomic Energy Commission, was to become the basis for his PhD thesis, which he completed and defended before the geology faculty at Columbia," Herb says.
As he was finishing his doctoral thesis, Arthur was offered a chance to pin an expedition to Mount K2 (Godwin-Austen), the world's second highest mountain, located along the Pakistan-China border. (10) Previous attempts by others had been unsuccessful. Among those who encouraged him to accept the offer were his cousins, Phil Talbot and Warren Goodell Jr.
Arthur was one of two who had been tagged to make the run for the top when the weather cleared. The year was 1953, the same year that Everest was scaled for the first time. But K2 "is more difficult then Everest," Herb Gilkey notes. "At Everest, the route up stretches out enough so that people can be climbing and others can haul up supplies, whereas on K2 they're working pretty much above one another."
"They were up at Camp VIII (approximately 25,500 ft), the final camp before making the dash for the summit, when the monsoon swept in early and to the north of its normal pattern. They were confined to their tents by wind and snow for several days," Herb explains. "The winds were blowing so hard they couldn't even keep their stoves lighted to melt snow for water, and they were badly dehydrated. Art developed thrombophlebitis (blood clots in the leg). The leader of the expedition, Charles S. Houston, was a doctor. They finally decided they just had to get him down. (11) They made an improvised sled for Art. They were roped in pairs, six in all. As they started out there was a fall, but the way they were arranged, there was one member of the party who was able to plant his feet firmly and dig his ice ax handle into the snow. All the others fell, but their ropes kind of came by him and he was able to hold the whole bunch of them. Some wound up head downward over a cliff. They eventually got them all pulled back; when they got the first ones up, they anchored Art's sled to the snowfield.
While they were recovering the other members of the party, and getting their wits about them again, an avalanche came along and swept Art away. There was no trace of him. Just disappeared. It was providential because they probably all would have perished trying to get him down."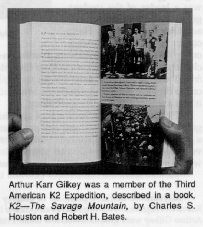 Art's death was a sad shock to many. But Herb claims, "There was just no way that rescue could be accomplished. Tragic though the avalanche was, others lived because of it" Many years later, "several people from the Portland (Oregon) area were killed on K2," he adds. "The newspaper stated that several of those who had died were buried next to the permanent cairn that an officer from the Pakistani army had built in Art's memory."
K2 has since been scaled several times. However, it was not until August 1993 that the mystery of Arthur's whereabouts was solved, when a British party came upon Art's clothing and some skeletal remains. Capt. H. R. A. Streather, a member of me 1953 expedition with Art, was the first to verify that the clothing was Arts. (12) Herb Gilkey has since arranged for Art's remains to be buried in the family's plot at Ames, Iowa. By arrangement with the American Alpine Club, the clothing has been entrusted to the Eddie Bauer Museum in Portland, Ore.
Gilkey's doctoral degree from Columbia University was awarded posthumously. (l3)
"I never felt that Mother recovered completely from my brother's death," says Herb Gilkey. "Although she did not actively oppose his pining the expedition to K2, she felt -- perhaps it was a premonition, perhaps it was a mother's fear for the safety of her son -- that something would go wrong, that Art would not return. Even though she loved her grandchildren (my children) dearly and cared for my late wife Mona as she would for her own daughter, Art's death left a void, a hole, that the rest of us could not fill."
"Arthur was a very special cousin," Barbara Fuller claims, remembering the hawks he used to raise in his back yard. Now, besides the glacier and river in Alaska named after him, "there's also a minaret or spire in Wyoming, in Grand Teton National Park, named Gilkey Tower." (l4)

Herbert Talbot Gilkey -- Rachel Harriet Talbot
Table Of Contents